PRESIDENTS NEVER CAN SEEM TO LEARN TO STOP OVERREACHING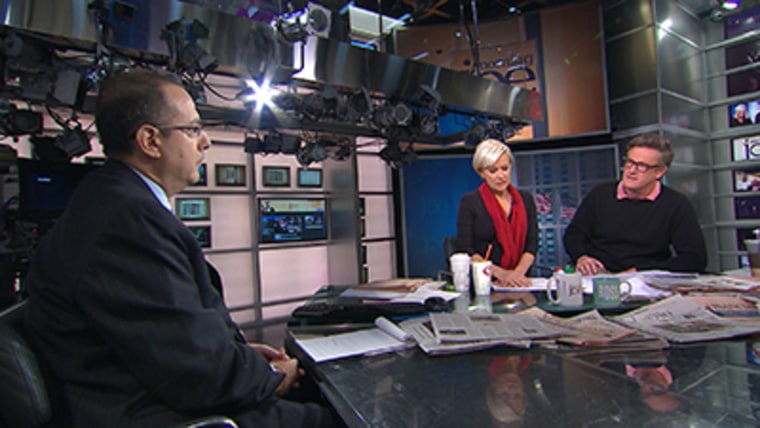 Stuart StevensTHE DAILY BEASTOur political life seems to have a recurrent pattern that, perhaps not surprisingly, mirrors so much of our non-political life. We invest our faith in politicians who seem to understand the world better than we do, only to be disappointed. We don't seem to learn, but then neither do the politicians. Again and again, we see presidents overreaching on a key mission of their presidency, resulting in the opposite of their desired effect. … [Barack Obama]was elected with a pledge to "bend history's arc" and restore faith in government. By overreaching on health care, he has managed to achieve precisely the opposite effect. Those who were previously among his most ardent supporters, young voters and women, have been especially disillusioned by the reality of Obamacare. The one standard of Obama's presidency, a belief in his personal honesty, has plummeted.
ISRAEL'S IRAN DILEMMAROGER COHENNEW YORK TIMES Just as the United States has had to adapt to a world where its power is unmatched but no longer determinant, Israel will have to do the same. With enlightened leadership this adaptation could strengthen the Jewish state, securing the nation through integration in its region rather than domination of it. For now Israel is some way from this mind-set. Its overriding prism is military. It was important that President Obama set down a marker, as he has through this deal, one that may spur new strategic reflection in Israel. (An Israel already alarmed by isolation is not about to embark on a Samson-like military strike against Iran.) Let us be clear. This is the best deal that could be had. Nothing, not even sustained Israeli bombardment, can reverse the nuclear know-how Iran possesses. The objective must be to ring-fence the acquired capability so its use can only be peaceful.THE STATE'S FINDINGS ON NEWTOWNEDITORIALNEW YORK TIMES The scant information about Mr. Lanza can only be the darkest footnote to the larger tragedy of the young children and school officials he murdered in their classrooms. The fact that he was a silent, dangerous and suffering individual waiting to leave his mark on Newtown was known to too few people, if any. The report on his crimes can only haunt the community and present the nation with difficult questions — far from adequately answered — about how to head off the next gun tragedy.A BETTER OBAMACARE WON'T SAVE OBAMAJames OliphantNATIONAL JOURNALJust one in four say President Obama is a competent manager of the federal government. For all the hand-wringing about comparing the Healthcare.gov site rollout to Hurricane Katrina, the bottom line is that this president, like his predecessor, has now suffered a signature event that has convinced a majority of Americans that he is unfit for the job. …even if the Affordable Care Act works perfectly from Nov. 30 on out (and no one is seriously expecting that), those whose lives are improved by the program represent just a relative handful of people, many of whom sit at the lower end of the economic spectrum and engage little with the political process. … Among the politically active, the damage is done and no amount of re-branding or re-selling is going to change their perception of the product – nor likely, the president.WORSE THAN MUNICHBret StephensWALL STREET JOURNALBy contrast, the interim nuclear agreement signed in Geneva on Sunday by Iran and the six big powers has many of the flaws of Munich and Paris. But it has none of their redeeming or exculpating aspects. Consider: Britain and France came to Munich as military weaklings. The U.S. and its allies face Iran from a position of overwhelming strength. Britain and France won time to rearm. The U.S. and its allies have given Iran more time to stockpile uranium and develop its nuclear infrastructure. Britain and France had overwhelming domestic constituencies in favor of any deal that would avoid war. The Obama administration is defying broad bipartisan majorities in both houses of Congress for the sake of a deal.LET MARKETPLACE SORT OUT CELLPHONES ON PLANESEDITORIALUSA TODAYHoliday air travel can be plenty stressful, what with packed planes, cramped seats, stuffed overhead bins, and threats of storm-related delays and cancellations. Now, on top of all this, the government is moving to lift its longtime ban on in-flight cellphone calls at cruising altitudes. Great. This raises the prospect that pilots' announcements about the Grand Canyon off to the left will soon compete with snippets of people's last surgery, lost loves, broken dates, bad bosses, surly teenagers, adorable pets and quarterly sales quotas. We feel your potential pain, but on issues involving comfort and convenience — rather than safety or health — the marketplace is better suited than the government to sort out the rules.  … As airlines weigh blabathons at cruising altitude, they'd be smart to listen to customers and employees, who have not been shy in expressing their views on the subject.