An over-sized Mitch McConnell dances alone outside the Kentucky Derby racetrack. The beat drops and suddenly he is surrounded by Uncle Sam, campaign staffers with American flags, Rosie the Riveter, and Abraham Lincoln.
Yep, the Republican Senate Minority Leader just used the Harlem Shake in his campaign.
It's conservatism in the digital age and McConnell is determined to own it, one meme at a time.
McConnell heads into a 2014 reelection race in Kentucky with no challenger yet—except for his own extremely low approval ratings. The left-leaning firm Public Policy Polling found just 36% of voters in his state approve of the job he's doing. And so he's kicking off his campaign as aggressively as he's working to thwart anything that hints at gun control in the Senate.
Seventeen months out, the McConnell team is investing heavily in a bold social strategy aimed at making policy discussions as fun, palatable, and shareable as Buzzfeed's: 33 Animals Who Are Extremely Disappointed in You. It's a strategy they believe will earn them votes.
It's a surprising approach for the leader of a party whose social media sophistication has lagged far behind the Democrats' and one that's at odds with McConnell's own hardline politics and his testy, "Get off my lawn" persona.
"Mitch McConnell has a tough job," campaign manager Jesse Benton told msnbc. "But sometimes everybody needs to have a little fun and lighten things up a little bit. We wanted to show a more of a personal side and dial back some of the extreme seriousness."
And the 71-year-old senator?
"He loves it!" Benton said. But does McConnell even know what a meme is? Benton said that while McConnell is excited about "the energy" of the social media blitz, the senator is letting staffers create the content.
The McConnell campaign is spending aggressively to ensure their success—or at least appearance of it—on social media.
"They're going to spend the most [on digital], proportionately to their budget, of any campaign I've ever worked on," said Vincent Harris, the 25-year-old digital consultant leading McConnell's social strategy. They're aggressively paying social media platforms, like Facebook, to promote their posts to ensure a wide audience even if users don't subscribe to campaign updates.
"Targeting videos" to users is one of the things McConnell is most excited about with the digital buy, Benton said.
It's a tactic that has already raised questions about the authenticity of the campaign's message and its resonance with online audiences.
When a campaign ad posted online topped a million views in less than 36 hours, The Washington Post questioned how it could garner so many views so quickly. YouTube currently lists the video with 1.09 million views.
Benton and Harris claimed that the video's popularity was a result of an aggressive social media strategy. In fact, the campaign paid YouTube to circulate the ad prominently, but won't divulge the specifics or how much the deal cost.
"When you have the dollars to put behind an ad being seen, you can get these kind of views," said Chuck DeFeo, a senior vice president at communications firm Edelman who is not connected to the campaign but has run digital campaigns for other Republicans.
For a price that can range anywhere from $0.10 to $40 a view, YouTube allows users to target videos to demographics and geographic areas, DeFeo explained. The site advertises to its political clients that using these services will amplify their reach; DeFeo said it's a popular strategy among political clients because they pay per view, unlike broadcast ads which can't guarantee a specific number of views.
The amplification and promotion help them reach viewers, Harris said, but it's the campaign's fun, engaging style on social media that will actually get voters on board.
"When someone's getting home from a hard day of work or needs a break at their job, would they like to look at policy or at cat memes?" he asks. "I think we all know the answer to that."
So Team Mitch, as the campaign calls itself, is trying to turn serious, complicated policy issues into "unique and entertaining" content.
When the president first proposed background checks and renewing the assault weapons ban, McConnell-the-senator sent out an inflammatory email declaring that Democrats were "coming for your guns."
"You and I are literally surrounded. The gun-grabbers in the Senate are about to launch an all-out-assault on the Second Amendment. On your rights. On your freedom," the email began.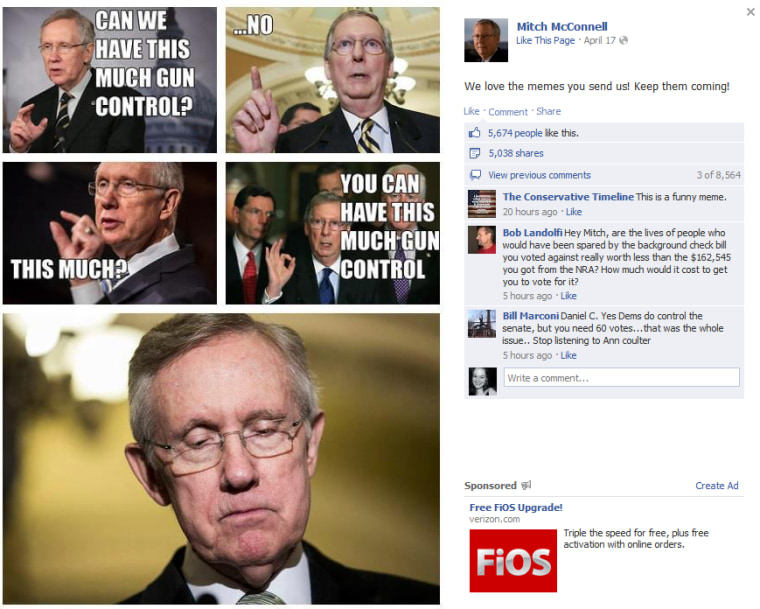 The image went viral; with 5,038 shares, 5,674 likes and 8,564 comments, it was seen by 785,969 Facebook users, according to Harris.
Gun control supporters slammed the meme as tasteless. For Harris, it was about votes. "We're not doing memes for the sake of entertainment. We're doing it because it's what's required of a winning campaign," he said.
After Obama joked at the White House Correspondents Dinner that no one wanted to get a drink with McConnell, the Kentucky senator tweeted out a snappy comeback. Channeling Clint Eastwood's infamous use of an empty chair at the Republican National Convention, he sent out a photo of himself, at a bar, next to an empty chair. "Greetings from coal country!" he wrote in a tweet addressed to Obama and Eastwood.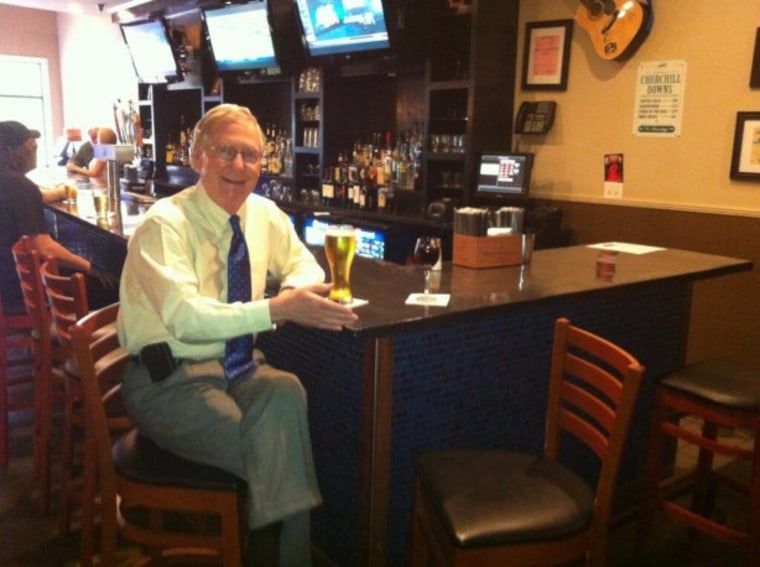 It was timely, relevant, and funny, said Sean Evins, a politics and government specialist for Twitter, and it used a meme people already understood. Harris' team fueled the meme by setting up a Tumblr where fans could submit their own photos. Some 300 submitted photos in just over a week.
This style of highly visual social messaging was first introduced on a national stage in 2011 by Obama's reelection campaign, with photos of Obama overlaid with short quotes. But Harris said McConnell's campaign is proving that "Democrats don't have a monopoly on using the internet creatively."