The younger generation is more politically independent than older adults, but most vote Democratic and favor distinctly liberal views, a new poll has found.
Fully 50% of the millennial generation, which includes a racially diverse group of individuals between the ages of 18 and 33, said they identify as independents, according to a survey published Friday by the Pew Research Center. The rate tops the levels of political disaffiliation recorded by the center for any other generation.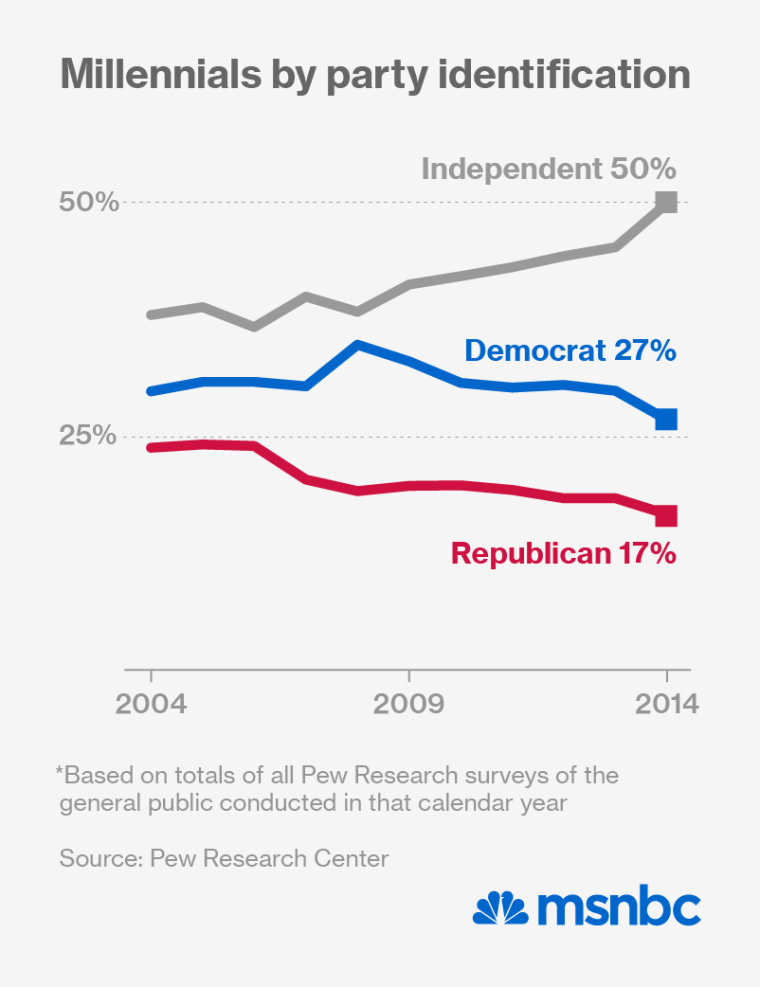 Millennials' liberal views stand out on various political and social issues ranging from support for activist government to same-sex marriage, according to the report. A Pew Research poll published last June found that younger respondents were more tolerant of homosexuality than older individuals.
Pew Research conducted most of the study with 1,821 adults between the ages of 18 and 33 via a telephone survey on Feb. 14. Additional analysis came from previous telephone surveys carried out earlier this year. The center has been tracking millennials for the past decade.
The new report, titled "Millennials in Adulthood," also found that 69% of millennials said they hope to marry someday but hesitate because they are burdened by debt and other negative economic pressures. Millennials are the first generation of the modern era to have higher levels of student loan debt, poverty and unemployment than their parents. But more than eight-in-10 said they believe they currently have enough money to reach their goals, or expect to reach that point soon.
"The older millennials came into their working lives right as the economy tanked. It really still hasn't fully recovered," Paul Taylor, executive vice president of special projects at Pew Research and author of "The Next America," said Friday on Morning Joe. "They're forging a different path -- in many ways a slower path -- into adulthood. But they're not terribly concerned about it. This is a very confident generation."
The U.S. economy added 175,000 new jobs and the unemployment rate was 6.7% in February, according to a statement released Friday by the Bureau of Labor Statistics. Comparably, the employment number was 129,000 for January and 84,000 in December.
Still, the younger generation remains positive about the future. The so-called "digital natives" are at the forefront of the technological era, with 81% of them Facebook users and 55% selfie-takers. Only one-third of the oldest generation -- the "Silents" -- said they understand the meaning of a "selfie," a term the Oxford Dictionaries adopted last year. A dozen celebrities broke the selfie retweet record at the Oscars last Sunday after host Ellen DeGeneres snapped a group photograph.
Youth have demonstrated their ability to work for changes in America by forming their own organizations and campaigns against divisive issues. For example, Connecticut resident Sarah Clements, 17, last year established the youth chapter of the Newtown Action Alliance, making it the first major gun-violence group in the country to initiate its own student branch, msnbc previously reported. A group of students at a high school in California will produce a documentary later this year in search of finding a solution to gun violence.
Millennials neglect to attach themselves to the traditional institutions that Americans associate with adulthood, such as political parties and religion, because some of those foundations have been in a state of ongoing collapse and crisis, the Morning Joe panel discussed on Friday.
"Ask people that you know how many of them know many people who are serving [in the U.S. Army] or many people who are responding to some sort of call and mission," host Mika Brzezinski said on the show. "It just doesn't seem like our millennials feel like they are needed in a way."