Suppose you're in New York City, standing at the corner of Park Avenue and 93rd Street, when a deep pain pierces your chest. Maybe it's blow-back from the breakfast burrito. Or maybe your heart is dying. Fortunately, you've got two hospitals within a 10-minute walk (or a five-minute cab ride). Either one will admit you for testing and observation, but if you happen to lack health insurance, a snap decision to head south rather than east could cost you nearly $18,000. Over at Metropolitan Hospital, the standard bill for a patient with chest pain is $5,971. Down at Lenox Hill, the same care costs $23,762.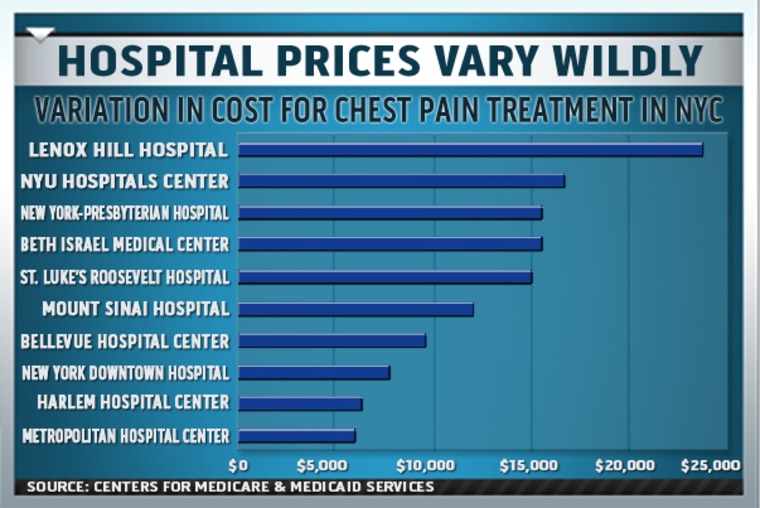 "Currently, consumers don't know what a hospital is charging them or their insurance company for a given procedure, like a knee replacement, or how much of a price difference there is at different hospitals, even within the same city," Health and Human Services Secretary Kathleen Sebelius said in announcing the new online tool. "This data . . . will help fill that gap."
It's no secret that health care costs and medical practices vary dramatically across the country, for reasons that have nothing to do with health. Medicare spends nearly twice as much per capita on patients in the South as it does in the Upper Midwest, according to the Dartmouth Health Atlas, and the variations "cannot be explained on the basis of illness, medical evidence or patient preferences."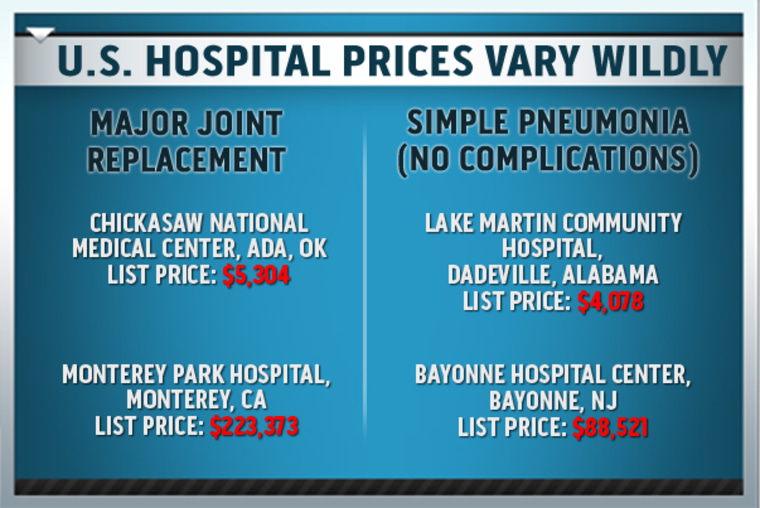 Insurers don't actually pay the high-end fees that some of these hospitals charge; they get volume discounts that may save their subscribers a bundle. Bayonne Hospital Center gets $4,919 (not $88,521) when it treats an insured patient's pneumonia, and Monterey Park gets just $21,795 for a joint replacement. The vastly higher cash price serves partly to offset the discounts that insurers can negotiate.
"If you have a big plan negotiating for you, you'll get the discount," says Dr. Eliott Fisher of the Dartmouth Institute for Policy and Clinical Practice. "But we still have 50 million uninsured people in this country, many of them middle-income, and their bills actually show these amounts."
Thanks to the Affordable Care Act, many of those vulnerable millions will soon qualify for group coverage through and state health insurance exchanges and expanded Medicaid programs. Meanwhile, anyone paying even a share of his own hospital bills should consult the government database before checking in. The database won't tell you whether a Monterey hip replacement is 42 times better than an Oklahoma hip replacement, but it will motivate you to find out—and it will give hospitals a strong incentive to explain what you're actually paying for.