Former Secretary of State Hillary Clinton holds a hypothetical six-to-one lead over other potential Democrats ahead of the 2016 campaign for president, a new poll found. Comparably, the race for the Republican party is divided with no clear front-runner.
Seventy-three percent of the public said they would vote - theoretically - for Clinton if the primary elections were held soon, according to the Washington Post-ABC News poll published Thursday. Her lead is the largest recorded for a possible early primary match-up in the three decades when the two news outlets have recorded poll results.
Vice President Joe Biden trailed behind Clinton with 12%, followed by Massachusetts Sen. Elizabeth Warren at 8%.
Many of the possible Republican candidates ranked closely. Wisconsin Rep. and former vice presidential nominee Paul Ryan received 20% of favorability, followed by former Florida Gov. Jeb Bush with 18%, and New Jersey Gov. Chris Christie with 13%. Sens. Ted Cruz, Rand Paul, and Marco Rubio ranked lower on the list.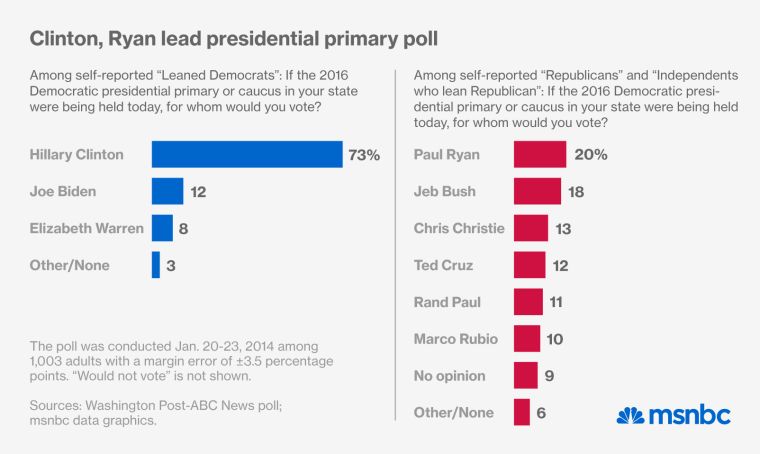 Additionally, 58% of voters polled said they hold a favorable view of Clinton, whereas 35% view the scandal-embroiled GOP nominee in a positive light.
Clinton, a former first lady and Democratic candidate who lost to now-President Obama in the 2008 Democratic primary, has not declared her intent to run for office in two years. But Priorities USA Action, the country's largest liberal Super PAC, started raising money this month in anticipation of her bid.
Christie's administration is currently under investigation over an alleged political plot that caused days of gridlock in Fort Lee, N.J.
Americans recently said they had serious doubts about their elected officials, but Republicans scored especially poorly with 19% of citizens having confidence in the party, according to a poll published earlier this week.