A pro-gun reform group would "like" Facebook and Instagram to prohibit all sales and trades of firearms that are not subject to background checks.
Moms Demand Action for Gun Sense in America last week launched a campaign and corresponding petitions requesting that Facebook, which owns Instagram, ban what the group is calling an "unregulated online marketplace" on the social media networks. 
"Facebook and Instagram are effectively hosting online gun shows—allowing private sales and trades that are not subject to background checks," said Shannon Watts, founder of Moms Demand Action. "It requires more information to open a Facebook account than it does to purchase a gun in a private sale on their platform."
While Facebook does not allow advertisers to promote the sale of weapons, ammunition, or explosives—or facilitate such actions—its policies permit members to have conversations and post photos and videos related to guns. Facebook representatives might remove a post and inform law enforcement if correspondence escalates into a discussion that could incite violence or pose harm.
The Moms group maintains the Facebook policy is lax and that dangerous people can easily access the weapons through users' dialogue and multimedia posts.
Facebook is pushing back on that complaint. "You can't buy things on Instagram and Facebook, nor can you promote the sale or use of weapons in advertising. We encourage people who come across any illegal activity to report it to us," a Facebook spokesperson, who requested anonymity due to the sensitivity of the issue, wrote in an e-mail to msnbc.
Other digital marketplaces, including eBay and Craigslist, prohibit weapons from appearing on the platforms.
Facebook, the dominant social-networking platform that turned 10 years old earlier this week, requests that users commit to safety -- including not using the network "to do anything unlawful, misleading, malicious, or discriminatory," as declared in the Statement of Rights and Responsibilities.
Similarly, Instagram Community Guidelines insist members not share photos or videos of "illegal content." Disobeying the rules outlined in the policy could result in a disabled account or discontinued access.
Watts planned to deliver two petitions to Facebook's offices in Silicon Valley and Washington once the group collects a total of 50,000 signatures. More than 40,000 individuals have signed one of the two online petitions.
Federal law requires licensed firearms dealers to perform background checks on prospective purchasers and to maintain records of the sales. But unlicensed private sellers aren't required to observe the same policies. About 40% of firearms sold in the country are transferred by such private sellers, according to the U.S. Department of Justice.
The Senate failed to pass a bipartisan proposal last April that would have required background checks on all commercial sales of guns, including on the Internet and from private sellers. That means individuals prohibited by law from owning guns are still able to obtain them from private sellers.
Federal law states that a private owner can legally sell a gun on the Internet without conducting a background check. But if the seller has reason to believe the buyer could not pass a background check, it is a felony to sell a gun. About 67,000 firearms were listed for online sale from unlicensed sellers, according to data published in September 2013 by Third Way and Americans for Responsible Solutions.
Seventeen states and Washington, D.C., however, have extended the background check requirement beyond federal law.
Only 13.4% of state prison inmates in 13 different states who were convicted of gun offenses acquired their guns from a licensed store owner, according to a survey published in 2012. Almost all—96.1%—of those prisoners had been banned from possessing a gun.
Moms Demand Action has highlighted instances of the loophole, including a Facebook comment posted on June 25, 2013. A user said: "I am willing to negotiate a bit. I'm also not running a background check [wink face]."
The following image appeared in a Facebook post on Feb. 3 on the "Guns for Sale" group page: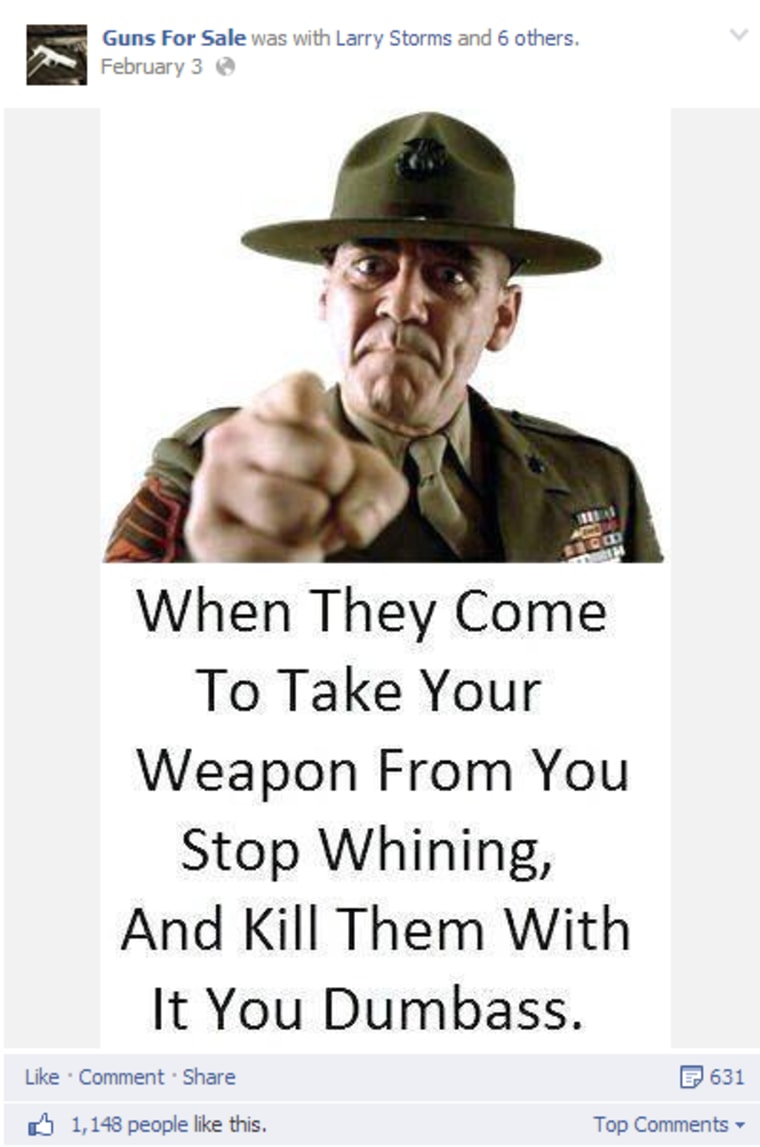 Many of the organizations use Facebook to sell firearms to people they believe are law-abiding citizens.
"While our company currently advertises with Facebook, we strongly disagree with Facebook's policy prohibiting a legal activity, specifically 'Ads and Sponsored Stories may not promote firearms' and 'Ads and Sponsored Stories may not directly or indirectly link to landing pages where people can purchase any of these products.' However, we support Facebook's right to set their own policies regarding prohibited content without the interference of government," Brian Hall, CEO of Cerakote Firearm Coatings a Division of NIC Industries, Inc., wrote in an e-mail to msnbc.
Facebook already prohibits members from posting content that is hate speech or threatening, and incites violence.
More than 1.2 billion people around the world have registered Facebook accounts. Fifty-seven percent of all American adults use the platform, according to the Pew Research Center.
Moms Demand Action began as a group page on Facebook when Watts created it the day after a gunman fatally shot 20 first-graders at Sandy Hook Elementary School. The group on Friday released its own take on the 10th anniversary "look back" videos circulating online in celebration of the major social-media network's legacy. Set to background music similar to individual's videos, the members take a "closer look" at gun groups and the profiles of gun users and their related photos.
"We want to make sure it's safe and we're not supporting a platform that is endangering our children and families by allowing the sale and trade of firearms," Watts, who is a mother of five children, told msnbc.
Since the group's establishment, the mothers have put pressure on legislators to enact gun-control laws. They boycotted Starbucks stores around the country last August until the coffee chain enacted a policy prohibiting customers from carrying firearms on the company's premises. Starbucks previously allowed its shops to comply with the local laws and statutes of each state.
Related: Starbucks grinds open-carry gun policy to a halt
"Just like Starbucks, Facebook and Instagram are good corporate actors. They've done the right thing in so many other cases, including prohibiting certain content...like hate speech, bullying and threats, content that promotes violence," Watts said.
"Right now we are just focused on Instagram and Facebook," Watts added. "Obviously the goal is to close the online gun show loophole. We will figure out the next steps after we work on this campaign."