Twelve Republican senators joined President Obama for dinner at the Jefferson Hotel Wednesday night in Washington--an unusual social showing between the president and a party that has sought to block him at every turn over the last four years.
Several of the senators spoke positively about the experience and reported being heartened by the president's outreach.
"I am more optimistic, just from a personal standpoint. Having been in the group of eight, it's tough sledding," said Sen. Mike Johanns, R-Neb. "These are very difficult issues, but I do think there's a real fatigue in just going from crisis to crisis. But tonight was a good first step. A good step."
"It was a good meal, it was a good experience," added  Sen. Tom Coburn on Thursday's Morning Joe.
The group discussed the fiscal fights over the budget, funding the government and raising the debt ceiling, as well as entitlement reform.
Sen. Coburn highlighted the rarity of the event as a serious problem.
"It's something that should have happened years ago," he said. "This is the first real outreach in four-plus years that the president's made to the minority party to try and build relationships and a communication channel that will help get things done."
While the present relationship between the president and the GOP is strained, to say the least (In Coburn's words, "If you've had years of someone putting their fingers in your eyes… it's going to take some healing."), the senator said that "the president was sincere; I think everybody believed him."
He added that the Republican senators at the table were committed to action to help the country, no matter the political price: "Most of the people there are willing to give up their seats to get something done in this country," he said.
Sens. Tom Coburn, R-Okla., John McCain, R-Ariz., Pat Toomey, R-Pa., Lindsey Graham, R-S.C., Kelly Ayotte, R-N.H., Dan Coats, R-Ind., Bob Corker, R-Tenn., John Hoeven, R-N.D., Mike Johanns, R-Neb., Saxby Chambliss, R-Ga., and Ron Johnson, R-Wis., attended the dinner. Sen. Graham curated the guest list at the president's request.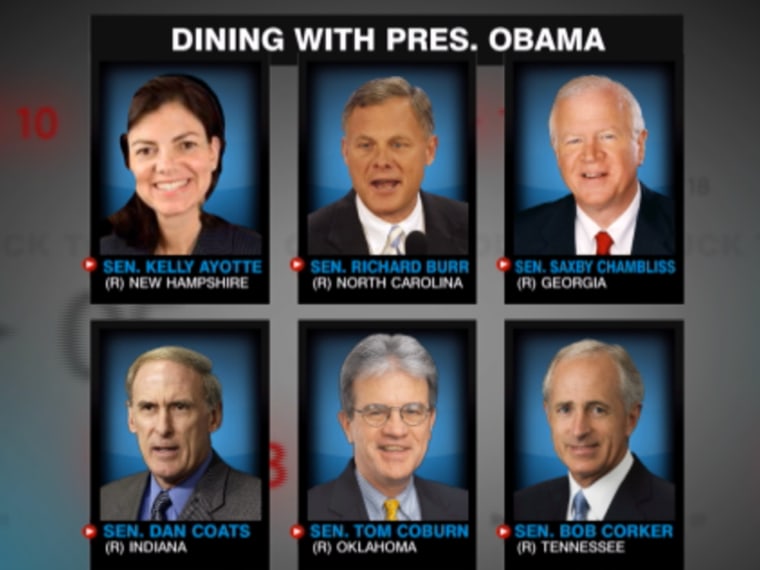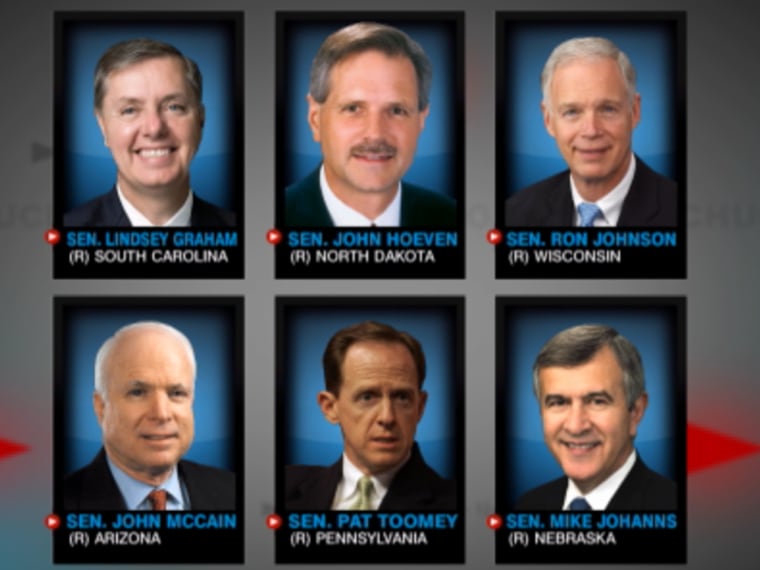 NBC's Kelly O'Donnell noted there were plans to host a similar event with Democrats.
As for picking up the tab, while Sen. Chambliss initially offered to pay for the dinner, the president ended up picking up the tab.