Sugar Ray Leonard was on Morning Joe to talk about his new book, "The Big Fight" and his boxing career. Watch the video and read an excerpt of his book, below.
by Sugar Ray Leonard and Michael Arkush
My eyes never lie.
     They were open wide, staring back at me in the mirror of the dressing room at Caesars Palace in Las Vegas. Those eyes would reveal which of the two dueling personalities would enter the ring as I took on the most intimidating opponent of my career, Marvin Hagler. It was nearly seven o'clock on the night of April 6, 1987, the opening bell only about an hour away.
   Would it be Sugar Ray Leonard, the star of numerous conquests in the past, an American hero since capturing the gold medal in Montreal more than a decade earlier, the anointed heir to the throne vacated by Muhammad Ali? Sugar Ray was resilient, fearless, unwilling to accept failure. The smile and innocence of a child, which made him a hit on TV, would be gone, replaced in the ring by a man filled with rage he did not understand, determined to cause great harm to another.
---
Or would it be Ray Leonard, the part-time boxer at the age of thirty, whose best was well behind him, his days and nights wasted on fights that never made the headlines, fights he lost over and over, to alcohol and cocaine and depression? This was a man full of self-pity, blaming everyone but the person most responsible for his fate—himself.
     In the room, with no one around, I kept my eyes glued on the eyes in the mirror. They were alive, probing, big, like flashlights. I looked at the muscles in my shoulders, my arms. They were cut, defined, powerful.
     I began to slowly shadowbox, watching my legs, then my eyes, back to my legs, then my eyes again. Pow! Pow! Pow! Pow! I threw a left, a right, another left, another right. Sweat dripped down my forehead, my breathing heavier.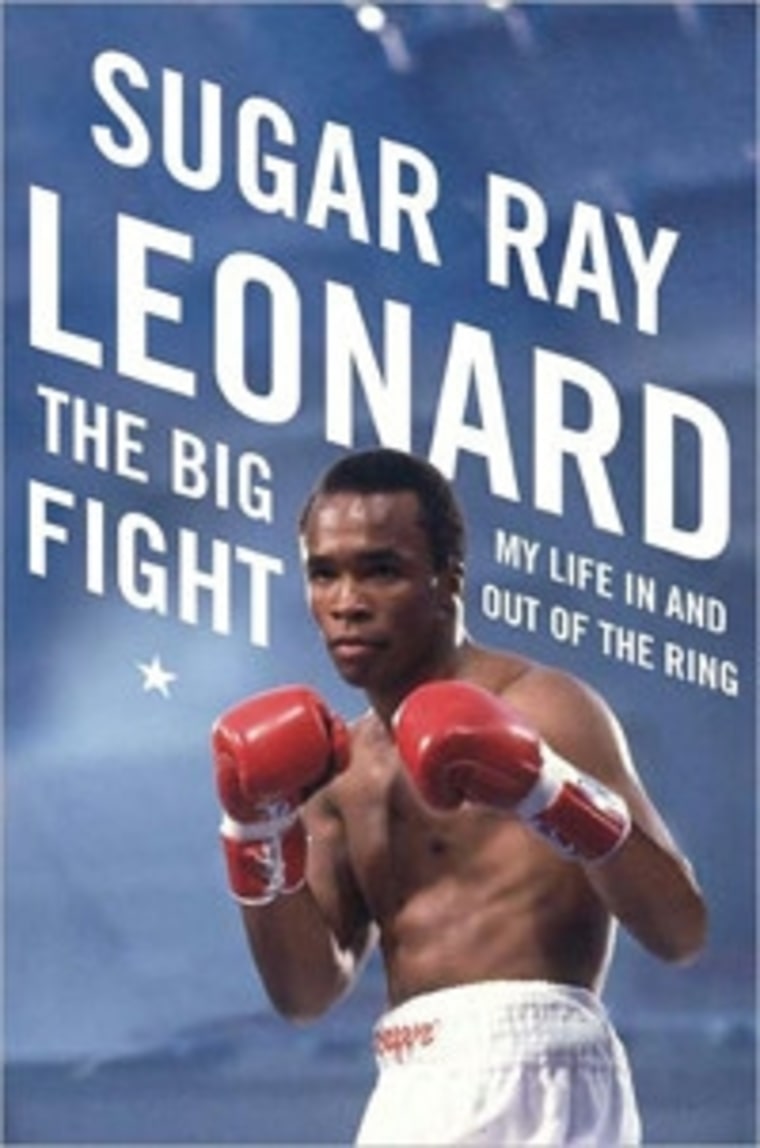 There was a knock at the door to let me know it was time. I didn't say a word. I took one last look at my eyes. I recognized them. They were Sugar Ray's.
   I walked out. Surrounded by my trainer, Angelo Dundee, bodyguard James Anderson, brothers Roger and Kenny, and about a dozen others, I started the familiar procession down the aisle, a strange and special ritual unlike any other in sports, cheered on by the hungry masses out for blood, marching toward glory or shame or, worse, death. During the several minutes it took to reach the ropes, I remained unscathed, as did Hagler, our bodies honed from months of sparring and running to be ready for this one momentous night. Soon we would be unscathed no more, both forced to pay the dues for the brutal profession we had chosen, or, as many of us in the Sweet Science prefer to believe, had chosen us.
     I proceeded as slowly as possible, savoring the feelings I had not experienced in almost three years, since I defeated Kevin Howard and retired again, this time, I assumed, for good. Howard, nowhere near the fighter I was, knocked me to the canvas in the fourth round. I got up right away, more humiliated than hurt, and summoned enough will to prevail in the ninth. But my heart was not in the fight game anymore, and if one is not committed, disaster is certain to strike. Lacking the motivation wasn't a problem against Hagler. From the moment I decided in the spring of 1986 to take him on, I was sure of one thing: I wanted to tear the man apart.
     The odds were heavily against me, and why wouldn't they be? Boxing was filled with proud warriors who came out of retirement only to discover that they should have stayed away forever, their skills never the same after the long layoff, the saddest example being the legendary Joe Louis, the hero to my father and millions of African Americans, beaten eventually by a much younger Rocky Marciano in 1951. I knew I would be assuming the same risk as the others before me, and not only to my body. At stake at Caesars was something just as important—my reputation. When I first retired as a pro in 1982, I prided myself on being the rare exception in my sport, the fighter wise enough to get out before it became too late. If I was whipped by Hagler, a very real possibility—he hadn't lost in eleven years—I would join the long list of disgraced ex-champions, leaving one lasting, pathetic image for the public I worked endlessly to impress.
     Over the previous five years, I spent less than twenty-seven minutes in the ring while Hagler took on eight opponents (fifty-seven rounds) during the same period. While I trained more vigorously for Hagler than for any prior opponent—I sparred for well over two hundred rounds—no amount of effort on the speed bag, the heavy bag, jumping rope, and running could compare to an actual fight against a man coming from the opposite corner whose prime objective is to inflict as much damage as is humanly possible. My sparring partners never let up. They had careers they were hoping to build.
     In training camp at Hilton Head, South Carolina, I felt in control of myself and my surroundings. There was a plan I stuck to every day. On fight night in Las Vegas, I felt in control again, but didn't know if the plan would work. A fighter never know till the bell rings.
Excerpted from The Big Fight: My Life In and Out of the Ring by Sugar Ray Leonard. Copyright 2011 by Sugar Ray Leonard. Excerpted by permission of Viking Adult. All rights reserved.