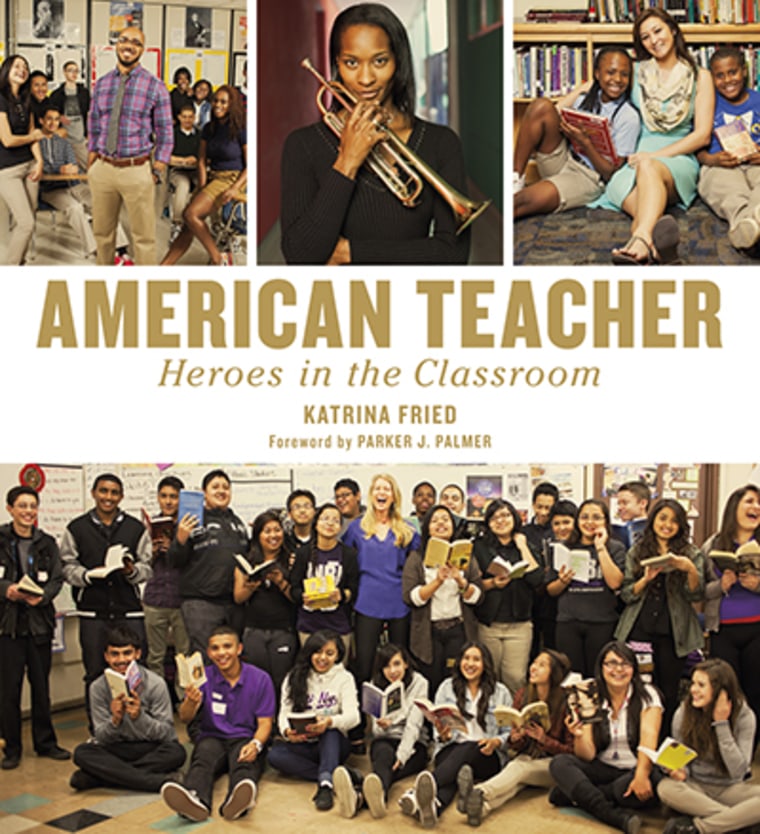 11th–12th Grade English, Concord-Carlisle High School
Concord, Massachusetts
Michael Goodwin first launched his experimental interdisciplinary program, Rivers and Revolutions, in 2010, as a two-week tuition-free summer intensive for secondary-school students. It has since grown into a semester-long accredited "school within a school" that offers blind admission to interested juniors and seniors at Concord-Carlisle, where Goodwin himself went to high school, and where he has taught since 2008. The pioneering program's main mission is to provide students with a meaningful context that unifies the various strands of study in a traditional curriculum.
[In this excerpt from American Teacher: Heroes in the Classroom by Katrina Fried, Goodwin describes his journey as a teacher.]
Ever since I was a teenager I have wanted to be involved with education. When I went home after my first day of high school, I envisioned coming back years later, clutching a grade ledger and an attendance book. Ironically, I did just that.
I wanted to teach high-school students because they are at a very hinge-like moment of transition. You're capturing them at such a critical time. And there's a piece of me that's very academic so I really love reading complicated texts and talking about big, meaty ideas. The capacity of older students to engage in that work is great, but it is still hard to reach everyone no matter how enthusiastic I can be. If I get up and teach about the events that led up to the American Revolution, and I reenact the ride of Revere, Dawes, and Prescott to warn that the British are coming, no matter how exciting I make it—and I can really ham it up—not every kid is going to connect to the historical narrative. However, if I bring in The Midnight Ride of Paul Revere by Grant Wood—this really odd and bizarre painting made during the Great Depression—all of a sudden I've captured, perhaps, those two or three kids who needed that visual. I've found that the more I bring art, music, and science into what I am teaching, the higher the level of engagement. It's all about creating a greater number of access points.
There are very few schools that purposefully try to create lines and connections between different fields. The way most high schools are set up, you're in history class, and then the bell rings; then you go to science class, and then the bell rings.… You go through a whole day and a whole semester constantly being pulled from one thing to the next. I think that prevents students from having the time and space to really develop a relationship with the material. I find it is critical to break down barriers among disciplines and between the classroom and the world that exists outside.
I am currently running an interdisciplinary, experiential "school-within-a-school" program of my own design: Rivers and Revolutions. Through the lenses of literature, social studies, mathematics, science, and the arts, teachers and students investigate the following units of study: rivers, revolutions, air, fire, love, migration, seasons, and equilibrium. Time in the classroom is matched by time in the field as the cohort explores sites of cultural, historical, and ecological significance.
I wanted to make sure that these units were broad and would provide us with the capacity to actually reflect on the human condition. So, all these phenomena sort of tie the world together and are bigger than just the human experience and bigger than just a specific place or specific time or specific culture. For example, we're studying love right now and we are considering the question, "How can you define love?" How have poets and novelists tried to do that? We're acting out scenes from Shakespearean sonnets about love but we're also studying what attracts people to each other through biology and even chemistry. We are studying the symmetry in a person's face and evaluating the mathematics of attraction through population growth and magnetism. We are creating life-size body maps in order to better understand ourselves in relation to those we love. What is the conversation surrounding love and social movements, or the Endangered Species Act, or social justice? What are the different ways of thinking about love, and is love ultimately definable?
Really good education is all about risk-taking and about making a mess; learning is chaotic, right? And if you don't have an environment in which there is a sense of trust, then teachers and students are going to be a lot less likely to engage in those kinds of risky activities. I'm constantly encouraging students to step into zones in which they're not totally sure they can succeed, where they maybe feel slightly unprepared, because that's where growth really occurs. So, when you create a space that is not specific to one field of study, that's not particular to one notion of intelligence, it really allows a much greater number of students to come to the table, to share what they learn, and to gain a greater sense that they can achieve and that they have something to offer. 
From American Teacher: Heroes in the Classroom. Text © 2013 Katrina Fried. www.welcomebooks.com/americanteacher