Smart guns similar to James Bond's pistol are marching closer to reality as manufacturers expect to continue testing prototypes throughout 2014 and a few politicians push for new technology to make firearms safer.
Manufacturers design "smart" guns, also referred to as "personalized" or "owner-authorized" firearms, to prevent intentional and unintentional shootings by children and other unauthorized users. The idea of incorporating technology into guns took hold during the early 1990s when the National Institute of Justice (NIJ) commissioned a study to find a solution to prevent law enforcement officials from being killed by their own weapons, both in the home and by assailants, said Donald Sebastian, senior vice president for research and development at the New Jersey Institute of Technology (NJIT). A report published in 1995 recommended radio-frequency identification as the viable approach for placing an electronic system into a firearm.
The U.S. government became attentive to the issue in the late 1990s by providing federal funding to accelerate the development of a safe and more secure personalized handgun, Sebastian said. Manufacturing companies worked with biometrics -- using features of an individual to identify the user of a gun -- in an attempt to implement firearms technology. But there wasn't a commercial outcome.
The issue was dormant and only recently gained attention in the wake of the December 2012 shootings at Sandy Hook Elementary School in Newtown, Conn. In light of that tragedy, scientists at NJIT publicized a gun that integrates a fire-control system and dynamic-grip recognition. They are now on target to introduce 25 working prototypes by late spring that will then be tested and evaluated, Sebastian said.
Other companies have developed prototypes, including lock mechanisms that cover triggers until an authorized user's fingerprint is recognized and technology that notices the movement of a firearm and alerts the owner via a mobile application. The Irish retailer TriggerSmart patented a childproof gun safety system in the United States in 2012 that uses radio-frequency identification, allowing only an authorized user to fire the weapon. It also allows for the creation of safe zones that would disable guns that use the technology in areas like airports and schools.
Armatix, a German international firearms technology company, produces gun safety storage devices and locks. Additionally, the leading manufacturer's Armatix iP1 pistol uses so-called token-based technology, where a radio-controlled watch (which costs $400) regulates the access to and shooting of a corresponding pistol (which costs $1,400.) California, a state that has some of the strictest gun laws in the country, approved the sale of the gun last October. The Department of Justice Bureau of Firearms added the weapon to its list of devices last year following the decision.
Ben Tomb initially developed Protector XT in 2011 after one of his young family members was shot by another adolescent 25 years ago. The locking station secures a firearm and provides access to authorized users with biometric fingerprinting technology.
"Going forward we've got to use technology to make sure that only the people that are authorized can gain access to a firearm," Tomb, founder of Salus Security Devices in Pennsylvania, told msnbc. "I am not trying to change the Constitution, not trying to implement new laws, just trying to reduce the number of accidents and deaths caused by the unauthorized use of firearms."
Salus Security Devices aims to provide "peace of mind" to firearms owners by designing products that enhance the safe storage of guns. The company introduced the Protector XT to the market earlier this year at the SHOT Show in Las Vegas, where it was met with "enthusiasm" by gun owners, Tomb said. He has taken orders he hopes to fulfill beginning on May 1.
Related series: Too Young to Die
At least three models of personalized handguns could be described as "commercializable" or "production-ready" for sale in the U.S., according to a report published last June by NIJ. President Obama ordered the national institute to complete the study in the wake of the mass shooting in Newtown. Twenty-eight people have died in at least 44 school shootings across the country since the Sandy Hook slaughter.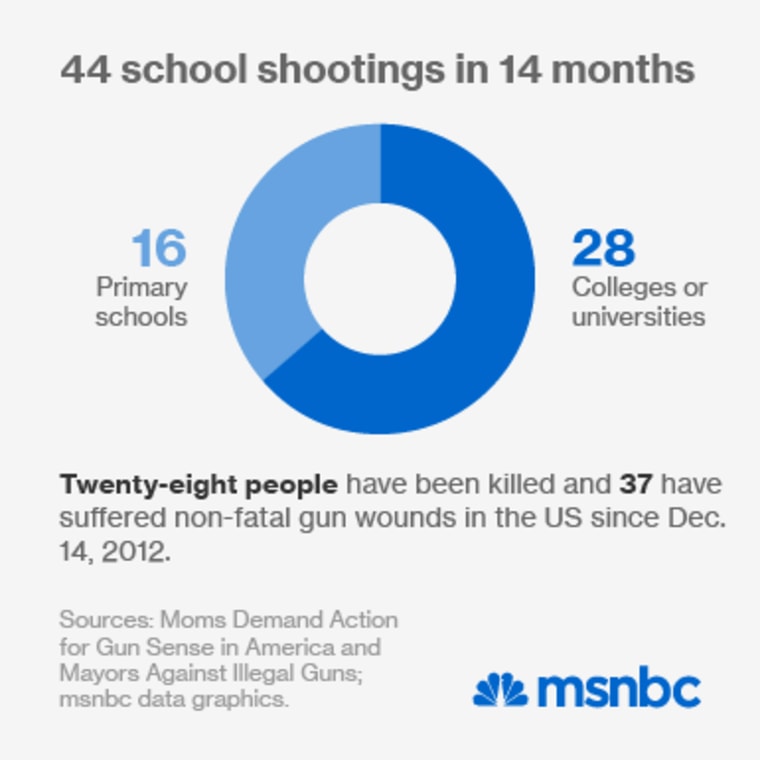 Maryland, Massachusetts, and New Jersey have passed laws related to personalized gun technology, according to the Law Center to Prevent Gun Violence. New Jersey lawmakers adopted legislation in 2002 that will eventually require the state's gun dealers sell only smart guns within three years after the first one becomes commercially available. While representatives in the industry continue to grapple with the exact definition of a "smart gun," the state's attorney general must report to the legislature regarding the availability of personalized handguns for the purpose of retail sales.
"New Jersey's smart-gun law is as dumb as it gets. It forces you to use an unproven technology to defend your life, and then exempts the state from liability when the gun goes 'click' instead of 'bang.' If it's such a great idea, then law enforcement shouldn't be exempt, and the free market should be allowed to determine its viability," Scott Bach, executive director of the Association of New Jersey Rifle & Pistol Clubs, wrote in an e-mail to msnbc.
Massachusetts Democratic Rep. John Tierney introduced a measure at the federal level last year. If passed, it would mandate all newly manufactured handguns be personalized for legitimate users. Additionally, his Personalized Handgun Safety Act would present a modern-day solution to the problem of gun violence by providing for grants to fund the development of handgun technology. 
The idea of a smart gun remains controversial. Some gun owners fear the advancement of firearms technology is the government's way of stripping their Second Amendment rights, while people in favor of reform believe such systems could prevent future mass shootings. Some gun control advocates insist Adam Lanza wouldn't have committed the massacre at Sandy Hook if lawmakers had mandated smart guns. But, Sebastian argued, Lanza's mother might have granted him permission anyway to activate a personalized firearm had she possessed one.
Scientists remain challenged because they must find a way to incorporate parts of an electronic system into a gun with limited space. And manufacturers continue to struggle with market adoption because they can't overcome some people's belief that firearms technology is a form of gun control.
"The difficulty here is that we keep conflating gun safety with gun control, and as soon as you do that you are in a place where there is in no middle ground," Sebastian said.
Studies show that access to firearms makes it more likely that an adolescent's suicide attempt will succeed, as msnbc has reported.
The implementation of universal smart guns could help reduce suicide and unintentional shootings, including protecting law enforcement officials from being shot by their own firearms, said Brian Malte, senior national policy director for the Brady Campaign to Prevent Gun Violence. 
"Even though there is a right to have a gun in your home, with that comes responsibility. People should be aware of the risks of having a gun in the home," Malte told msnbc. "[The technology] is an opportunity to educate people around the dangers of guns in the home and minimizing those risks."
But some gun advocates hold a different view of incorporating technology into firearms.
"We don't have a problem if a company wants to produce it and somebody wants to buy it. What we would object to is the government mandating that people have to use those firearms," Erich Pratt, communications director for Gun Owners of America, told msnbc. 
Armatix pledged to submit a proposal competing for one of several $1 million prizes in Silicon Valley's Smart Tech Challenges Foundation contest for safer firearms technology. NJIT probably will, too, Sebastian said. The foundation will present money later this year to the inventor of a gun that won't shoot its owner.
"I think we've reached a point where there is enough acceptance that if we can prove these technologies out, a couple year process, that over time they will then be pulled into the marketplace," said Sebastian, who said he envisions Americans will debate the topic throughout the next decade.
"It's time," Malte said, "for the gun manufacturers to get this technology on the market to help save lives."