Cleveland, where I was born and raised, had a birthday last Tuesday. The city turned 218, which feels young, particularly for a place so associated with being old and faded. Even the I.M. Pei-designed Rock and Roll Hall of Fame, sitting on the city's lakefront, feels like a relic of the past.
The joke about the Cuyahoga River catching on fire is tired, too. (It actually happened, in 1969.) So are the jokes about our sports teams.
No major Cleveland pro sports franchise has won a title since the Browns' NFL title in 1964, earned at Municipal Stadium where my father and my uncle braved the wintry Lake Erie crosswinds to witness it in person. My dad had just turned 18.
That long wait is why I rejoiced at the return on NBA superstar (and Akron product) LeBron James to the Cavaliers, joy that host Melissa Harris-Perry recounted a couple weekends back when I wasn't interrupting her with a photobomb on live air.
Yes, I was that hyped; still am. But I've also been thinking a lot about a cliché being tossed around, one that troubles me as a fellow northeast Ohio kid who also moved away: "You can't go home again."
You can't go home again, LeBron. LeBron proves you can go home again. LeBron decides he can go home again.
Sure, as a lifelong Cleveland sports fan, I was indignant when "King James" announced in an ostentatious live ESPN special in 2010 that he was leaving his long-suffering city and "taking his talents to South Beach."
But in retrospect, who was I to complain? I haven't lived in Cleveland for nearly 17 years. Neither have many of my childhood friends.
Like James, we had reasons to leave that made sense to us at the time. We wanted opportunities we couldn't see possible in a city we were raised to love but that the rest of the country saw as a loser.  We wanted a chance to travel, to grow, to make mistakes, and not be sent back defeated.
Many a late night at the office was fueled by fear of failure -- visions of showing up in my father's driveway with a brimming U-Haul, the big city having kicked my behind. Cleveland became a consolation prize, at best.
But now, the suggestion that "you can't go home again" touches a nerve for many of our fellow Northeast Ohio expatriates. Frankly, it pisses us off. The idea that a Cleveland kid can't return seems utterly contradictory, given how often we are forced to defend our hometown from sophomoric jokes and correct the misconceptions of out-of-towners who see, quite literally, nothing to celebrate about the area.
What do we hear when the words "Cleveland" or "Ohio" make the news? Aside from LeBron and the news about the 2016 Republican convention, you see a lot about cutting early voting hours, rejecting alternative energy sources, crackdowns on abortion and contraception access, not to mention the guy who held three women as sex slaves in his house for more than a decade.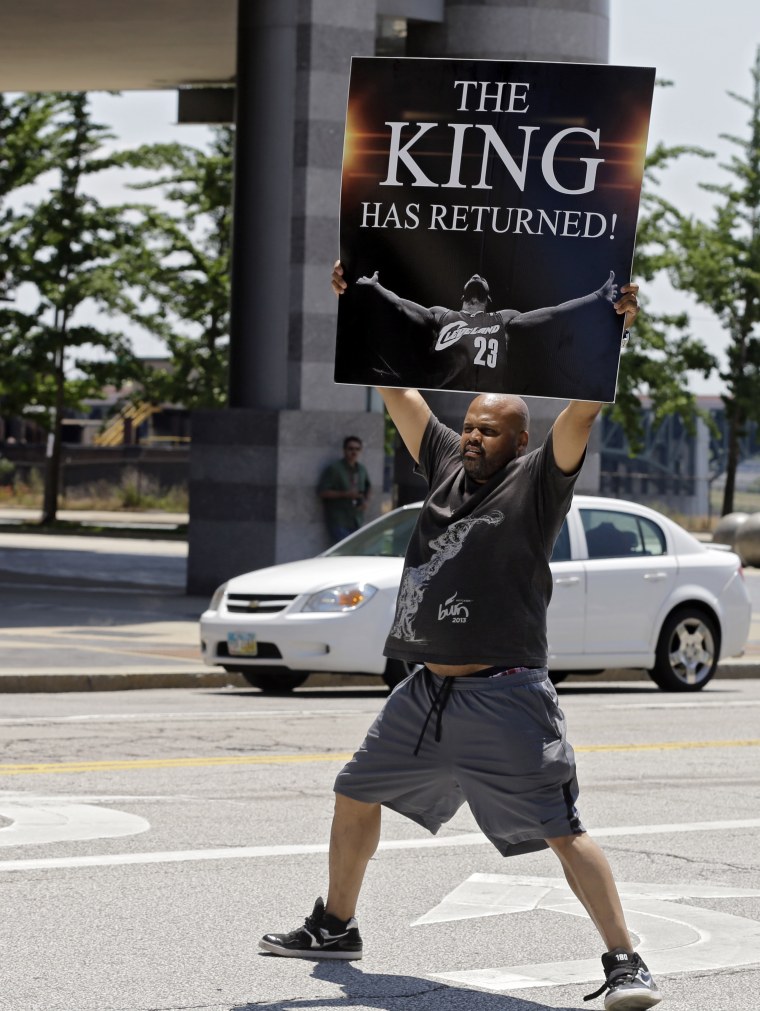 James touched on the city's challenges in the Sports Illustrated essay where he announced his return to Cleveland. It almost felt more like a promotional ad than it did a message about basketball.
"I want kids in Northeast Ohio… to realize that there's no better place to grow up. Maybe some of them will come home after college and start a family or open a business," he wrote. "Our community, which has struggled so much, needs all the talent it can get."
The region needs more than just a star basketball player's talent. While the trend has reversed slightly in the past year, Cleveland and the rest of Ohio has been suffering from a "brain drain" for decades. From 2000 to 2010, the state lost more than 65,000 young adults, Census figures show – a drop of nearly 3%. Only Michigan did worse.
ESPN host Jemele Hill, a native of Detroit, another struggling Midwestern city, spoke on this point during the July 13 Melissa Harris-Perry discussion about James.
"Detroit, Cleveland; they're sister cities. The mentality is very much the same. This is a place that people leave and forget about, that people leave and they go on to do great things, and they never come back," Hill said. "And so for him to actively choose them when he doesn't have to, it's just symbolic and it's unlike anything we've ever seen in sports."
That's why James' return resonates in a new way with me. Yes, I am a lifelong Cavaliers fan, so I was thrilled that the best basketball player on the planet will be playing for my team again. I hope my dad and I might see a championship, together.
But just as the "how" of his departure to Miami bothered me, the "why" of his return was the best part – returning not because northeast Ohio offered the best opportunities, but because it's home.
Our host has joked that maybe I should leave the show and move back home. Truthfully, it's a discussion I've been having with my wife – a fellow Buckeye – and other Cleveland expats with increasing frequency. I rarely have a conversation with friends who have returned that doesn't include a plea for me to join them. I often discuss the idea with friends here in New York and elsewhere who have watched Cleveland's struggle over the last few decades, wondering if our presence there might change things for the better.
There's the rub. Does Cleveland really need us expats to save it, or is it doing all right on its own?
"Everything is just getting busier and busier," a 34-year-old Cleveland resident told the Los Angeles Times. "We have such a worse reputation than we deserve."
An undeserved reputation isn't the only issue. Cleveland is genuinely improving.
According to Cleveland State University population dynamics researcher Richey Piiparinen, more graduate school alums moved to Cuyahoga County, where Cleveland is located, between 2007 and 2011 from Chicago, Pittsburgh, and Brooklyn, NY than it sent to those places. (I live in Brooklyn.) 40,000 people with college degrees moved to Cleveland during that period, and the number of educated 25- to 34-year-olds grew 68%.
The downtown area, moribund during my youth, continues to reinvent itself. The city's plan to renovate the city center, Public Square, in time for the GOP convention got a big boost recently with an $8 million grant. The Flats, the area that local comic Mike Polk, Jr. called a "Scooby-Doo ghost town" in one of his YouTube tourism parodies five years ago? It's showing signs of life, with plans for more. Also, there is a new medical mart and convention center complex.
And one thing about Cleveland no one can deny: its world-renowned hospital, the Cleveland Clinic. Pacific Standard magazine reported the hospital is a big jobs engine since it draws not just local patients, but also international ones seeking care.
The savior complex is both alluring and frightening, and one could argue it's precisely what "King James" fled when he went to Miami. That's why his homecoming should prompt humility, not pride.
"In Northeast Ohio, nothing is given. Everything is earned. You work for what you have," he wrote in SI, offering no guarantees. It's a good lesson for us natives if we're afforded the chance to return to Cleveland: our hometown may not need us quite as much as we'd like to think.