Unapologetic politics and irreverence were on display during the "Clear Eyes, Full Hearts, Can Choose" online telethon event Monday evening in Manhattan, an event co-hosted by comedians Sarah Silverman and Lizz Winstead along with the New York Abortion Access Fund, Lady Parts Justice, and NARAL Pro-Choice America.
The celebrity-laden three-hour event raised more than $53,000 from more than 800 individual donations, according to organizers. The proceeds will benefit The Lilith Fund for Reproductive Equity, Fund Texas Women, Texas Equal Access Fund, and the Whole Woman's Texas Action Fund.
While actor Jemima Kirke's character almost had an abortion on the hit HBO series Girls, the show Friday Night Lights, which inspired the program's theme, did feature one--and in Texas. "That's how you know it's fiction," Winstead joked.
WATCH: Silverman and Winstead take a break during the event to join All In 
Though most of the money raised was donated online, a single celebrity sat and answered calls, in keeping with the telethon theme. "I hope you have someone more famous than me," said Kirke on stage. "This is the best we could do," deadpanned Silverman. Eventually, Kirke was replaced by fashion it-girl Alexa Chung, actor Emily Mortimer, and Orange is the New Black cast members Lea DeLaria and Natasha Lyonne. Actor Kathy Najimy sent in a taped message of support. 
Periodically, a woman dressed in a giant plush vulva costume (courtesy of the sex-toy store Babeland) scurried onstage with a placard. On one side was a hate-tweet on the #TexasWomenForever hashtag, and on the other was the amount that had been raised to date.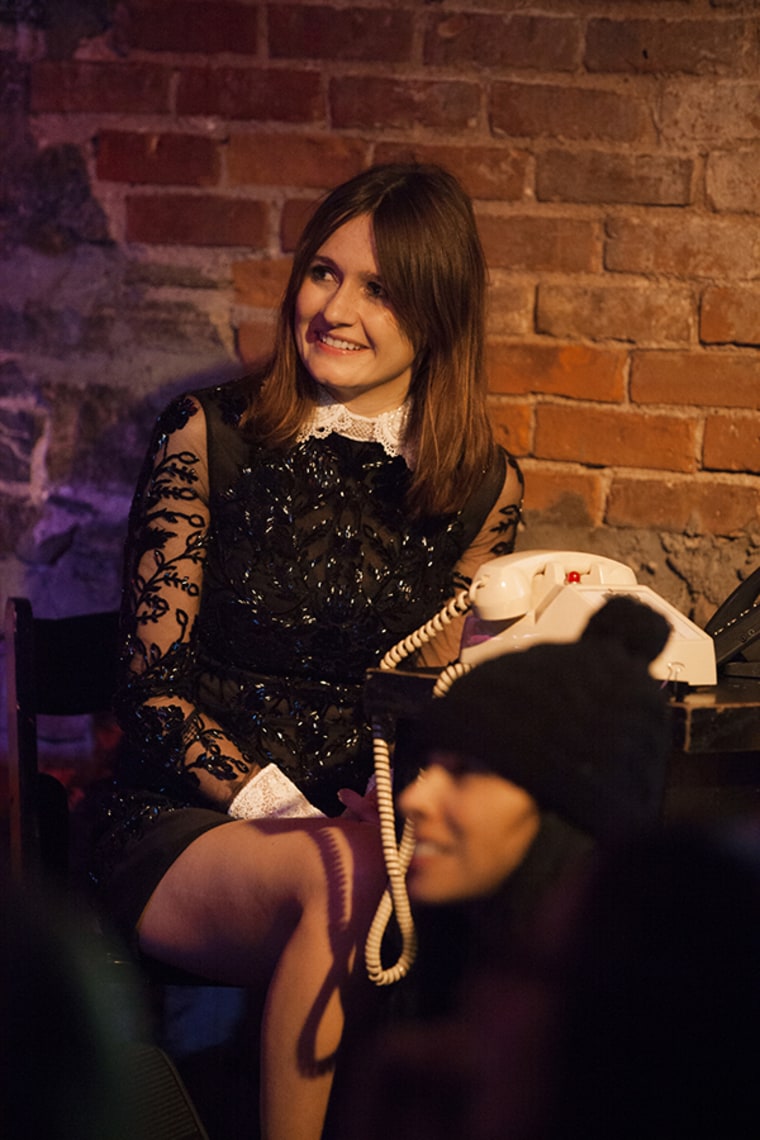 "We're actually going to do a live abortion in this show," Silverman joked.
"With a union provider," Winstead quickly added.
Comedian and activist Dean Obeidallah was one of the featured perfomers. "I feel strongly that we must stand together--regardless of race, religion or ethnicity--against those who would dictate to women the freedoms they can and can't have," he told msnbc after the event. "And as a Muslim-American, I feel it's especially important that people are aware that there are a great number of Muslims in this country who stand with women in this fight."
Another comedian, Amy Schumer, offered jokes that are mostly unprintable here, pausing in her bawdiness to ask, "Was there just a sad video? Like, a fetus with wings?" But the event, naturally, wasn't all laughs offered in the name of raising money.
Silverman and Winstead showed a video that explained the physical distance and financial burden that pregnant Texans endure to reach one of the few clinics open and fully functioning in the state after a federal court ruled earlier this month that the state's new abortion restrictions could go into effect. Texas-based activists Sarah Slamen, Heather Busby, and Jessica Luther--all of whom were present for and participated in Wendy Davis's filibuster of that anti-choice bill last summer--were interviewed onstage by MSNBC political analyst Joan Walsh and frequent MSNBC guests Anthea Butler and Sally Kohn. Luther reminded the audience how the state's department of public safety confiscated tampons but allowed in guns.
Writers Lynne Procope and Syreeta McFadden offered poetry that centered on the experience of women of color. McFadden, who read June Jordan's "Poem About My Rights," told msnbc after the event that she did so thinking not solely about abortion, but also the public crisis about black life triggered by the shooting deaths of Trayvon Martin and Renisha McBride. "Compounded with the issues surrounding abortion, and women having dominion over self and our very personhood right now, I felt like it was really important to put that poem out there," McFadden said.
After singer Lesley Gore brought down the house with a full-throated version of a song she wrote a half-century ago at the age of sixteen--"You don't own me, don't try to change me in any way / You don't own me, don't tie me down 'cause I'd never stay"--"pro-voice" activist Kassi Underwood concluded the event. Underwood's abortion story was one of the 26 told in the current New York magazine cover feature, "My Abortion," and she became involved in the event only days earlier after she met Winstead and Butler when they were guests together on Saturday's Melissa Harris-Perry.
Underwood wrapped up the night by saying that increasing awareness of the experience of abortion means "we can all practice listening. We can start tonight, by listening to the women of Texas who have experienced abortion, and what they say they want."
See Saturday's MHP discussion about abortion access below.