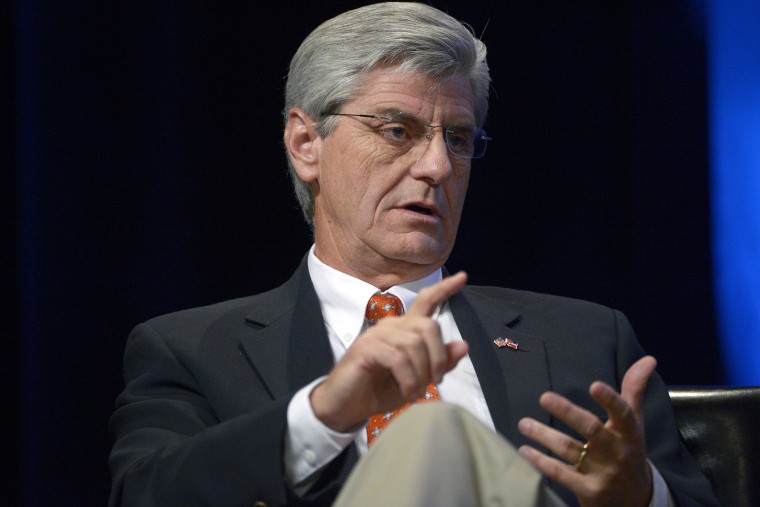 The nationwide outcry from civil rights groups, LGBT groups and, most impressively, from the business community, pressured Brewer into her veto of the bill. But a version not far from what was too extreme for the governor of Arizona is apparently just fine for the governor of Mississippi.
And that's why my letter this week is to Mississippi Gov. Phil Bryant.
Dear Gov. Bryant,
It's me, Melissa.
You signed the Mississippi Religious Freedom Restoration Act on Thursday, and here's what you said about the new law: that it will "protect the individual religious freedom of Mississippians of all faiths from government interference."
Now, I've got to hand it to your party's lawmakers, governor. They were able to avoid a national firestorm by making their bill's language even more vague than that of the Arizona bill. All the new Mississippi law says is that persons can use their religious beliefs to challenge or defend themselves against state law. It does not define "person," which the Arizona bill did, to include businesses. And it does not define the "exercise of religion" beyond the First Amendment of the U.S. Constitution.
An earlier version of the bill – which died in the outcry over Arizona – had defined religious exercise to include the refusal to act in a manner that conflicts with one's beliefs. Like, say, refusing to take wedding photos for a gay couple. So the whitewashing of the language was enough to placate the Mississippi Chamber of Commerce, which had originally opposed the bill. It passed this Tuesday.
But we see you, governor!
The ACLU says the bill will still open the door for individuals and businesses to use claims of religious freedom to discriminate. And we only have to look to Tony Perkins, the head of the Family Research Council, who was at your side during the private bill signing, to get a clear example of just who the law will protect. Like, as Perkins said, quote,
"...a wedding vendor, whose orthodox Christian faith will not allow her to affirm same-sex 'marriage.'"
Yeah, we can see you, governor.
It's not like the people of Mississippi are under the thumb of onerous state laws that protect LGBT people. Same-sex marriage is banned in Mississippi by constitutional amendment. You can't even have a wedding for a vendor to refuse to work!
And you can already be discriminated against for your sexual orientation in Mississippi. You can be fired or not hired just for being gay. You can be denied housing. So, governor, what you did was make it even easier than it already was to discriminate against LGBT Mississippians. To deny them services available to everyone else. Basically, you gave bigots yet another avenue to dehumanize their LGBT neighbors.
That's not all the Religious Freedom Restoration Act does. It also adds the words "In God We Trust" to the official state seal, something that was such a legislative priority for you that you made special reference to it in your January State of the State address:
"With your help, the seal of the State of Mississippi will, from this session forward, reflect the simple yet profound words 'In God We Trust'."
Governor, you made it a priority to add a few words to the state seal. A priority for Mississippi, where more than one in five people live in poverty, more than any other state in the country. The state where more people struggle to afford food than in any other. The state with the shortest life expectancy and the highest infant mortality rate. The state with the second-lowest high school graduation rate and the lowest math and reading scores of any state.
"In God We Trust." But that goes both ways, governor. The way God works – at least in the Christian tradition, which you and 84% of Mississippians follow – the way God works is through his followers. "Feed my sheep," Jesus said.
So when you put Mississippi in God's hands, governor – you gotta hold up your end of the bargain.
Sincerely, Melissa