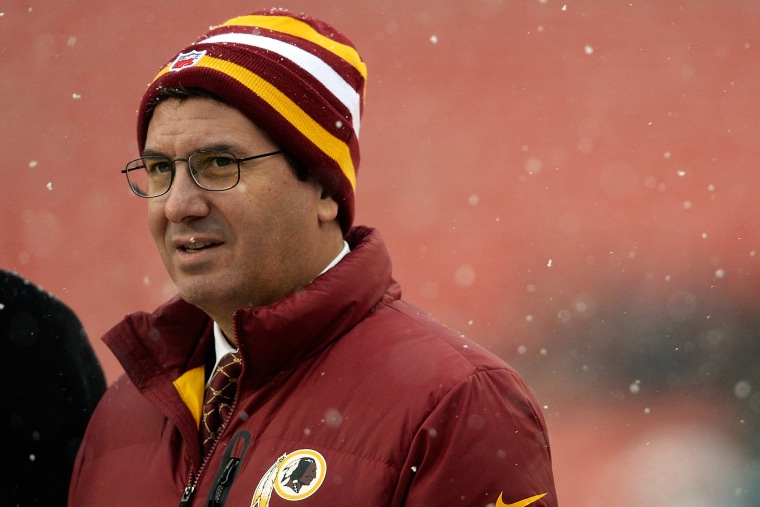 Now, it's going to cost the district about $88,000 to replace fall uniforms and update school buildings with the new mascots and names. And it could cost up to $250,000 in the long term. But the district decided it was well worth it to to make the change from what the mascots were: the Westbury Rebels, the Welch Warriors, the Hamilton Indians, and the Lamar Redskins.
And that's why my letter of the week is to the owner of the Washington pro football team that also needs a name change: Dan Snyder.
Dear Dan,
It's me, Melissa.
Look at what the wonderful people of Houston did! They decided it was better to catch up with the rest of history rather than to keep grasping onto offensive stereotypes. The elected school board voted to approve the new policy that bars the use of any race or ethnic group as a mascot or nickname. And they had the kids weigh in on what the new team names would be. They did it!
Now, true, the Houston Independent School District is not a for-profit professional football team that pulls in something like $381 million in revenue a year. So it might cost you more than just $250,000 to re-brand your team. I actually get that. But eventually, it really will just make financial sense in order to make the change.
Emory University's Sports Marketing Analytics team has found that having a Native American mascot in pro football is losing the team $1.6 million a year in revenue--while mascots who are animals or at least non-Native American people are gaining in value every year.
Here's what Houston Superintendent Terry Grier said about why he pushed for the change in his district with more than 200,000 students:
"The time has come for the Houston Independent School District -- the most vibrantly diverse school district in the nation -- to acknowledge that some decisions made generations ago need to be reconsidered. Traditions are important. But respect for cultural difference and sensitivities matters more."
And Dan, here's what you once said about keeping your offensive team name:
"We'll never change the name," you said. "It's that simple. NEVER -- you can use caps."
Now, I know you started your Washington Redskins Original Americans Foundation. But putting an ethnic slur on a foundation that's supposed to benefit the people you're slurring is just wrong.
And your involvement is now driving actual Native American groups away from supporting events that will benefit actual Native Americans -- like the recent Arizona charity golf tournament to raise money for scholarships that the National Indian Gaming Association and others have now pulled out of because of your involvement. So your foundation is now undermining efforts to help.
Seriously. You need to change the name!
And look, it doesn't have to be a bad change. You can find something even more tough, intimidating, and bad-ass. I mean, look at New Orleans. We lost the Jazz to Utah and ended up with the New Orleans Hornets NBA team. And New Orleans isn't exactly overrun with hornets, thank goodness. So we changed it to the Pelicans.
Now you might poo-poo the Pelican as just some lame seabird. But you'd be wrong about that, because the Brown Pelican of Louisiana is a vicious carnivore that flies up to 65 feet above the ocean and dive-bombs its prey, stunning it with the impact and devouring it before it even knows what happened.
Now, Dan, I know there's been some support -- from fans, not from you -- for changing your team name to the Washington Warriors. And that's great. Love that. But if that's not working for you, let us suggest something else: How about the Washington Wonks? That sounds pretty tough -- at least to those of us in #nerdland.
Sincerely, Melissa