Hundreds of protesters gathered in parks around New York City early Monday morning to celebrate the one-year anniversary of Occupy Wall Street.
Protesters, ranging from children to grandparents, met in four different "zones" surrounding the New York Stock Exchange to protest inequality and corporate greed. At Zuccotti Park, the original site of the Occupy camp, protesters met at 7 a.m. to discuss nonviolent action and resistance as many employees and executives began their work day.
"There is nothing negative about this," Sergio Uzurian, 26 from Buffalo, N.Y., said about the gathering. "This is for the people."
As the crowds gathered around lower Manhattan, groups of NYPD officers stationed themselves in front of banks and along the streets, and directed traffic and Wall St. employees around the protesters. Police set up barricades around Wall St. and the Stock Exchange, and only let people through who could show employee IDs. 
Organizers handed out maps in the morning of the various meeting places, but despite the pre-planned actions for the day, the morning was chaotic. NYPD set up barricades to keep protesters from crossing certain streets, and people were often separated from their zone groups as they sought new ways to access Wall St. 
Cops began arresting protesters just before 8 a.m. on Pine St., and arrests continued through the morning as protesters marched to Bowling Green park—the location of the iconic Charging Bull sculpture. The bull, which was under heavy police guard, has been off-limits to tourists since last year's Occupy protests.
---
Many of the protesters participating in the Monday demonstrations have been a part of Occupy movements—from New York to Philadelphia to Hartford—since last fall. Daniel Valdes, 27, has been with Occupy since last year, and he believes the one-year anniversary events will re-energize the fight and bring attention to the dissatisfaction Americans feel about the government and politics. 
"The political system shut us out," Valdes said. "It's a circus at this point."
Also among the protesters were new faces to Occupy. Nineteen-year-old Joseph Califano, an economics student at Sarah Lawrence College, arrived at Monday's Occupy protest (his first) with a sign that read, "Why develop empathy, when you could be making $350,000+ a year running a Ponzi scheme?"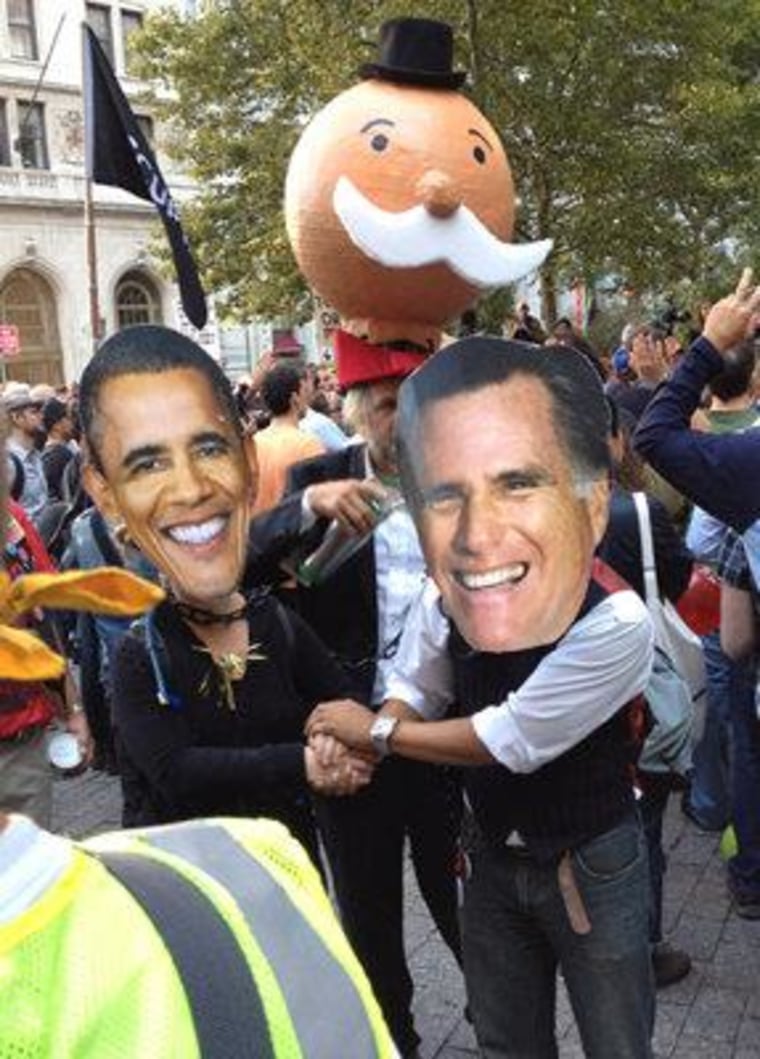 "I hope income inequality becomes a part of the national conversation," Califano said.
By the afternoon, NYPD reported nearly 150 arrests. Along with an increased police presence, National Lawyers Guild representatives and a large number of journalists were also among those present throughout the protest.
Events are planned through Monday night, when protesters plan to re-occupy Zuccotti Park. The protest wraps up a weekend of anniversary celebrations, but many protesters believe Occupy will continue to grow moving forward. 
"We have to keep going," Veterans for Peace's Crystal Zevon said. "I feel like I've lived my life, but I don't know that my grandsons will be able to live theirs if things don't change fast."