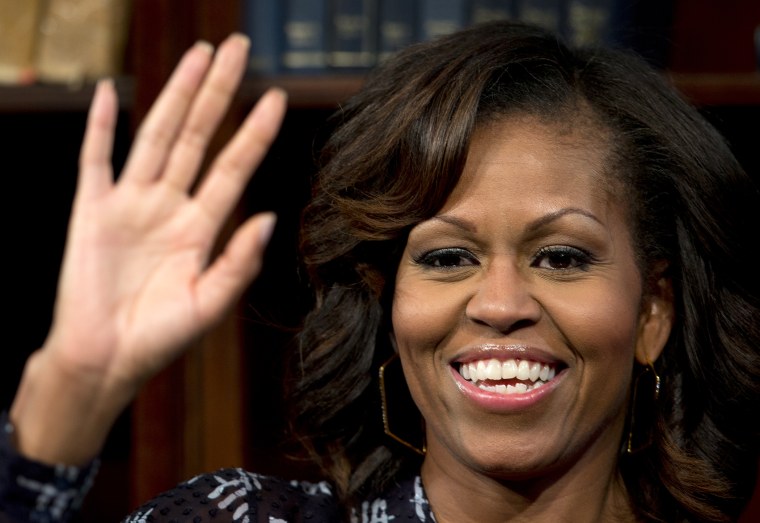 On yesterday's program we didn't have a chance to get to our usual letter of the week and so today, I'll close the program with this week's letter, or rather, a card.
On Friday, First Lady Michelle Obama turned 50. And last night, she marked the occasion with a "50 and Fabulous" celebration at the White House. So this morning: my birthday card to the nation's First Lady.
Dear First Lady Obama,
It's me, Melissa.
Happy Birthday and best wishes for at least another 50 years of good health, great joy, and remarkable achievement. The life you have already lived was almost unimaginable on the day you were born because you were born into a country that was unsettled.
In the months leading up to your birth, the March on Washington revealed the extent of black discontent with the conditions of life in America. Four little girls were murdered in the racist bombing of the 16th Street Baptist Church in Birmingham. And President Kennedy was assassinated, leaving the nation stunned and a former Southern Senator in the Oval Office.
Your mother, Marian Robinson, must have felt the tremors of racial anxiety that were shaking the ground beneath her maternal feet. Especially because it was racial uncertainty and violence that led her grandparents and tens of thousands of other black Americans out of the South and into cities like Detroit, Philadelphia, and Cleveland decades earlier. Indeed, your birth 50 years ago on the Southside of Chicago was the result of a Great Migration of African Americans determined to establish new and free-er lives for themselves and their children.
But here, at the doorstep of your life, the violence and inequality they fled, was taking center stage. I can imagine your mother, cradling the weight of your baby self in her arms and wondering if her big dreams for you could actually come true. But oh how they have!
By the time you could sit up on your own, LBJ had signed the 1964 Civil Rights Act. And once you were able to walk he'd enacted the 1965 Voting Rights Act. Just before you turned two, Dr King brought his movement to your hometown, launching the Chicago Freedom Movement and redirecting Civil Rights activism to issues of economic justice.
As you started Kindergarten, the first black women undergraduate students at Princeton University arrived on campus, clearing the path that you would walk just 13 years later. The year you graduated from Harvard Law School, Reverend Jesse Jackson captured nearly 7,000,000 primary votes, won 11 states, and made the dream of a black American president, a distinct possibility.
And on the day you turned 50, you did so as the First Lady of the United States. Standing as an equal partner alonside your history-making husband and surrounded by your own daughters and the mother who must still be astonished by all that you have done.
Little Michelle Robinson from the South Side: studying hard, working constantly, dreaming big, but also discovering that the activism, sacrifices, and policy changes wrought by your community helped make it possible to reach previously unimaginable heights. Maybe that is why during a White House summit on education, Thursday, you took a moment to remind us that this work continues.
So my hope is that with this new effort, that instead of talking about our kids, we talk with our kids. I want to hear what's going on in their lives. I want to inspire them to step up and commit to their education so they can have opportunities they never even dreamed of. I'm doing this because that story of opportunity through education is the story of my life, and I want them to know that it can be their story, too.
Indeed, as my father has signed every birthday card he's ever sent me: the struggle continues. Happy Birthday, First Lady Michelle Obama.
Sincerely, Melissa