There may be no quieter time on a college campus than the wee hours of a Sunday morning. Thus, it is unsurprising that starting before 7:00am ET yesterday, Pennsylvania State University tore down the statue of the late football coach they once idolized (and some still do), Joe Paterno. Yes, it's summertime, and most students presumably won't return to State College, PA until late next month. But if you want to avoid a scene, it was probably best to do it right after the decision was announced.
What the new Penn State president, Rodney Erickson, did yesterday was juke a lot of folks. We understood from previous reporting that his decision on whether or not to remove the statue would come by Tuesday -- but given that the debate over the statue's fate was growing louder by the hour and with the easily conceivable sight of protesters disrupting the removal process, Erickson can hardly be blamed for expediting his decision, and the accompanying action.
Yesterday on our show, Dave Zirin, the sports editor for The Nation magazine opined that this was "the most rapid and violently dramatic fall from grace in the history of American sports," and it's difficult to disagree. As Zirin noted, Paterno's face was on the Mount Rushmore of American sport, and the symbolism of the above photo -- his statue being removed with a blue blanket covering his face -- is particularly salient. We understand why they did it. But what does removing the Paterno statue, the most stark physical on-campus reminder of Jerry Sandusky's crimes, solve?
Remember, there were no statues of Sandusky, the former assistant coach and convicted child rapist, on campus -- nor any of the other now-former university officials who also helped enable his serial sexual abuse. The Paterno family argued yesterday that removing it helped no one, especially the victims of Jerry Sandusky' crimes which former FBI director Louis Freeh's investigation indicates that their patriarch did little to nothing to stop. It is undetermined what, beyond an urge to defend the late head coach coach, gave them clairvoyance, or some other preternatural insight into what triggers Sandusky's victims, and what they feel is best for their own healing.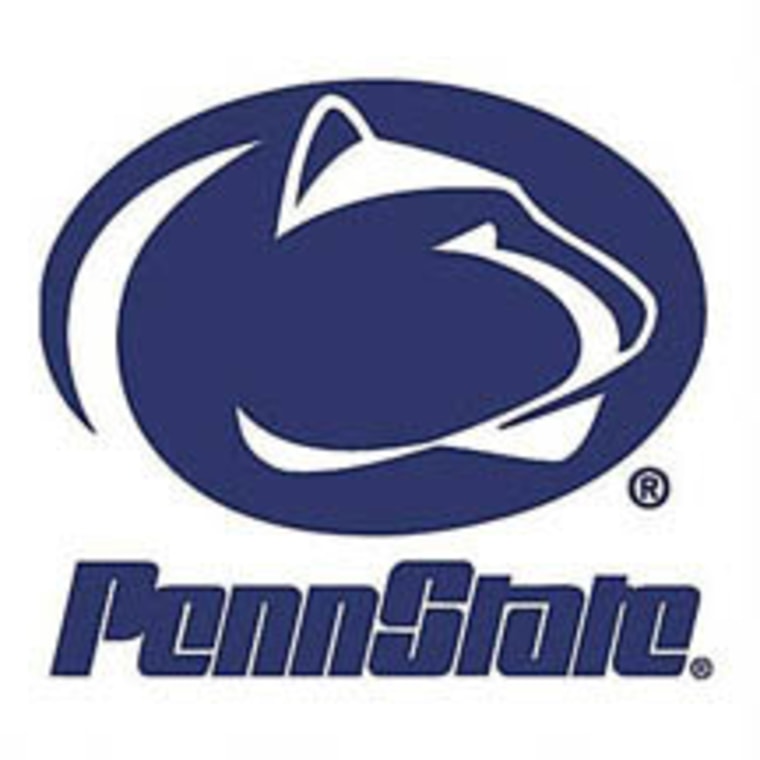 I'd say something similar for the unprecedented NCAA penalties handed down today by NCAA president Mark Emmert, which included:
a $60 million fine
vacating of all of the team's victories from 1998 to 2011
a four-year ban on all postseason games, including bowl games and Big Ten championship games
loss of 20 scholarships per year for the next four seasons
five years of NCAA probation
all current Penn State players are free to immediately transfer to another school and compete in the 2012 season (normally, after transfers, players must wait one season)
You may note that, as Sports Illustrated's Andy Staples did on Twitter, that none of the people involved in the crimes punished today were actually punished. Paterno, having died in January, only saw another dent to his football legacy, dropping from first overall in career NCAA football coaching wins to 8th. So what did these punitive penalties actually solve, beyond making the NCAA look authoritative in a situation that was arguably beyond its purview?
After the announcement was made, Chris Fowler, host of ESPN's "College GameDay," more or less asked that very question. In a prescient and brutal column published yesterday in anticipation of the sanctions, Yahoo! Sports' Pat Forde argued that the NCAA was straying from their lane:
Emmert seems determined to go where no NCAA president has gone before. Not only is he willing and apparently anxious to involve his organization in a situation that does not fit neatly into NCAA enforcement bylaws, but he also seems willing to put on the Roger Goodell cowboy hat and sheriff's badge, making himself the chief arbiter of justice...Fact is, I don't trust Emmert or anyone else at the NCAA to deliver a punishment that fits the crimes of Jerry Sandusky and those who enabled him. As I've stated repeatedly, this is no place for the NCAA and its manual. This is for the criminal and civil courts to decide – and, if Penn State has the leadership and the courage, the school itself.
Having made similar arguments in the New York Times and The Nation last week, Zirin today savaged the NCAA for their decision, arguing similarly that the university and the courts should handle this. He also cited a damning quote from an NCAA official which said, in essence, that the NCAA was exercising "unprecedented" and "extensive" power in a situation that has "nothing to do with the purpose of the infractions process."
And here's the strangest part of all of this, to me: through the admonishment Penn State levied upon its own since-departed personnel (including Paterno, who was fired unceremoniously in November), the beating their public image has received, the conviction of Sandusky, the Freeh report, and now these NCAA damn-near "death penalty," do you know who has essentially slithered his way out of the scrum, unscathed?
Pennsylvania Governor Tom Corbett, who was once Pennsylvania Attorney General Tom Corbett, and whiffed on his chance to stop Sandusky back in 2009, when he convened a grand jury, but failed to make an arrest. And Zirin notes that as governor, he further enabled the Second Mile Foundation, which Sandusky used to lure his victims:
In addition, when Corbett was sworn in as governor in 2011, he still had not informed Thae Second Mile Foundation that their founder was under investigation. Instead, as a candidate for governor, he took $650,000 in donations from members of the Second Mile's unknowing board, even allowing their chairman to hold a fundraiser for his campaign. Upon being elected, Corbett then moved deftly from doing nothing to immediately try to deflect the entire weight of the scandal onto Joe Paterno and Penn State itself, using his recently appointed position as a member of the school's Board of Trustees (an automatic appointment for all Pennsylvania Governors) to do so.
ESPN's Jay Bilas said this morning that Sandusky was enabled by "a conspiracy of cowards." Best to make sure that all are accounted for.
Our coverage of the Penn State scandal from yesterday's show is below.