New York City Mayor Bill de Blasio, sticking to a campaign promise to chip away at New York City's controversial stop-and-frisk policy, announced on Thursday that the city has filed paperwork to drop the city's appeal to a federal judge's ruling that the city had violated the constitutional rights of innocent minorities.
The announcement could be the first steps in reforming the much maligned tactic.
"This is a defining moment in our history. It's a defining moment for millions of our families, especially those with young men of color," Mayor de Blasio said during a news conference in Brownsville, Brooklyn, the epicenter of the tactic. 
Later, on MSNBC's PoliticsNation, de Blasio added, "It means we're going to end the whole legal battle, because we've agreed to a settlement with the people who raised the case to begin with. On behalf of young men of color in this city, we're going to moving forward. We're accepting the reforms the federal judge put forward. We're embracing those reforms. And we believe it's going to make us safer in the final analysis, because police and community will have a chance to actually work together as opposed to being divided by an unfair policy." 
But at the same time, the decision was met with weary optimism.
"For too long, communities of color have felt under siege by the police, and young Black and Latino men have disproportionately been the target," said Vincent Warren, executive director of the Center for Constitutional Rights, which represented a number of the plaintiffs in Floyd v. City of New York, the 14-year-old landmark case at the heart of the city's dispute over stop and frisk. "We are eager to finally begin creating real change."
Joo-Hyun Kang, a spokesman for Communities United for Police Reform, said the New York police department has "systematically engaged in the discriminatory treatment of New Yorkers for more than a decade," and called de Blasio's announcement, "refreshing."
"This agreement is an important step in moving us closer to beginning the process ordered by the court last August, and it is refreshing that this new administration is committing to that process moving forward," Kang said.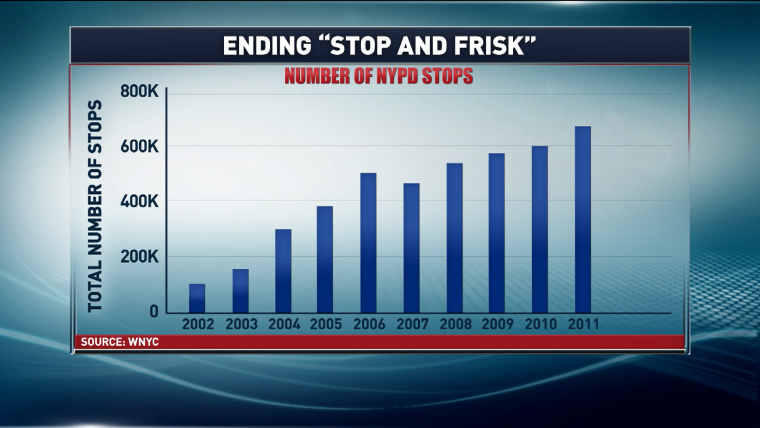 The numbers of stop-and-frisks have dropped dramatically between 2011 and 2013, during a time of great public outrage and debate over the efficacy of the practice. Last year there were about 194,000 reported stops, compared to roughly 533,000 in 2012 and 694,000 in 2011.
Earlier this month, newly-installed Police Commissioner Bill Bratton, who for a couple of years in the mid-1990s served as commissioner under Mayor Rudy Giuliani, said the practice of randomly stopping and frisking people had been eliminated in some neighborhoods that had been highly targeted.
And over the summer, a federal ruled that the police department violated the constitutional rights of those it targeted. Judge Shira Scheindlin found that the department "adopted a policy of indirect racial profiling" and among other things called for a federal monitor to oversee sweeping reforms to the police department's policy. Scheindlin blasted former Mayor Michael Bloomberg and police commissioner Ray Kelly, writing in her decision that "the city's highest officials have turned a blind eye to the evidence that officers are conducting stops in a racially discriminatory manner."
But the Bloomberg administration appealed Scheindlin's ruling and months later, an appeals court put a halt to the judge's recommendations.
The agreement announced on Thursday with plaintiffs of the nearly 15-year-old case of Floyd V. New York, which became central to the city's long fight over the New York Police Department's stop-and-frisk policy, would put in place a court appointed monitor to serve for three years overseeing the NYPD's stop-and-frisk policy. The monitor, according to the city, "will be empowered to report to federal court on the city's progress meeting its obligation to abide by the United States Constitution."
City attorneys filed a motion with the Second U.S. Court of Appeals, asking that the city's earlier appeal be kicked back to a lower court for 45 days, "to permit the parties to explore a resolution." 
If the court of appeals agrees, the city is expected to request that the Bloomberg-era appeal be dropped. The city said that community partnerships will ensure that people most affected by stop-and-frisk will play an active role in shaping its reform.
"We will not break the law to enforce the law," said Police Commissioner Bill Bratton. "That's my solemn promise to every New Yorker, regardless of where they were born, where they live, or what they look like. Those values aren't at odds with keeping New Yorkers safe, they are essential to long-term public safety. We are committed to fulfilling our obligations under this agreement as we protect and serve this great city."
In following through on his early campaign pledges to thoroughly reform the practice, de Blasio took a bold step in solidifying his progressive cred and toward the lofty goal of easing the many social and economic disparities in this city of great haves and have-nots.
De Blasio's fierce opposition to stop-and-frisk, which by proxy made him a champion of the city's huge minority voting blocs, served as a springboard into the Mayor's office while other candidates danced around the issue.
One particularly defining moment of de Blasio's campaign was the launch of a television ad featuring de Blasio's telegenic, bi-racial son, Dante, in which the teen said "he's the only Democrat with the guts to really break from the Bloomberg years… and he's the only one who will end a stop and frisk era that unfairly targets people of color."
"Bill de Blasio will be a mayor for every New Yorker no matter where they live or what they look like," Dante de Blasio said, looking into the camera. "And I'd say that even if he weren't my dad."
This latest step in the long fraught debate over the NYPD's policing, particularly in minority neighborhoods, could be a seismic shift away from one of the hallmarks of the Bloomberg administration.
Earlier this month, de Blasio said that a groundswell of pressure from community and grassroots organizations (the arms and legs of the progressive movement) put pressure on city leaders to force changes in the practice.
"It's because people stood up. Clergy stood up, community activists stood up over the last two years, and that's honestly when change began to happen. Because people at the grassroots of this city spoke loudly and consistently," de Blasia said during a news conference. 
"You know that change was resisted by the previous administration quite aggressively," he added. "But at a certain point the mayor and the police commissioner backed away and started to modify their policies." 
More than 4 million New Yorkers, mostly young men of color were targeted by the NYPD over the course of a decade. More than 90% of those who were stopped were completely innocent of any crime, according to city data. And a weapon was found in less than 1% of the cases.
Still, the policy was championed by Bloomberg and Kelly, who attributed the policy to the city's steep drop in crime over the past decade, despite a downward trend in crime nationally.
The Bloomberg administration swiftly appealed Scheindlin's ruling, and two months later a U.S. appeals court froze the court-ordered reforms she'd ordered, including the federal monitor and some officers being required to wear video cameras to visually document future stops. But the court also decided to remove Scheindlin from the case, questioning, among other things, statements that she made to the press.