The month of May represents graduation season for colleges and universities across the country. As graduates of the class of 2013 are set to embark on the next phase of their lives many are saddled with debt while others face less than stellar job prospects.
msnbc host Melissa Harris-Perry, resplendent in her ceremonial cap and gown, explored on Sunday's show just how tough the financial situation is presently for outgoing students--and will be going forward.
The average amount of college debt for 70% of the class of 2013 tops $35,200, according to a new study. That should come as no surprise since the total amount of student debt in the United States has hit $1 trillion dollars.
Dorian Warren, an associate professor at Columbia University, says this creates a whole new system for people riddled with debt. "We are literally trapping in a caste system in some ways, today's students." When asked what students should do to combat rising college-related debt Warren said, "I think what we need to convince graduates is that they need to organize."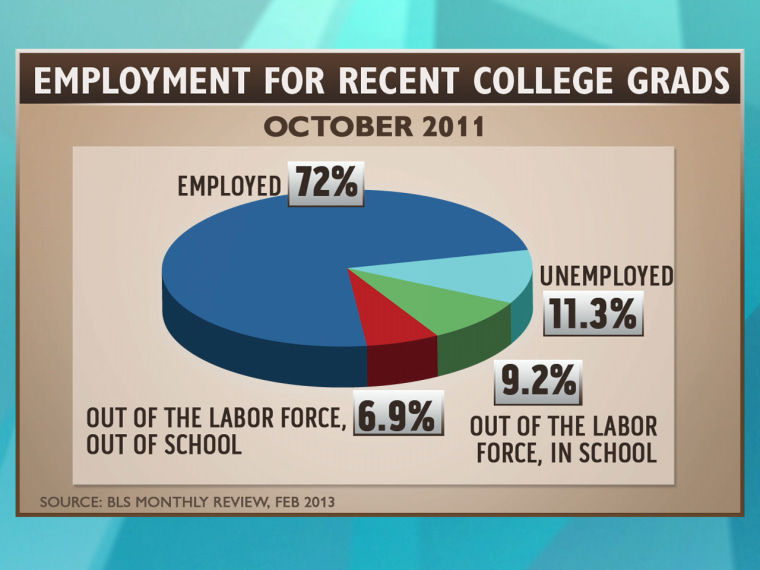 While it is the contractual duty of the borrower to pay back the loan at times it's not possible. "I think the most important thing we gotta tell people is it ain't the borrowers faults," said One Wisconsin Now executive director Scot Ross. "Student loan debt is a clear and present danger to the American economy."
How much of a danger can student loan debt be to the economy? In 2004, student loan debt accounted for 3.1% of consumer debt. That number now stands at 8.8%.  According to Warren, "We're putting a whole new generation of folks in lifetime debt before they even get started."
While African-American students borrow at a rate of 81%, they are hardly alone. Latino students are at 67%, white students are at 65% and Asian students at 67%.
When it comes to jobs, the good news for college graduates is that they have half the unemployment rate of high school students. The bad news is that the number of college graduates that were working minimum wage jobs was 284,000 in 2012.
Auburn Seminary's Valarie Kaur said college graduates are finding ways around this. "We are finding ways to be entrepreneurial in spaces outside of institutions of power," she said.
When it comes to the job market Wake Forest University career development executive Andy Chan thinks schools can better prepare students. "The number one thing that I think that most schools have not really kept up with is the fact that their faculty need to actually get connected to the employers. They actually have to know what's going on in the outside world."
See more of the Sunday discussion below.