Reports of sexual assault within the armed forces skyrocketed by more than 50% in 2013, a jump that comes after months of sustained pressure from lawmakers and advocates to change the military's approach to crimes that have reached epidemic levels across all branches.
There were more than 5,000 reported sexual assaults between Oct. 1, 2012 and Sept. 30, 2013, according to information obtained by the Associated Press, the most since the Pentagon began compiling annual data on the problem in 2004. There were 3,374 reports in the 2012 fiscal year, out of an estimated 26,000 instances of unwanted sexual contact. That estimate, along with several high-profile military sexual assault cases, helped turn 2013 into the most productive year ever for advocates of reform.
The release of this information is one more sign that legislative efforts -- led by Democratic Sens. Kirsten Gillibrand of New York and Claire McCaskill of Missouri, and by Democratic Rep. Jackie Speier of California in the House -- could finally create a level of accountability that did not come in the wake of past sexual assault scandals, from mass harassment at the 1991 Tailhook Convention to news of an investigation into widespread assault and sexual misconduct by instructors at Lackland Air Force Base in 2011.
Military officials told the AP the data suggest that the number of incidents has not changed, which could indicate that survivors of sexual assault are feeling emboldened to speak out. However, the number of reported incidents alone offers an incomplete picture, and until the military releases more information, the implications of this increase in reporting cannot be known.
A Defense Department spokeswoman told msnbc on Saturday that it is too early to know the outcomes of those 5,000 reported incidents, but that a breakdown will be included in the annual report the Pentagon releases every spring. Only 302 of those 3,374 sexual assault reports in 2012 went to trial.
While the Pentagon is optimistic that the higher numbers of reports this year are a sign that reforms are working, advocacy groups that work closely with survivors of military sexual assault remain skeptical.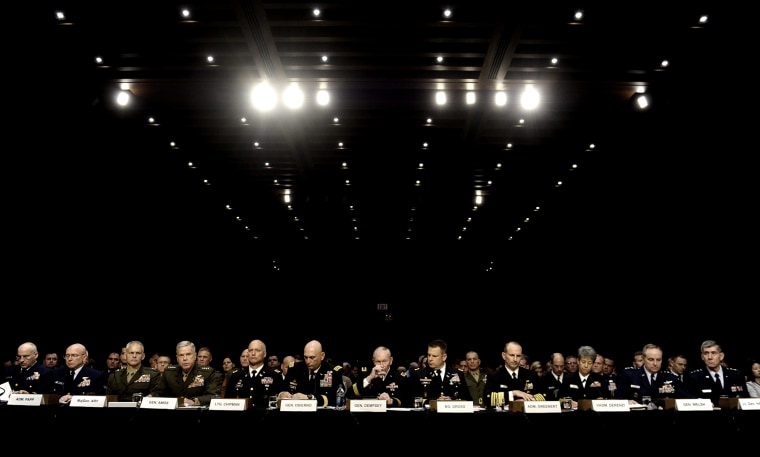 "It is unclear whether these numbers represent an increase in crime or reporting," Nancy Parrish, president of survivor advocacy group Protect Our Defenders, told msnbc in response to the AP's report. Even if the increase does represent progress, survivors still face serious challenges in the pursuit of justice. "One thing we do know is that 62% of those that do report state that they were retaliated against and 25% of victims indicated the offender is someone in their chain of command."
A host of changes to the military's sexual assault policies -- from assigning victims of assault independent legal counsel to making it a crime to retaliate in any way against someone who reports a sexual assault  -- became law when President Obama signed the National Defense Authorization Act on Dec. 26, and a proposal introduced by Gillibrand this spring to remove sexual assault prosecutions from the military chain of command is now a standalone bill that is likely to see a vote in early 2014.
By the time the Senate voted on the compromise defense bill on Dec. 19, the debate over how to deal with sexual assault in the military had broken down into two factions. One, led by Gillibrand, supports her proposal to completely overhaul the system by removing prosecutions from the chain of command. The other, led by McCaskill, believes that commanders should be allowed to retain authority over those decisions. McCaskill has already said that she plans to offer her own "alternative" bill when Gililbrand's proposal comes up for debate. That bill will include changes she had originally offered as an amendment to the defense authorization, but it will still stop short of Gililbrand's measure.
While 53 Senators, as well as major veterans' and survivors' groups, have pledged their support for Gillibrand's bill, Secretary of Defense Chuck Hagel, Chairman of the Joint Chiefs of Staff Martin Dempsey, and other high-ranking military officials have opposed it. At a Senate hearing in June, all of the military leaders who testified argued that the current system did not need major changes. At that same hearing, Gillibrand challenged the mostly male panel, saying, "not every commander can distinguish between a slap on the ass and a rape."
This year's defense bill also included changes to the military justice system that will bring Article 32 hearings, a part of the court martial pre-trial process, more in line with the civilian court system to protect alleged victims from intrusive questioning. The bill allows victims to have their own legal representation. It also criminalizes retaliation against those who report crimes, and it bans military commanders from unilaterally overturning jury convictions.
After the months of work done by legislators and advocates culminated in the inclusion of reforms in the defense bill, Obama ordered the military to begin a comprehensive review of its sexual assault and prevention policies and to report back to him by Dec. 1, 2014. In May, Obama called sexual assault an "outrage" and said, "I don't want just more speeches or awareness programs or training … If we find out somebody is engaging in this stuff, they've got to be held accountable -- prosecuted, stripped of their positions, court-martialed, fired, dishonorably discharged."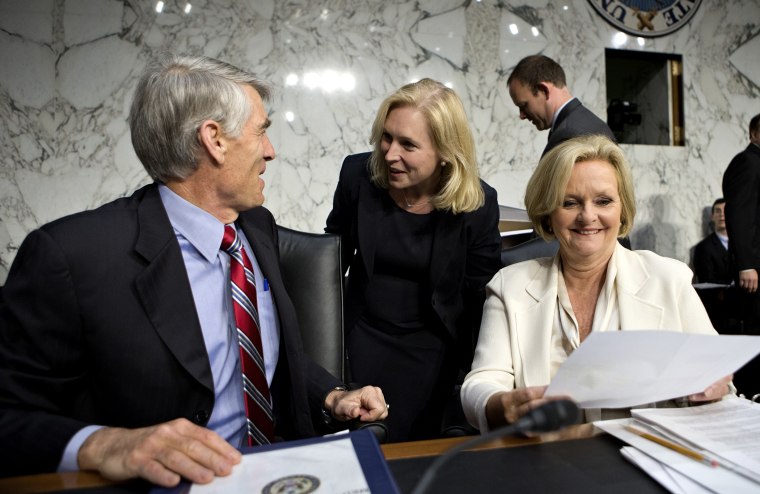 Gillibrand and McCaskill have both vowed to push for further reforms in the new year and to closely monitor the implementation of the new regulations and procedures. In addition to those in the NDAA, Hagel ordered the Defense Department to make a series of immediate changes to its sexual assault policies in August. Those changes included creating special victim's advocate programs in each branch of the military and allowing administrative transfers for individual accused of sex crimes. Critics denounced the move as "small tweaks to a broken system."
For survivors and those who work with them, the most recent data only reinforce the importance of the progress made this year, as well as how critical it is to keep military sexual assault in the national spotlight. "These new numbers further show the severity of the military sexual assault epidemic and the need for fundamental reform to the way the military handles these criminal cases," Parrish told msnbc. "With these new statistics and decades of scandals, now, more than ever is it clear that we need an independent and impartial military justice system."