The Senate voted Monday, 61-30, to open debate on a law banning workplace discrimination over a person's sexual orientation or gender identity. 
Majority Leader Harry Reid and his fellow Senate Democrats on Monday secured 60 votes in support of the bill—the number needed to avoid a Republican filibuster. This was the first time the Senate has voted on ENDA since 1996, where it failed by just one vote. The legislation, which would protect gay and transgendered people from workplace discrimination, has been introduced in some form nearly every session of Congress since, but has never passed both chambers. 
If the Senate formally passes ENDA, the fate of the bill will rest in the House's hands, where Speaker John Boehner has already said he will not bring it to the floor for a vote.
The legislation, which was first introduced to Congress nearly four decades ago as the Equality Act of 1974, would provide federal protection against discrimination to LGBT employees across the country. Currently, there are 29 states that do not have laws protecting gay, lesbian, or bisexual individuals from discrimination based on sexual orientation. In 33 states, there are no state laws protecting transgender people from the same discrimination.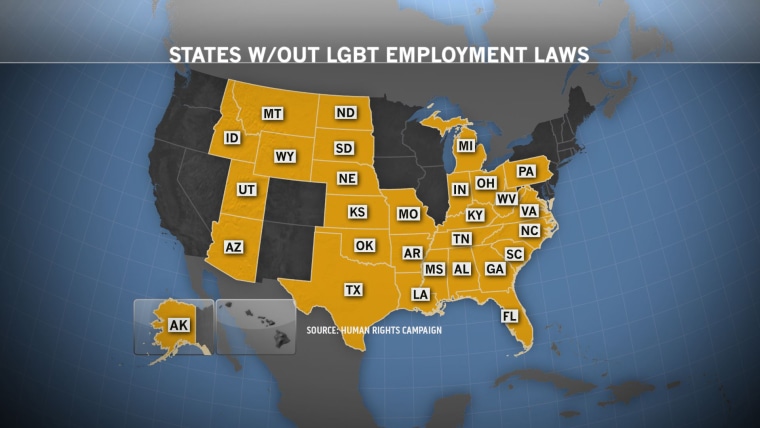 Despite ENDA's last failure in the Senate, advocates continued to push for federal non-discrimination laws and saw progress in 2007 when the House voted to pass the bill. It later died in the Senate.
The current version of the bill was introduced in April by Rep. Jared Polis (D-Colo.) and Sen. Jeff Merkley (D-Ore.), who had also introduced a version of the bill in 2011. The current bill was approved by a Senate committee in July.
"No one should be fired for their sexual orientation or gender identity," Merkley said in a statement last week. "Everyone should have the freedom to work hard and earn a living."
But opponents of the bill are arguing that ENDA endangers the religious freedom of employers and companies. In a statement released last week, the Family Resarch Council urged Congress to stop the bill because it would "force religious business owners and workplaces" to employ individuals who've had gender reassignment surgery or who are "'transitioning' their public 'gender identity.'" The FRC also said ENDA would force religious organizations to hire transvestites and drag queens.
During Monday's debate, Sen. Tom Harkin (D-Iowa) pointed out that the current version of ENDA on the Senate floor contains a religious exemption that would allow certain religious organizations to take sexual orientation and gender identity into account when making hiring decisions.