Victoria's Secret removed the phrase "The Perfect 'Body'" from its new bra campaign after facing backlash for advertisements that critics said promoted negative female body images.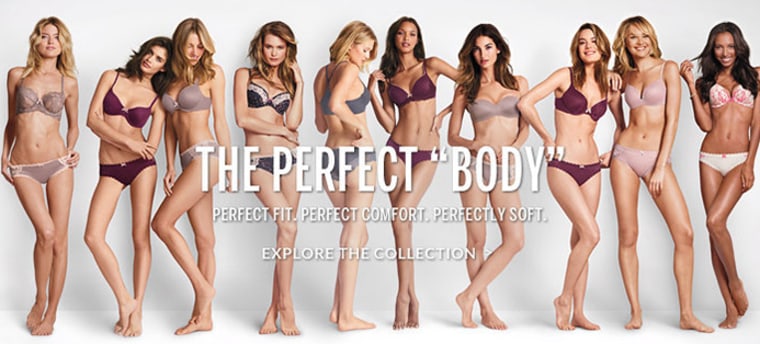 Last month, three British students launched an online petition demanding America's largest lingerie retailer apologize and alter the phrase on the ad. The campaign was a play on wording for the company's "Body" bra collection. But the text, which was paired with images of slim lingerie models, suggested there is only one ideal body type, the women said. They added that the ads failed to celebrate the diversity of every figure by naming only one as "perfect."
RELATED: Victoria's Secret's new bra ad not so 'perfect'?
Victoria's Secret has not publicly addressed the controversy, but this week, the company pulled the tagline and replaced it with text that reads: "A Body for Every Body." The phrase appears over the image of the same 10 slim underwear models who were featured originally.
Victoria's Secret did not immediately respond to msnbc's request for comment.
Frances Black, Gabriella Kountourides, and Laura Ferris, of Leeds, United Kingdom, created the petition two weeks ago, and gained more than 29,000 supporters. They said the campaign perpetuated low self-esteem among women and contributed to a culture that permits health problems, including negative body images and eating disorders. They also took their petition to Twitter, rallying other people to spread the message with "#iamperfect."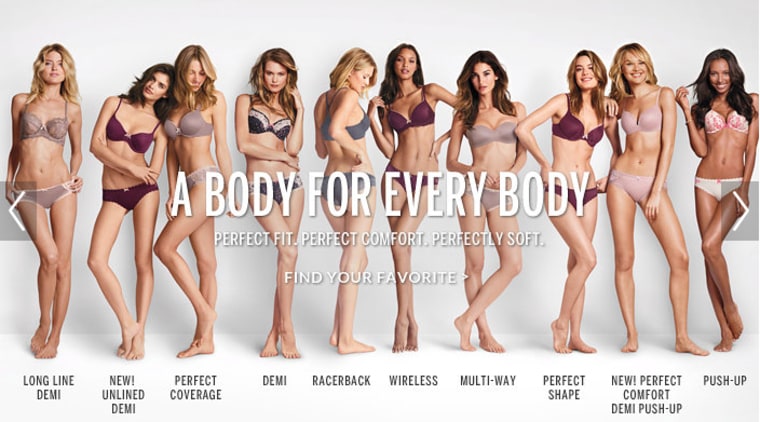 A different underwear company joined the public outcry. Dear Kate, a New York City-based retailer, typically features women of all shapes and sizes in marketing campaigns. In response to the controversy, the company created its own "Perfect 'Body'" campaign, which showcased women of varying shapes and sizes. "These ladies are more than just pretty faces," the company wrote in a blog post, adding that the women pictured are individuals "often neglected by the media and traditional retailers."
A decade ago, Dove launched the Campaign for Real Beauty, which featured women deemed as having appearances that were outside stereotypical norms. Following the recent criticism against Victoria's Secret, the personal care brand took to Twitter to celebrate the "perfect real body."