For 33 years, Working Mother magazine has compiled a list of the 100 Best Companies for its namesake readers – and recently, company benefits are improving thanks to millennials' expectations.
"This generation is demanding more," Subha Barry, president of Working Mother Media, told Know Your Value. "And that's true of women and men: They equally want the flexible work, the gender-neutral parental leave and the ability to telecommute."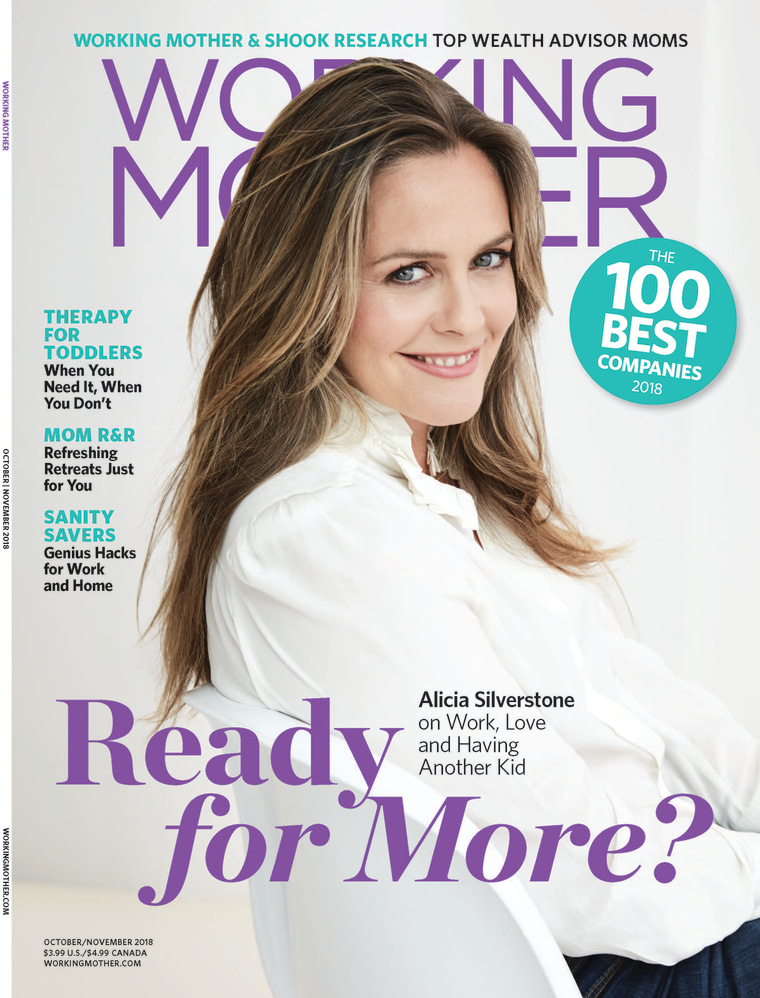 100 percent of the Working Mother 100 Best Companies offered paid maternity leave, compared to 35 percent of companies overall (as measured by the Society for Human Resource Management's annual Employee Benefits Report); the average for the 100 Best list was 11 weeks offered.
99 percent of the 100 Best offered paid paternity leave and paid adoption leave, compared to 29 percent and 28 percent, respectively, of companies overall.
Gender-neutral parental leave: 18 percent of the 100 Best offer the same number of weeks for maternity and paternity leave (up significantly in from 10 percent in 2015).
All of the 100 Best offer telecommuting options, and at the top 10 of the companies on the list, 94 percent of staffers telecommute on average.
All of the top 10 companies on the list offer "phase-back programs" for new mothers returning to work (allowing them to return part-time temporarily and ease into a full-time schedule)
"It's not just about the parental leave, although that is of course a serious consideration," Barry said. She added that in the United States, "women's careers can be derailed because of so many factors. Companies stepped in where the government did not – because they wanted to retain their best talent and quickly figured out this is how to do it."
Working Mother selected the following companies for the Top Ten this year: AbbVie, Deloitte, Ernst & Young, IBM, Johnson & Johnson, McKinsey & Co., Moody's, Procter & Gamble, Unilever and WellStar Health System.
For the first time, Working Mother also honored a No. 1 this year: Unilever, which had first applied to the list six years ago and did not even make the cut for the top 100.
"We usually just present the list in alphabetical order, but this was a special case. I just love the Unilever journey, because it shows that if you as a company make this a priority, you can enact incredible change in a short time," Barry said.
To select the 100 Best, Working Mother creates a comprehensive 400-question survey for companies to fill out – typically helmed by a Human Resources contact but spread around various company teams to complete.
"When we started this list 33 years ago, you can imagine how different things were," Barry said. "There was no point in asking about, for example, work-from-home policies because they were practically nonexistent. So every year we look at tweaking the survey, adding or removing questions, based on the progress and the emerging trends."
'Deltas' still remain
Barry and her team are optimistic about the progression of those trends – but she warned there is still a need to look deeper and continue pushing forward. For example, she urged companies to look past the amount of parental leave offered and examine employees' actual usage.
"You may give 12 weeks of paternity leave, and that's great, but if the men are taking only one or two weeks that makes a huge statement about the culture," Barry said. "What's more, when men are given the leave and feel able to take it, that will have a huge impact on women's careers as well."
Barry knows this from experience: She was a commodities trader when she gave birth to her daughter 30 years ago. With few women in the role, there was no maternity leave; she was forced to use sick leave for two-and-a-half weeks and then returned to work.
"Things have changed so much since then, and especially lately," Barry added. "By 2020, 75 percent of our companies' populations will be millennials, and they want to be just as engaged with childcare as they are with their careers."
Despite the progress, there remains much need for improvement, Barry said. She noted only 25 companies in the Fortune 500 are led by women CEOs – a figure that has not vastly improved over time. In fact, the number of women CEOs on the list fell by 25 percent in 2018.
"That is scary, and it presents the question: What is holding women back from getting to the CEO's office?" Barry said. "I'm convinced it's largely because of issues around childbearing and child rearing. So we will be watching the phase-back programs, and how men and women alike are using the leave if it is offered."
Companies have become more open about sharing their data and having frank conversations, which Barry said gives her hope.
"We are deeply grateful that people are standing up," she said. "We have to look at the deltas, the divergences, to make things better. Look at a new dad who takes parental leave and see how his career comes back, compared to a new mom. If there's a difference there, why? And more importantly, what can we do about it?"
For more stories like this, sign up for the Know Your Value newsletter and follow Know Your Value on Facebook, Twitter and Instagram.