This summer, The New York Times published an Op-ed titled "The Age of the MSNBC Mom." The publication described these so-called MSNBC moms as women, all across the country, who look to their preferred news channel for comfort, a friendly face and information. In other words, a woman "who seeks solace, companionship and righteous indignation in cable news."
These "MSNBC Moms" are part of a community of like-minded viewers who feel less alone when they turn on the TV.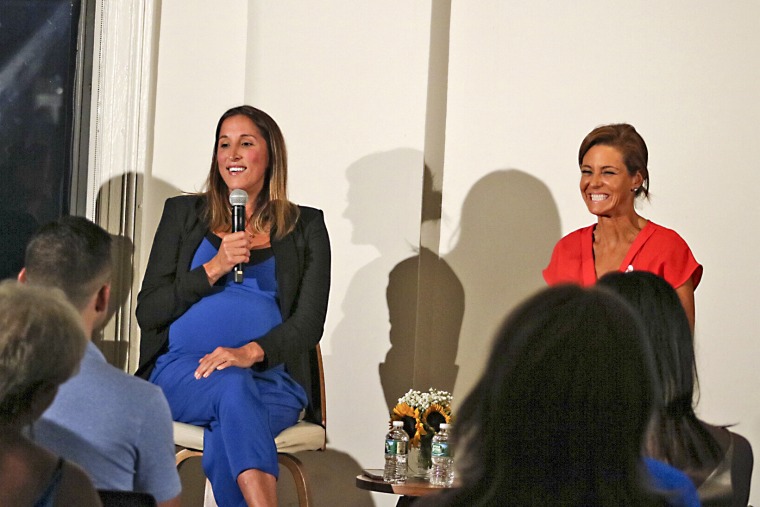 To connect these women and bring their community together, Meetup - a social networking platform that enables members to gather in real life - and special guest MSNBC hosted a discussion on August 7 about the importance of community and its relationship to the news. MSNBC anchors Stephanie Ruhle, Yasmin Vossoughian and Meetup's Director of Community, Kate Cummings, discussed their experiences as journalists in a divided political climate and their hopes for MSNBC moms, as well as other communities.
"Community is everything … When you are a working mom you are dependent on community," Ruhle, a mother of three, told the audience.
Vossoughian (who was 9 months pregnant at the time and recently welcomed a baby boy) echoed that sentiment: "Community can be so incredibly helpful."
Throughout the course of the event, both women offered tangible advice on how to be more thoughtful, engaged citizens: challenge your audience and yourself. "You are constantly doing stories that challenge who you are and that is why I do it," Vossoughian explained.
And that's not limited to tackling difficult topics from in front of the camera. Vossoughian emphasized the value in understanding the different viewpoints among her audience and learning from them: "I want to know, personally, if someone differs from me, then why?" Listening to others has allowed her to bring an authenticity to her role, she added. "[I'm] exactly the same person sitting at a coffee shop as I am on television."
And it was that community-driven need to foster an open dialogue — drawing from different perspectives — that connected the anchors' messages: Be as informed as possible on the issues that matter.
"Recognize what you are great at," Vossoughian said. Ruhle agreed and advised the crowd to understand their own strengths. "I know my lane," she said, "I don't try to be all things to all people." She stressed the importance of looking beyond the headlines and engaging others in the conversation: "I work really hard to bring the smartest people on TV."
You can catch Stephanie Ruhle on "MSNBC Live with Stephanie Ruhle" Monday-Friday at 9 a.m. ET and "MSNBC Live with Velshi & Ruhle" Monday-Friday at 11 a.m. ET.
Yasmin Vossoughian is co-anchor of "Morning Joe First Look" Monday-Friday at 5 a.m. ET and "MSNBC Live with Yasmin Vossoughian" Sundays at 4 p.m. ET.