Back in March, 27-year-old Kristi Johnston was in her Oakland apartment tweaking her profile on the dating app Hinge. However, instead of saying she lived in California, she wrote that she lived in Wisconsin. The truth was, Johnson wasn't on the app looking for love – she was looking to get out the vote.
Johnston, an organizer for the progressive political organization NextGen America, was working to register Wisconsin voters ahead of this week's election, which resulted in Janet Protawswiecz's victory in the state Supreme Court. The victory flipped the court from a conservative majority to a liberal one, in a big win for abortion rights.
Aside from the organization's traditional outreach methods, like phone calls, texts, and emails, Johnston came up with the idea to employ a more creative way to reach young Wisconsinites. Johnston and 20 of her fellow NextGen America volunteers across the country curated their dating profiles and made contact with over 500 potential voters. The movement was led mostly by women (of the 20 volunteers, three of them were men).
"Some of our profiles were designed around attracting Wisconsin matches. So, I was in a cheese head, for example, and had [a Green Bay] Packers hat on in my profile photo," said Johnston.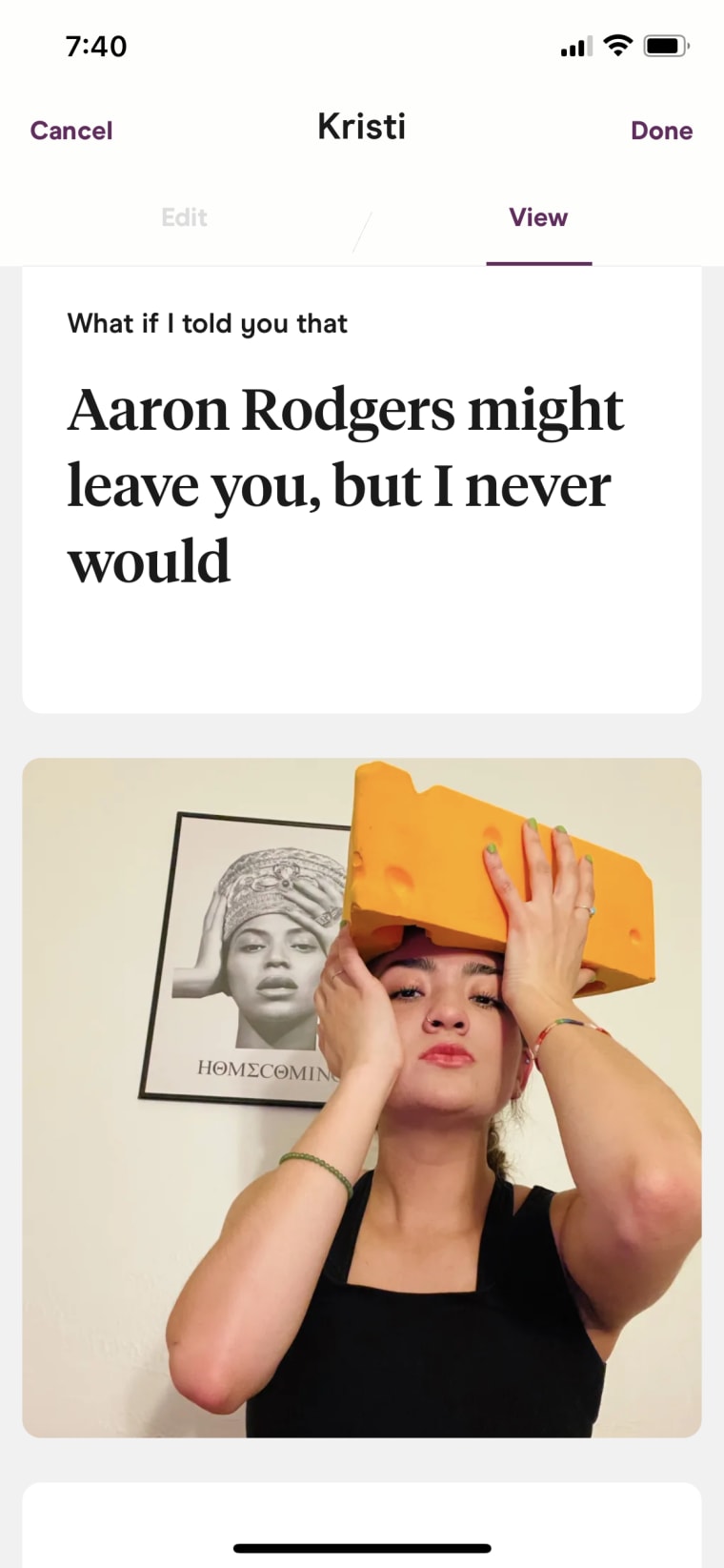 NextGen volunteers also brainstormed catchy profile prompts. For example, Johnston wrote, "What if I told you that Aaron Rogers might leave you? But I never would" -- a cheeky nod to the Green Packers quarterbacks' decision to leave for the New York Jets.
"That one sparked a lot of conversation in Wisconsin," Johnston recounted. "That's how I led a lot of my organizing – with the Aaron Rogers prompt. I was able to bring up a conversation around their heartbreak over that. And then I'd say, 'I know you're upset about that. I'm also upset about reproductive rights being possibly stripped away from young people in Wisconsin.'"
Johnston sees dating app organizing as its own, new category of canvassing.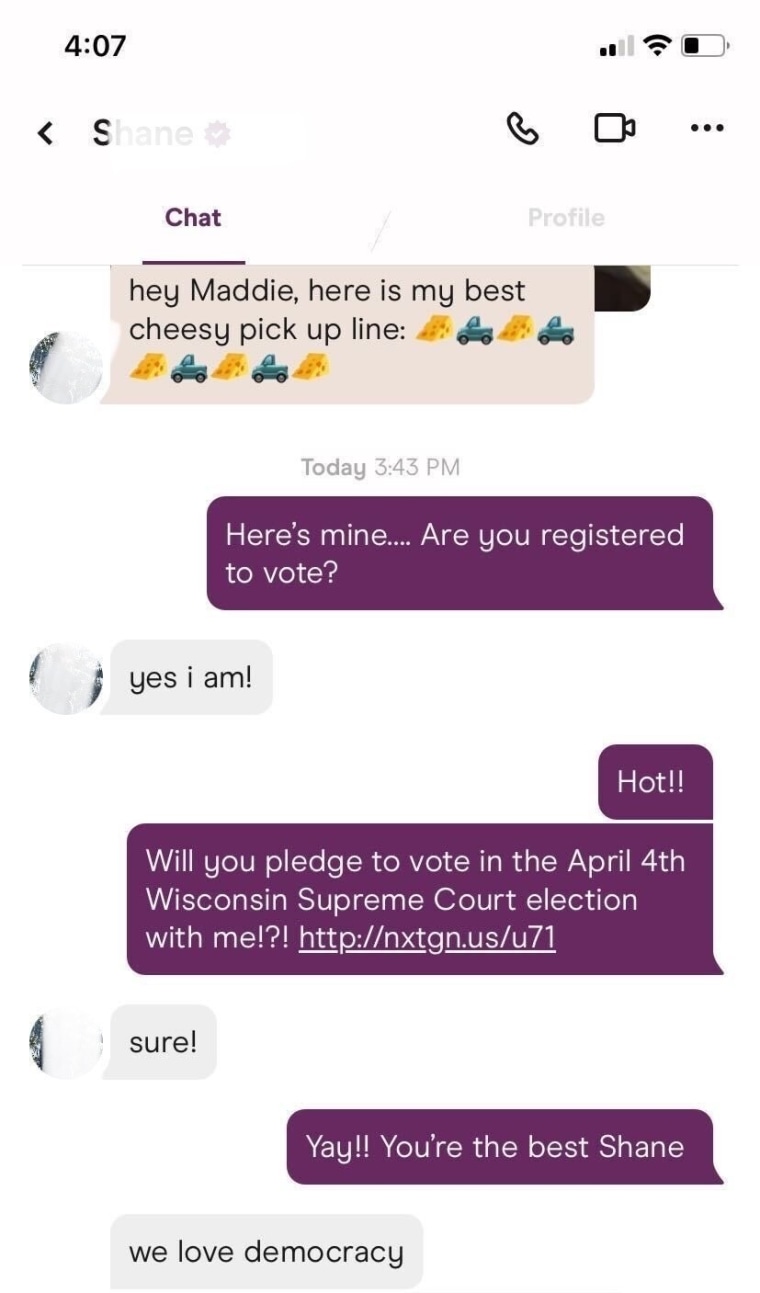 "Engaging … in an organic conversation was really important to us," she said. "It's first and foremost relational organizing. We want to make sure that we're establishing trust with the person that we're reaching out to. We're not spamming. We're not, you know, sending links and just doing it in a way that seems like fake. We're establishing an authentic relationship with them first, and then making the hard ask."
After establishing a friendly relationship on a dating app, NextGen volunteers' goal was to send the potential voter information on where they could pledge to vote, their polling location and details on how to check their voter registration status.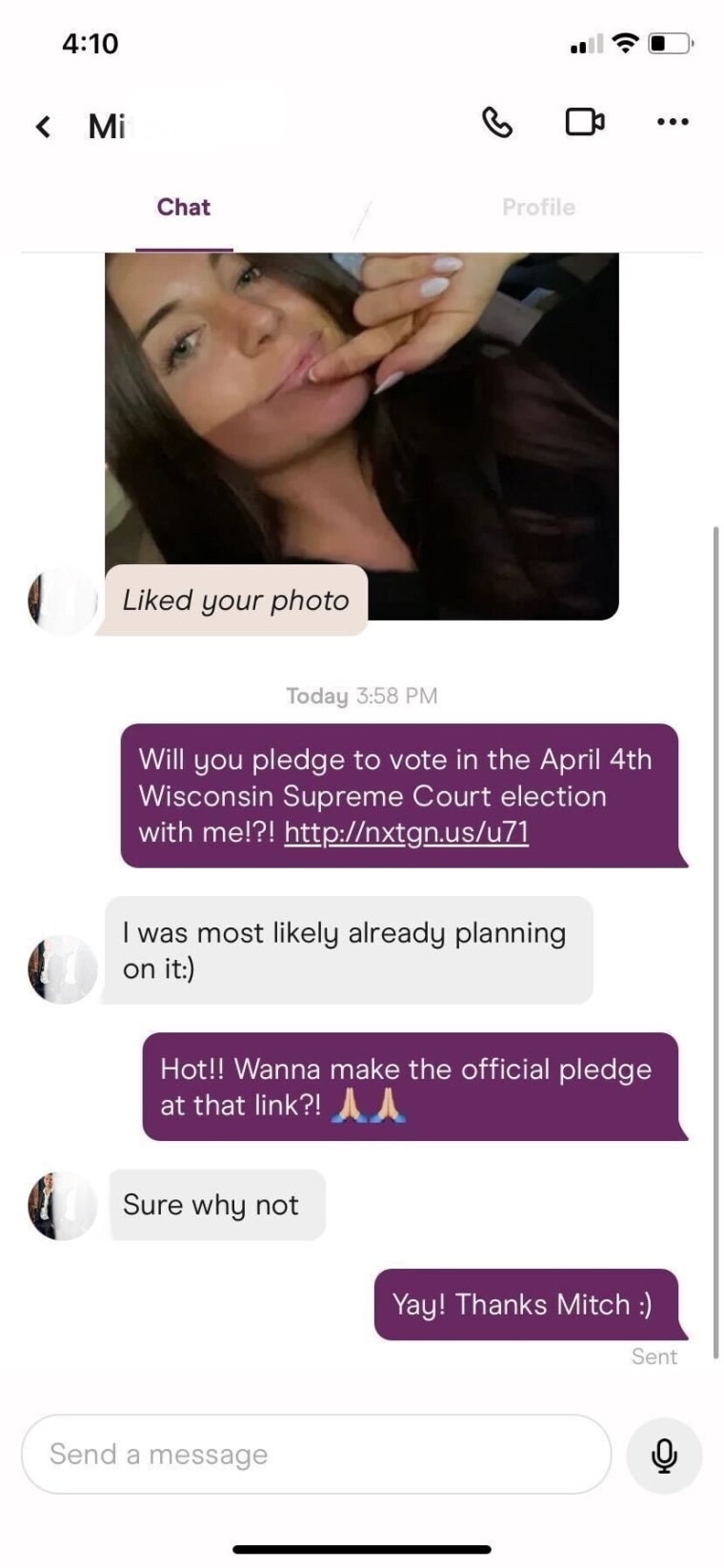 Some matches ghosted. But the majority of the responses were positive, according to Johnston, who added one young man she met on Hinge even volunteered to help get other young people out to vote.
Some might say the tactic is deceptive to those looking for real romantic matches. Johnston noted that critics have thrown out the word "catfish" a few times, but when that happens, "I put an end to it immediately, because my matches do not think that."
Dating app organizing was an idea that Johnston came up with during the pandemic and had to get creative about remote voter outreach. At the time, she was campaigning for Mark Kelly, who was running for Senate in Arizona .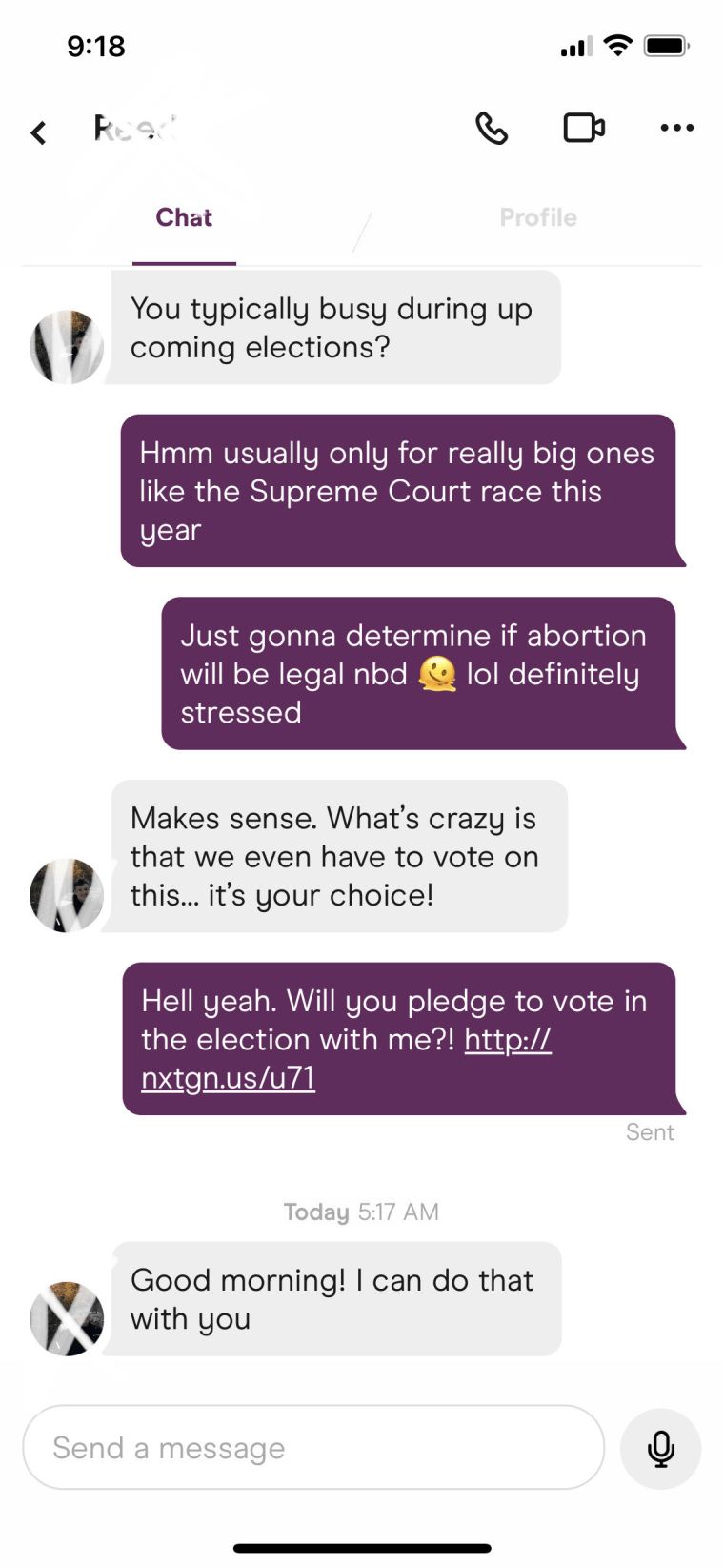 "We saw a study that dating app downloads had skyrocketed because young people couldn't meet in person…," she recounted. "So I was just looking down at my [dating app] Bumble at the time, and I was like 'I'm just gonna start reaching out to a few of my matches about the election and see what the feedback would be."
She continued, "We can send texts or calls, and it is very effective, but the most effective way you're actually going to change somebody's mind, and especially a young person, is if you're speaking their language, if you're in the spaces that they're at."
NextGen's president and executive director Cristina Tzintzún Ramirez noted young voters – like those targeted in their dating app campaign—played a pivotal role in this year's election and past elections too, including last year's gubernatorial race. Wisconsin Gov. Tony Evers won the youth vote with 70 percent support.
"Young people are turning out in record numbers because they're angry. Young people are pissed off about people taking away their rights," said Tzintzún Ramirez. "They're pissed off about not feeling safe in their schools, and they are turning out in record numbers to fight for a future that is more equitable."