Protests in Iran are continuing after two weeks of unrest following the death of 22-year-old Mahsa Amini. We don't fully know the circumstances surrounding the young woman's death, nor what took place after she was taken into custody. But we do know she was arrested by the government's morality police enforcing the country's Islamic dress code, she was subsequently imprisoned and she did not return to her family alive.
According to police, Amini had a heart attack and fell into a coma while in custody, and she was declared dead on Sept. 16. Authorities denied mistreating the 22-year-old, citing an investigation into her death is ongoing. Her father however told the BBC that she was not in bad health.
The protestors who have taken to the streets there and on social media in recent weeks are angry about the death of Mahsa and express outrage about the death of every man and woman at the hands of the Islamic Republic's oppressive rules.
They are a reflection of decades of misogyny where women have been considered half the value of men. Now women and some men are saying "enough," and they are putting their lives on the line to make their voices heard. But the question remains: Is this time different, or will it make a difference?
Iran's government historically has used the country's domestic police force, a part of the paramilitary Revolutionary Guard, to gain control during tumultuous times. Throughout even the last two decades, from the Green Movement until now, security forces have poured into the streets indiscriminately killing protesters, imprisoning others, and shutting down the internet nationwide to keep the world from finding out. And each time they have succeeded, eventually sending people back into their homes out of fear and oppression.
Now, watching these protests and what we are able to see and hear of them, it feels different. This is a country that is struggling, buckling beneath the weight of sanctions. Inflation is driving up the price of food while people are making less and unemployment is in the double digits. That, coupled with the death of Mahsa and an Iranian government continuing to isolate the country while suppressing women has driven the Iranian people to the brink, where the threat of retaliation from the police force may not matter. Many Iranians I have spoken to say that at this point, they have nothing left to lose.
As an Iranian-American woman, I understand the deep frustration and anger one feels when being addressed as if you are less than. I have visited Iran both as a journalist and a private citizen throughout my life. I have never had direct encounters with the morality police. I do, however, understand the impact of having interactions with men in power, knowing if you speak out of turn you could suffer the consequences.
In court, in the halls of parliament, in so many instances there, I was made to feel less than. Government officials avoided eye contact with me and instead asked for the whereabouts of my male counterpart. They sometimes even scolded me for not having an adequate head covering. It made me want to rip my head covering off – seething with anger – but I didn't out of fear for the consequences.
I, however, can leave and return home to the United States while women in Iran have to continue to live this way day in and day out. And what's so remarkable about Iranian women is their power, their will, their intelligence, their achievements in spite of living in a theocracy that aims to oppress them. They are part of every level of society, from teachers, to doctors, to members of Parliament, even while the government tries to suppress them.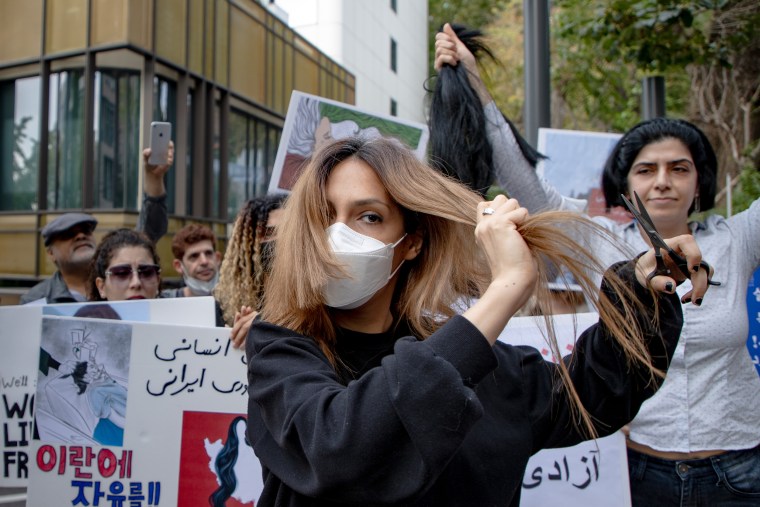 That is why this time may be different. Hearing stories of women walking the streets during the day without headscarves, both women and men protesting in the face of danger, and even some women who continue to cover their hair without the mandate, all rallying together in support of Mahsa leaves me incredibly emotional.
They include a mother and her young daughter who can barely make ends meet, but continue to show up every day to support the movement. This mother knows her daughter's prospects are grim, understanding this system is not working and something must change. They, along with every other woman out there, are putting their lives on the line.
These protesters – these women – are fighting for themselves and all of the women around the world who in some way, shape or form, have been treated as less than. And as we watch from afar, they're showing what needs to be done to catalyze change in the face of oppression. They are our future and the future of Iran.