It costs an average of $10,000 a year for childcare in the U.S. – a price that's already unaffordable for many Americans. And it turns out, the problem could get worse for families in the months to come.
On Sept. 30, the emergency childcare funding Congress allocated during the pandemic, which included $24 billion in childcare stabilization grants, is set to expire.
Over the past two years, that money was used by childcare providers to increase employees' salaries, cover expenses like rent and utilities, and to buy personal protective equipment.
"The ramifications could be devastating," said ForbesWomen editor Maggie McGrath on Thursday's "Morning Joe."
If the funding expires, approximately 70,000 childcare programs are expected to close, according to a report by the Century Foundation. As a result, 3.2 million children could lose their care and 232,000 child care jobs will be lost.
"It's worth noting that even if all those facilities don't close, there will be kids who will lose their spots because tuition will go up because of the lost funding, and it will become even more unaffordable," said McGrath.
In addition, states will lose a projected $10.6 billion in revenue and parents could lose up to $9 billion in annual earnings.
Working moms, many of whom returned to work in record numbers since the Covid-19 pandemic, could also have some tough choices on the horizon if the funding expires, said Huma Abedin, an MSNBC contributor and vice-chair of Forbes and Know Your Value's 30/50 summit.
Abedin noted that according to the Bureau of Labor Statistics, 77.8 percent of women ages 25 to 54 were working or looking for jobs—the highest in U.S. history. Meanwhile, 76 percent of working aged women were employed in June, another record high. And, 70.4 percent of women with children under the age of 5 were in the workforce in June.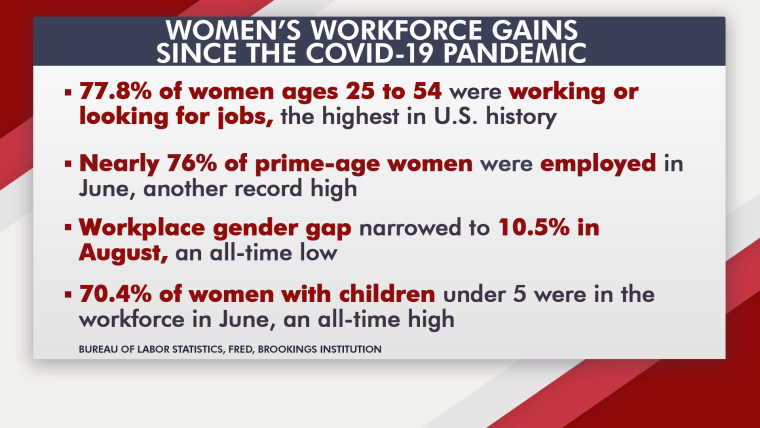 While both Democrats and Republicans say the childcare crisis is of paramount importance, they have struggled to pass a bill. In 2021, the Biden Administration attempted to expand access to subsidized childcare through the Build Back Better package, which failed in Congress.
Meanwhile, Democratic Sen. Patty Murray of Washington re-introduced a bill in April to extend federal childcare stabilization funding. Republicans, including Sen. Tim Scott of South Carolina and former Sen. Richard Burr of North Carolina, had proposed legislation that is more narrow but would broaden eligibility for childcare funding assistance. That bill has stalled was not reintroduced.
"We're not standing at the cliff, we are about to get pushed off in a week," said Abedin. "Congress has to act very rapidly or we are going to be in the midst of a crisis that we've already had going on and is only going to get worse."