The greatest gathering of female trailblazers in history came together for International Women's Day at the second annual Know Your Value and Forbes' 30/50 Summit in Abu Dhabi.
Former U.S. Secretary of State Hillary Clinton, along with "Morning Joe" co-host, Know Your Value founder and summit chair Mika Brzezinski, moderated an iconic conversation centered on gender parity with activist-journalist Gloria Steinem, sports and equality champion Billie Jean King, and Ukraine's first lady Olena Zelenska.
The summit itself brought women from 50 countries together, including honorees from the Forbes "30 under 30" and "50 Over 50" lists, to launch mentorship opportunities, collaborate and innovate on the most pressing women's rights challenges.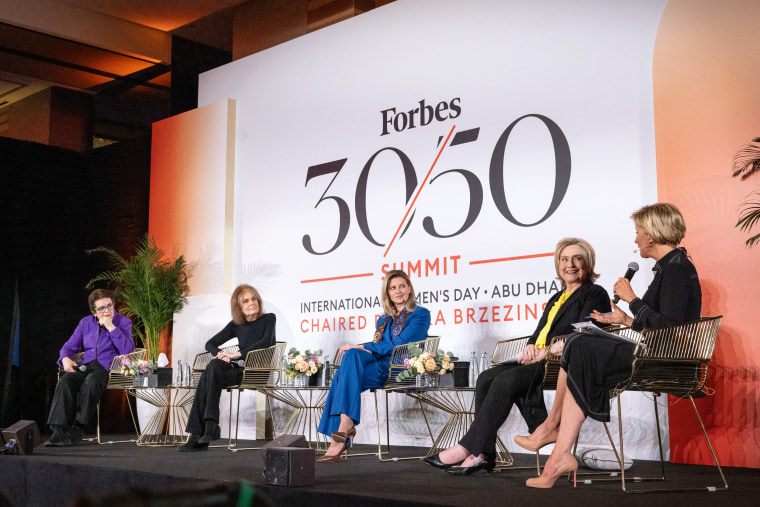 Following a devastating year where these rights have been rolled back and global humanitarian crises have worsened, the panelists addressed a crowd of 500 people on forging change despite the setbacks.
"Just yesterday the Secretary General of the UN said that based on current data post-Covid, it would take women 250 years to achieve pay equality," Sec. Clinton told the audience. "In the U.S. we have stalled on pay equality and … only 1.9% of venture capital went to women, which is even less than it was in 2021. So, I think the bottom line is we have a lot of work to do."
Building alliances to lift women and her country
One world leader at the forefront of that work is the Ukrainian first lady, Olena Zelenska, who has spent the last two years forging diplomatic partnerships with other first families – known as the Summit of First Ladies and Gentlemen – well before the full-scale invasion of her country by Russian forces one year ago.
"We wanted to create a professional community – a club – of first ladies and gentlemen," she explained via a translator, where the alliance initially started with 11 first ladies from different countries committing to a joint declaration of action in 2021. "We wanted to do humanitarian projects, but even on the first day the war started, they showed their support and reacted faster than some governments and presidents."
Zelenska's coalition building proved crucial to her country's survival. Her initiative helped evacuate Ukrainian children with cancer to other treatment centers, source equipment for children's hospitals within the country, and provide humanitarian aid to orphans and elderly citizens who could not leave.
"What really inspires me is that previously it was thought that first ladies are just soft power, but it has shown that this is not just a formality, we're not just a soft force – we are a force – and we can continue to change the world."
But in her experience, that change starts with a fundamental shift in the way society thinks about freedom and equality. "It seems to me that this is the day when everyone suddenly remembers the importance of women, but it shouldn't only happen on one day a year," she said. "Equality is a normal thing, it's not something that we should be fighting for, it's not news that we should be telling the world. The next step we need to take is to make sure all women understand that it is normal, not only women but men also."
Follow the money
In the U.S, the gender pay gap has hardly budged over the last 20 years. According to a recent Pew Center analysis, women overall still make an average of 82 percent of what men earn, up from just 80 percent in 2002.
"Until we have this one-to-one, we have a long way to go," Billie Jean King said. "Please, women: Follow the money. We're going in the right direction psychologically, but the reality is we're not making it."
The legendary tennis star, who became a beacon for women's rights when she won the Battle of the Sexes tournament in 1973, always had designs to champion gender equity. "If I didn't play tennis, my plan was to go to law school … for legislation purposes, to change the laws because that's where it happens," she said. "That's what Title IX did for us in the United States and beyond."
For King, closing the gender wage gap also means those in positions of power must use their influence to level the playing field. "For you who hire, please hire on potential not just performance," she said, citing the example of Salesforce's Marc Benioff who instituted an equal pay for equal work policy. "CEOs can make things happen really fast and the more powerful you are, the faster you can make things happen."
Above all, she underscored the need for representation. "Everyone of us is an influencer, so everything you do does matter," she said. "You have to actively listen to have change, engage with each other, talk to people who don't look like you, don't think like you … [because] we do not understand inclusion unless we've been excluded."
Equalizing a house divided
Gloria Steinem, the journalist and activist best known for her involvement in the women's liberation movement, has fought for equal rights and greater opportunities for women as the co-founder of Ms. Magazine and as a formative voice for New York Magazine. For her, gender parity is not just about closing the wage gap, but narrowing the cultural one that hits much closer to home.
"Until work is divided equally at home – that is until men are raising infants and little children as much as women are – then men won't be able to develop their full nurturing, patient selves," she explained. "Then children will grow up not thinking men can be as loving and patient as women can, and that women can be as active and achieving in the world outside the home."
Forging change through effective communication and allyship
When it comes to being the only woman in the room, Sec. Clinton knows the territory well. "Too often, it's a lonely time when you're a woman who is in a position of having to speak up or make a point in an unfriendly atmosphere," she said.
As the first woman to become a Democratic presidential nominee for her run in 2016, Sec. Clinton shared her advice for speaking up and closing the gender gap.
"Accept the fact that you have to be better prepared than anybody – that just goes with the territory still," she said. "Be willing to do whatever it takes to feel confident that you know whatever it is that you're talking about and you have a clear idea of what you want to communicate."
Second: practice communicating. "It's a skill like any other," she added. "Practice on your phone, practice in front of a trusted friend, practice in front of your pet – just whatever it takes to feel like you're going to gain confidence as you speak."
Finally, look for allies, she said: "As often as you can, look for those who share the view you have ... And just know that every time you stand up for yourself, you stand up for literally tens of thousands – maybe millions – of people who don't have the voice or the access or the opportunity that you do."
The Know Your Value and Forbes' 30/50 Summit – which takes place March 7-10 – aims to do just that, showcasing a star-studded line of speakers that include Hillary Clinton, Gloria Steinem, Catherine O'Hara, Misty Copeland, Ayesha Curry, Jessica Alba and more.
The goal is to create cross-generational alliances to provide guidance and insights to women at every stage of their career, while also offering diverse perspectives and rich cultural immersion.