Mika's newest title "Earn It! Know Your Value and Grow Your Career, In Your 20s and Beyond," co-written by Know Your Value millennial contributor Daniela Pierre-Bravo, was released on May 7. Order your copy here.
It's a brave new world for young women in the workplace. In some ways, millennials and Gen Zs have it much better than previous generations. But now, these bright, ambitious women need more tools than ever to succeed.
That's why "Morning Joe" co-host Mika Brzezinski, alongside Know Your Value millennial contributor Daniela Pierre-Bravo, on Tuesday released "Earn It! Know Your Value and Grow Your Career, In Your 20s and Beyond."
After the success of her 2011 book, "Know Your Value: Women, Money, and Getting What You're Worth," Brzezinski is bringing millennials and Gen Z women to the forefront in "Earn It!," while also offering advice that's applicable to all women.
"There are demands and pressures on women in their 20s and 30s that are different than they were for my generation," said Brzezinski. "…Young women need a stronger playbook."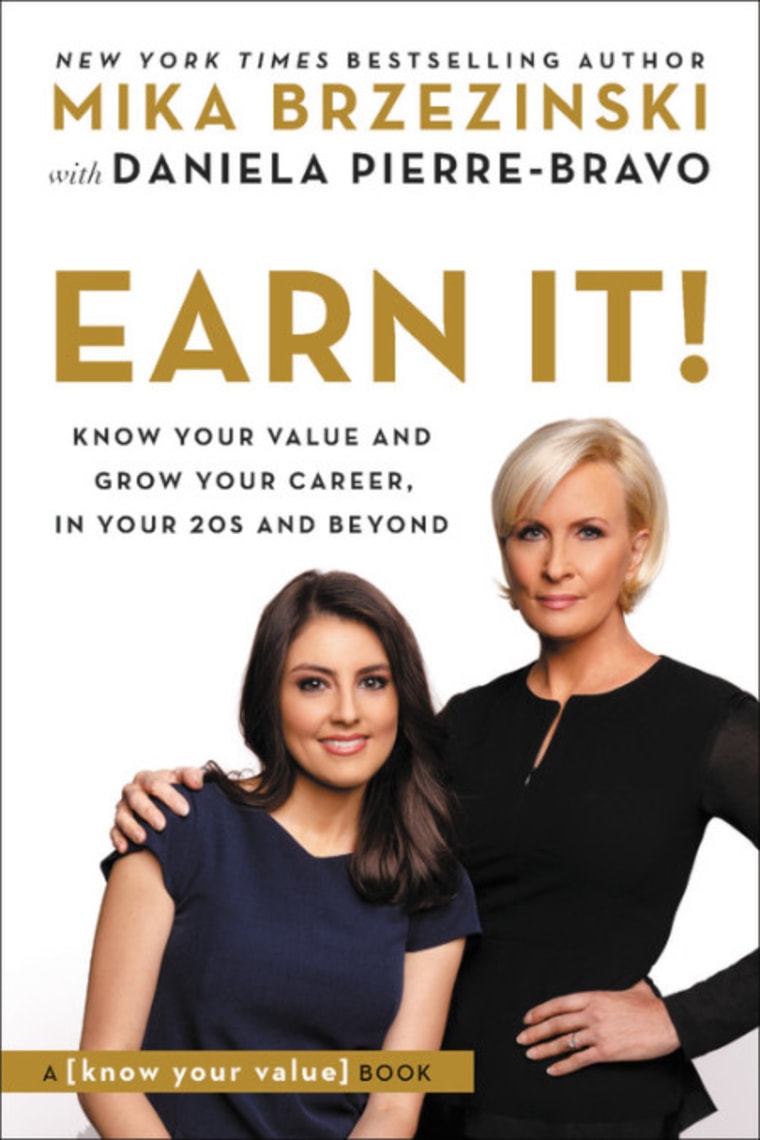 Pierre-Bravo's remarkable story of working her way up from being an undocumented South American immigrant to becoming a "Morning Joe" producer, serves as the first chapter of the book. It's an inspiration to young people everywhere looking to climb the ladder and succeed.
"Her story was one of struggle, overcoming, but above all working hard to earn your way in the door and then leveraging your value to move up," Brzezinski said of Pierre-Bravo.
"This book is going to empower young women to own their career narrative and not only help them get their foot in the door but ultimately help them find their purpose," said Pierre-Bravo.
"Earn It!" also features interviews with designer Tory Burch, lifestyle guru Martha Stewart, industry leader Dia Simms, actress Sarah Jessica Parker, The Skimm's Danielle Weisberg and Carly Zakin, as well as HR employees, recruiters and more.
The book covers every career hurdle and offers crucial advice, from nailing a job interview, to being an advocate, to negotiating properly.
"Earn It!" is also supported by research from the Harvard Institute of Politics. Data showed Brzezinski and Pierre-Bravo some alarming statistics: Seventy-five percent of women age 20 to 29 are not confident in negotiating and only one in four millennial women between 20 and 29 feel prepared for finding their first professional job after college graduation.
"There are tools that young professionals in the workplace need to know from the get-go that will make all the difference in their professional career," Brzezinski said.