"Invest in equality" was the rallying cry at the 49th Annual Matrix Awards ceremony, emceed by "Morning Joe" co-host and Know Your Value founder Mika Brzezinski.
At the Sheraton New York Times Square on Monday, eight female leaders were presented with the Matrix Award, which honors women for their outstanding achievements in the communications industry. The awards are presented each year by New York Women in Communications.
Honorees included "Top Chef"host and ACLU ambassador Padma Lakshmi; award-winning CBS anchor Norah O'Donnell and public relations maven Susan Magrino, whose award was presented by her longtime mentor and friend, Martha Stewart.
Hundreds of women of all ages and backgrounds attended the ceremony luncheon. The Sheraton even transformed the nearest men's bathroom into a women's bathroom in order to accommodate the load.
The ceremony's theme "invest in equality" meant something slightly different to each of the participants. Brzezinski, who won a Matrix Award last year, opened the ceremony by sharing the inspiration behind her new book "Earn It!: Know Your Value and Grow Your Career, in Your 20s and Beyond."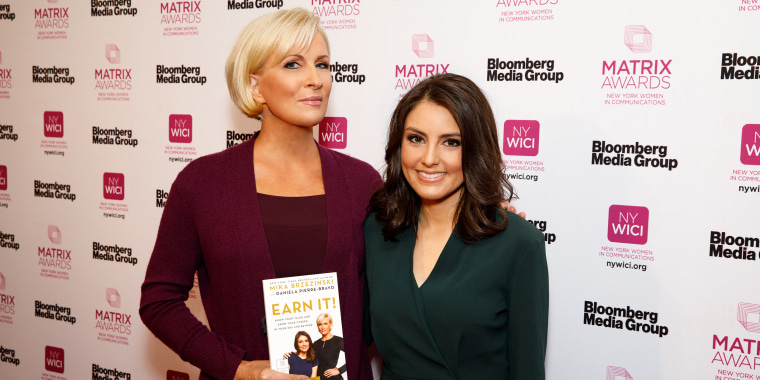 She co-wrote the book with "Morning Joe" producer Daniela Pierre-Bravo, a DACA recipient who worked her way from a small town in Ohio to the prestigious NBC page program in New York City, eventually becoming an MSNBC producer and Know Your Value contributor.
"I invested in her success," Brzezinski said in her opening remarks. "And this book will help countless women do what Daniela did. She earned it. And I challenge everyone here today to do something like this, to think of a way to invest in a woman who deserves a big boost."
Martha Stewart invested in Magrino's success back in the early 1980s, Stewart recalled during her presentation speech. Back then, Magrino was assigned to be Stewart's book publicist.
"Susan was, even then, thorough, inquisitive, and had a great business head on her shoulders," she said. "All of a sudden I realized that Susan was an entrepreneur. I made sure from that moment on that Susan was my representative everywhere in my business. With press, public, everywhere … One thing we all agree on: Susan knows her worth. And we all value it by writing her monthly checks."
Lakshmi lamented in her acceptance speech that she didn't have mentors when she was a budding media mogul.
"I didn't have a roadmap or anyone to turn to for counsel. It would be decades before I was lucky enough to befriend women I admired," she said. "It's no accident that my work, my writing and my advocacy have gotten exponentially richer since these women entered my life. I think about how my 20s and 30s would have been much, much easier had I had that kind of guidance and encouragement from women."
Attendees also learned that Norah O'Donnell – who was just named the new anchor of the "CBS Evening News" that morning – and "CBS This Morning" co-anchor Gayle King invest in each other on a regular basis. After King presented a Matrix Award with a glowing speech about O'Donnell, the latter told an anecdote about her good friend and gave some crucial life advice.
"Find yourself a Gayle," said O'Donnell to the audience. "Find yourself that woman who you call when you're feeling down, and she says: 'Norah, do you have a bathroom in your house? Do you have a mirror? I want you to go put on a blue shirt because it makes your eyes shine really blue, and I want you to stand in front of that mirror and I want you to slap yourself and say I'm Norah O'Donnell.'"
O'Donnell continued: "...My last piece of advice is to encourage everyone to invest in the success of others. It's on us to carry the next generation of outstanding journalists, and women journalists, and women in communication."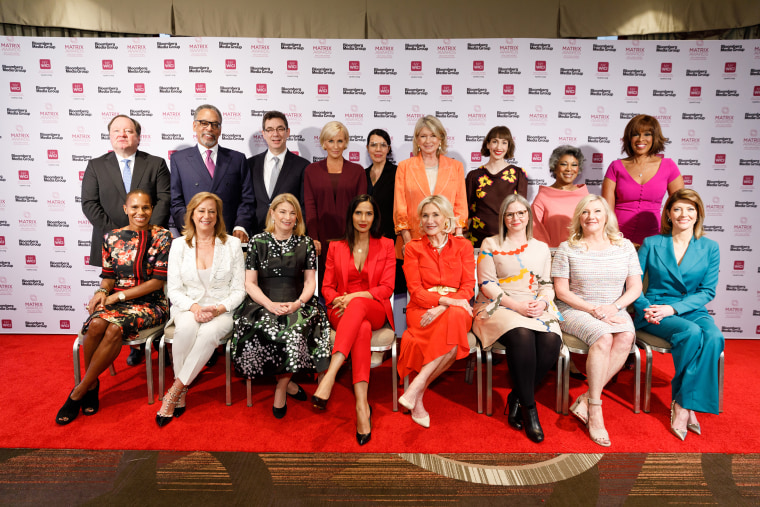 Other winners included Starcom's CEO Kathy Ring, BET's Chief Marketing & Communications Officer Jeanine D. Liburd, Hearst's Chief Content Officer Kate Lewis, AD Council's President and CEO Lisa Sherman, and Pfizer's Executive Vice President and Chief Corporate Affairs Officer Sally Susman.
The luncheon also served a philanthropic purpose. New York Women in Communications has given $1.7 million in college scholarships since 2000, and on Monday, the 2019 scholarship winners made an appearance, heralding a diverse and promising future of women in the industry.
"They look beautiful, confident, powerful and ready to conquer the world," Brzezinski said.
The Matrix Awards' corporate host is Bloomberg Media Group. Sponsors include Pfizer, Hearst, Nielsen, Viacom and more.