At just 23 years old, Lauren Simmons has been dubbed the "Lone Woman on Wall Street." As the youngest and only full-time female trader currently on the floor of the New York Stock Exchange, her story has gone viral. She's only the second African-American woman in history to wear the coveted badge.
While the recent focus has been on the impact of her role as an equity trader for Rosenblatt Securities, the way she got there is just as admirable. Simmons shared more about her path to the floor of the New York Stock Exchange while being honored by investment adviser Modern Wealth Concepts in Philadelphia earlier this month.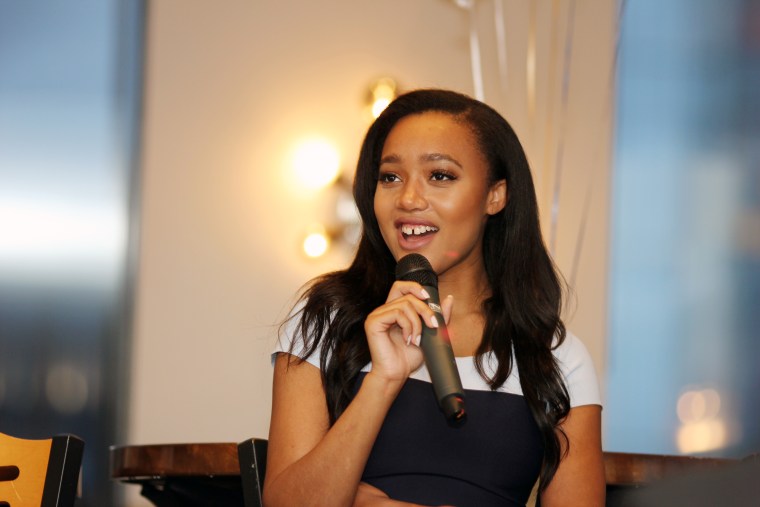 From Marietta to Wall Street
The Georgia native graduated from Kennesaw State University in 2016 with a degree in genetics and a minor in statistics. "I wanted to go into genetics counseling and, long story short, they're just not at the point in technology where I would want to pursue that," she told the crowd at the Pyramid Club in Center City.
Despite the uncertainty at the time, she was sure about one thing: she wanted to work in New York City. Simmons moved in with her grandmother who lived there and with no job prospects or business connections, she vowed to figure things out. "My grandmother, she knows I was out [looking for a job] every day. She saw the tears. She saw the laughter. She saw me reaching out to a lot of people," Simmons recalled.
She realized she needed the right attitude and approach to her career search. Simmons created a vision board and read constantly, including books like "The Universe Has Your Back." She joked that the career platform LinkedIn became her "best friend" and she started attending networking events throughout the city.
"I [was] told 'no' 101 times or silence," she said. Simmons explained how potential employers would tell her they'd follow up, but ultimately never respond to her job inquiries. "You don't need 100 'yeses,' you just need that one opportunity," she recalled. Simmons' efforts paid off in the end: by March of the following year, she landed a job at Rosenblatt Securities. The next month – to the shock of her colleagues – Simmons passed the difficult Series 19 equity traders exam on the first try and signed her name into the history books.
Being the one and only full-time woman on the trading floor
Simmons said she tries not to focus on the fact that she's the youngest and only full-time female trader at the NYSE. Although she acknowledges its significance, she said that dwelling on it is a distraction. Instead, she highlighted the support she's received from colleagues who have helped her succeed and develop a strong voice. "There are a lot of alpha males that are there, but I don't necessarily know that you need to be an alpha male. You definitely need to have your voice and be respected."
Simmons recognized the need to adopt some extroverted qualities to keep her from getting "run over" on the loud, chaotic trading floor. However it required her to truly know her value, maintain confidence and exercise her boundaries.
"I've been loving the journey learning what I can do, how to command a room [and] what to say in the room once you have the attention of the room," she said.
Grit and Resilience
Simmons said her "won't-take-no-for-an-answer" attitude comes from her twin brother, who has cerebral palsy. In fact, he was the inspiration behind her decision to originally pursue a career in genetic counseling.
As a result, she takes no opportunity for granted and isn't afraid to ask a lot of questions. The millennial also looks to mentors who help guide her and accepts that success comes with the ability to adapt to change.
While this milestone is likely only the first of many for the young trailblazer, Simmons had this advice for other women: "Don't let fear stop you. If you sit around all day thinking, 'Oh, I'm the only female or the only minority, the only woman,' … that is a distraction all day long. You can't sit and dwell on the distraction. Do what you're meant to do and do it well. You got this."
For more advice, tips and inspiration like this, sign up for the Know Your Value newsletter and follow Know Your Value on Facebook, Twitter and Instagram.