Women in viral Pittsburgh Marathon photo encouraged each other to finish the race
Two women finished the Pittsburgh Marathon hand-in-hand on Sunday, creating a viral moment of inspiration. Runners Laura Mazur and Jessica Robertson met for the first time at mile 14 and encouraged each other for rest of the 26.2 mile course. They were the last two finishers, but supporters cheered them on through the finish line.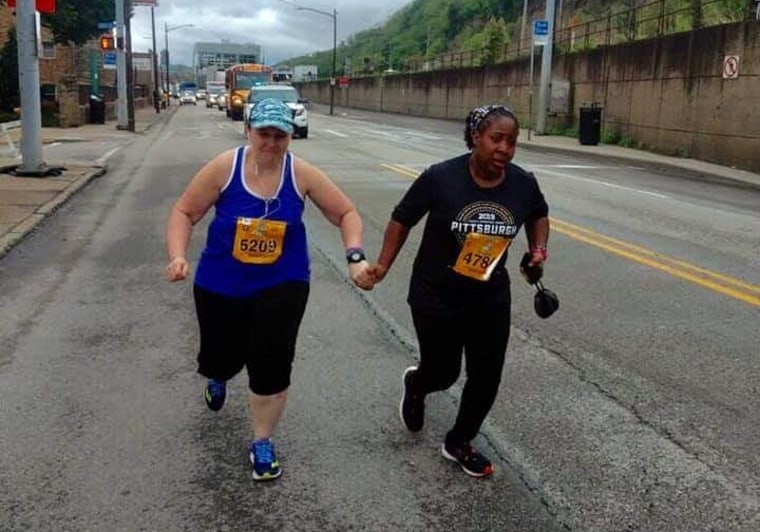 Prince Harry just spoke about witnessing Meghan Markle give birth to their son
The Duke and Duchess of Sussex announced the birth of their first child on Monday. Prince Harry, a first-time father, praised his wife and all mothers, saying "how any woman does what they do is beyond comprehension …"
Mika on 'Earn It!' co-author: I was inspired by her journey as a DREAMer
The newest addition to the Know Your Value book series hit bookshelves on Tuesday. "Earn It!" is geared toward women in their 20s and 30s and was written by "Morning Joe" co-host Mika Brzezinski and Know Your Value millennial contributor Daniela Pierre-Bravo. Brzezinski went on "The View" this week and shared how Pierre-Bravo became her co-author.
Grammy Awards name first female president
The 62-year-old organization behind the Grammy Awards named Deborah Dugan as its new president and chief executive. The Recording Academy came under fire last year when Neil Portnow, the former president, said women should "step up" to advance their careers. As the first female in this position, Dungan said, "I intend to do everything I can to make the Recording Academy, the entertainment industry and our society more inclusive and more equitable."
Melinda Gates wants tech to wake up to women's empowerment
Melinda Gates, co-founder of the Bill & Melinda Gates Foundation, reflects on her philanthropic journey in her new memoir, "The Moment of Lift: How Empowering Women Changes the World." The memoir recounts her experiences that point back to women's oppression as the root of many of the world's biggest problems. Gates also opens up about finding equality in her marriage to Microsoft founder Bill Gates.
Democratic lawmakers introduce legislation to improve maternal health, particularly for black mothers
The Maximizing Outcomes for Moms through Medicaid Improvement and Enhancement of Services, or MOMMIES Act was introduced in the Senate on Tuesday by Democratic Sen. Cory Booker of New Jersey and on Wednesday in the House by Democratic Rep. Ayanna Pressley of Massachusetts. Sen. Booker said that the U.S. spends more than other countries on health care, yet has the highest rate of pregnancy-related deaths of any nations in the developed world. The proposed bill would increase Medicaid coverage for new mothers and increase access to doulas for pregnancy support.
Met Gala 2019: All the women who championed 'girl power', from Kylie and Kendall Jenner to the Olsen Twins
At the annual Met Gala on Monday evening, fans praised both the fashion and female empowerment on display. The event theme of "Camp: Notes on Fashion" inspired extravagant outfits from women including actress Lena Dunham and singers Cardi B and Lady Gaga. Strong female duo standouts included reality stars Kylie and Kendall Jenner, twins Mary-Kate Olsen and Ashley Olsen, and Vogue editor-in-chief Anna Wintour and her daughter Bee Schaffer.