I arrived at the Rebecca Minkoff headquarters, located in the heart of the Flatiron District in Manhattan, expecting to find the fashion designer tucked away in an executive suite. Instead, Rebecca was in a large, open room surrounded by young staffers, creative directors and assistants working a mile a minute. There were just two days left before Rebecca's spring fashion show and the frantic energy of last minute preparations was palpable.
Despite the frenzy, Rebecca didn't flinch. She intently watched as a makeup artist carefully applied her palette on a young model, making selections for Rebecca and her creative director to approve. We were surrounded by mood boards and visual inspirations for the show — photos of Ibiza, flower petals in muted pastels and pink, purple, and grey shades wrapped the room.
When Rebecca's associates peppered her with questions, she answered each with a calm and collected tone. This, I'd learn, is a constant quality of her personality. For the next few days, I'd witness this same type of even-keeled attitude despite being in the midst of a designer's busiest time of the year — Fashion Week.
Rebecca has perfected the art of multi-tasking. She is the mother of three children who are all under the age of eight — and the day of her show is her son's first birthday. Chatting with her backstage, it dawns on me that the behind-the-scenes preparations for that day take about a year to plan from ideation to execution. Rebecca didn't miss a beat, balancing her time with her business and family life, while giving birth and raising a son for that critical first year.
But building her company was no easy feat, as Rebecca quickly noted. The success of her "Morning After Bag," which came out 13 years ago, was the building blocks of her now massive lifestyle brand that includes not only luxury handbags, but accessories, watches, footwear and apparel. All of which have gained the likes of celebrities like Reese Witherspoon and Jennifer Lawrence, to name a few
"At the time, it didn't feel like success. Finally, I had something that was selling, I had a 'hit.' But then you're met with, 'How do I fund production? How do I get the stores to pay me?' So while I think it felt great, you're all of a sudden dealing with all these other challenges you didn't even know were possible," she told me.
There were other struggles along the way. "I think you have to be willing to put everything on the line." Rebecca said, noting she at one point early in her career she was "essentially homeless" and her parents suggested she moved back home to Florida. She refused to budge, opting instead to stick it out. "A lot of people could reach those inflection points and say, I'm packing up, and each time you dig in your heels a little bit longer and say OK 'I'm going to fix it, I'm going to work harder, I'm going to figure out what's wrong, or what am I doing that's not working?' You keep at it."
When Rebecca first moved to New York City, as an 18 year old, she worked for another designer for three years before creating her own line in 2005. Using the sewing skills she acquired while working in the costume department back in high school, she started creating her own pieces while maintaining her day job working for someone else. She began selling her pieces on consignment and at different boutiques.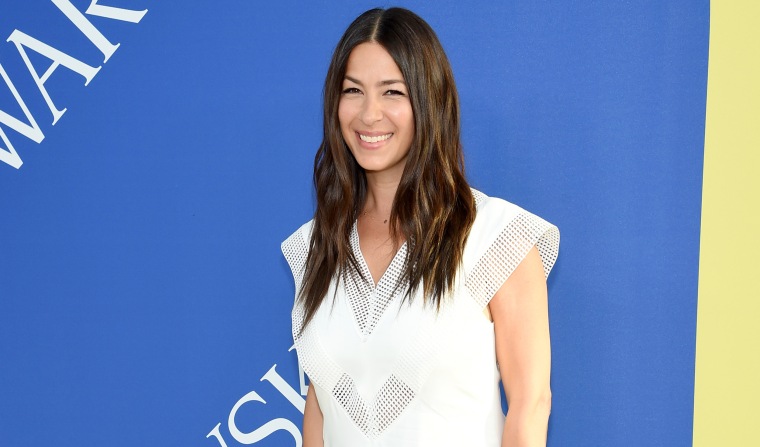 She loved the feeling of building something on her own, especially as she saw the orders (however small) roll in. Taking night classes at the Fashion Institute of Design further confirmed her love for creating her own designs. "Right after my real fashion show, the next day my boss said 'You're fired. Go do it, I'm setting you free'."
Despite not knowing anybody in the industry when she first started out, she understood that "people were the most valuable commodity." "I joke, but it's true, that I used to come home from an event and count the business cards like it was cash." Rebecca told me.
She would diligently follow up with each contact and focused on developing a relationship with each lead; whether it was staying in touch, asking them out, or being at the same parties. She grew her own network from scratch. "You do know someone but they might be six degrees away. So it's really about who do you know, who do they know, and who can introduce you." And it's not just about requesting to have coffee with someone and asking for advice she tells me, "figure out the one thing you need from that person and make that your ask."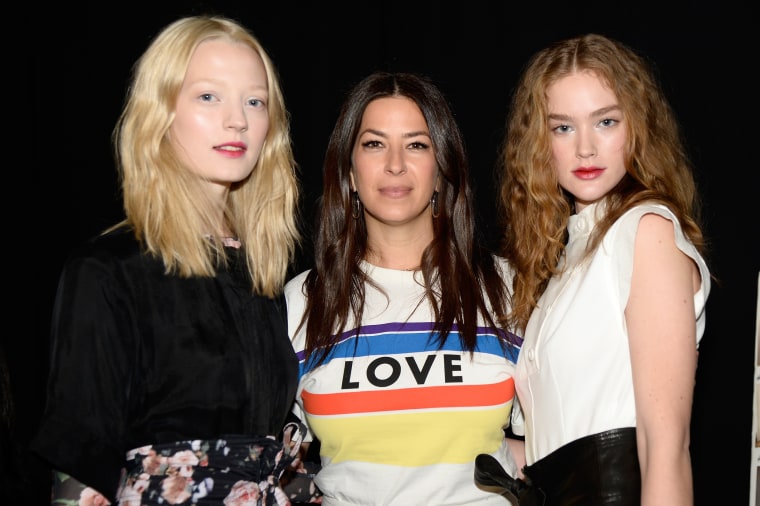 The secret to her success has always been hard work. "No one is going to hand me this company or this success," Rebecca said, noting she grew up with the idea that if she wanted something, she had to earn it. So after the small successes she saw early on, she took a serious step to scale her business, and partnered up with her brother Uri Minkoff.
The hard work and diligence she has dedicated to her business paid off. Her fashion line has expanded distribution to over 900 countries around the world and resides in flagship stores around the U.S. including in New York City, Los Angeles, San Francisco, and Chicago.
Part of good leadership, Rebecca believes, is also setting a good example and paying it forward for other women entrepreneurs. It's the reason behind her involvement and founding of The Female Founder Collective — a platform intended to bring together women across multiple industries by helping easily identify women-owned businesses through a recognizable seal.
Just as impressive, is her focus on representing diversity. For years she's been casting a diverse range of models. Her 2019 Spring Fashion Show, for example, featured British model and self care and mental health advocate Iskra Lawrence, Latina fashion blogger Paola Alberdi, and Muslim-American activist and journalist Noor Tagouri.
The importance Rebecca places in highlighting the many facets of a modern woman - of all walks of life, backgrounds, shapes and sizes — "wasn't a strategy for us," she told me. "If you go back at all the years we've been doing (fashion) shows, you'll see that we've always been diverse. I really want to show my customer the reflection of my customer base."
During Rebecca's show, to my left, a pair of fashion influencers spoke quietly. "It's so refreshing to see models that reflect real women," said a petite Asian woman, as her friend nodded in agreement. The crowd cheered as the show ended and the models filed one after another to mark their final walk.
As they departed, Minkoff took their place on stage to a standing ovation. Instead of doing a full walk on the runway, like many designers do, Rebecca opted for a discreet wave and quickly disappeared backstage again, leaving the crowd of influencers, models, editors and fashion insiders wondering what she'll have up her sleeve next.
Daniela Pierre-Bravo is Know Your Value's millennial contributor. Her book, "Earn It! Know Your Value and Grow Your Career, In Your 20s and Beyond," co-written with Mika Brzezinski, is out now.