Back in 2021, I found out I was pregnant and would be having a baby at the age of 40. I was both grateful and worried — grateful because, it turned out, I wasn't cursed. The abortion I had when I was 16 years old didn't manifest as punishment in later reproductive years, as I superstitiously feared it might. I also felt grateful for the opportunity to teach my daughter how to live courageously and to take up space in a way that felt honest and true to her.
But underneath that appreciation was an enduring feeling of unease that stemmed from reading article after article about the increased risk factors I faced as a Black woman of "advanced" maternal age in an unfavorably-biased health care system.
My discomfort often led me to wonder about the perspectives of other Black, pregnant women over 40 – a group that, according to the Center for Disease Control, represents only about 0.48 percent of pregnant women in the U.S. each year.
In honor of Black Maternal Health Week, which is April 11–17, and aims to raise awareness around racial inequities in maternal health I wanted to share my own experience, in addition to other Black women who had children later in life.
I've learned that selecting the right doctor, being your biggest advocate and trusting yourself are critical components to navigating the pregnancy and birthing experience from a place of power.
Select your doctor with care.
When Tiffany Flomo-Washington, a senior career manager was pregnant with her son in 2022 at 40, she was unapologetic when she talked about selecting an obstetrician as part of her care team.
"I'm sensitive about being a Black woman and getting proper medical care," she told me. Part of her sensitivity came from having a close friend, a Black woman, experience a seizure and almost die from postpartum preeclampsia — a condition that occurs with high blood pressure after childbirth.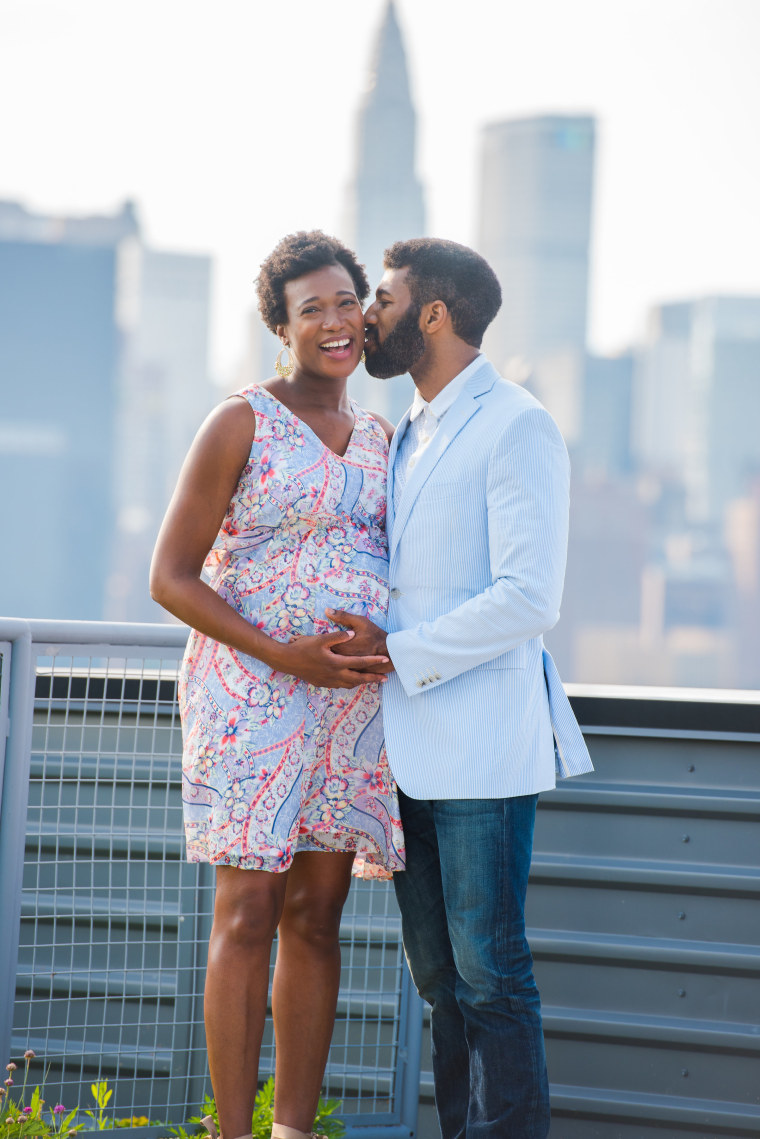 Tiffany, who recently relocated to Atlanta from Harlem, recalled how doctors ignored her friend's concerns of headaches and refrained from running additional tests. So, when she became pregnant, she heavily prioritized selecting a doctor who was "fully aware of the numbers, statistics and reasons" related to Black maternal mortality.
She recommended that Black women, particularly over the age of 40, consider the relationship with their doctor — as a partnership in a delicate journey. Research and recommendations led Tiffany to Dr. Lisa M. Johnson, a Black woman, who Tiffany said treated her as if nothing and no one else in the world mattered when she visited her office. "Childbirth is honestly such a traumatizing experience," said Tiffany. "You cannot afford to put yourself in the hands of someone who is not giving you the care that you deserve."
Back in 2022, Dr. Eiesha Williamson, a serial entrepreneur, had her second daughter at 40. And, like Tiffany, she prioritized finding the right doctor, which, for her, meant switching providers for her second pregnancy.
When Eiesha, who lives in Portsmouth, Virginia, was pregnant with her first child at 38 years old, she was told she wouldn't be able to have additional kids and would likely need a hysterectomy after delivering. It was news that didn't sit well with Eiesha, who wanted more children. So, she sought out a second and third opinion, both of which contradicted her doctor's advice.
Switching doctors can be an inconvenience, especially when there are medical records to transfer and rapport to rebuild. But, as Eiesha learned, it beats the inconvenience of a potentially regrettable experience. Eiesha is now with a Black, female doctor who, she said contributed to a "wonderful experience" during her second pregnancy. "I just wanted someone I understood, and could relate to, and who could give me honest feedback and not criticize."
Advocate for yourself like it's your only choice.
Advocacy starts with selecting the right doctor, and can extend well beyond labor and delivery. But it's not always easy to do.
I found it a bit difficult after being diagnosed with Latent Autoimmune Diabetes during my 27th week of pregnancy. When I was told it was time for induction at 39 weeks, doctors wanted to hook me up to a continuous insulin drip that would ensure my blood sugar remained regulated around the clock but would prevent me from laboring freely — which is what I wanted and planned for.
I was conflicted. Afterall, doctors are experts and have seen more pregnancies and deliveries than me. They were well-versed about risks and circumstances that I was just discovering. I asked, though, if there were other options we could consider, and not surprisingly, there were. I learned I didn't technically need a continuous insulin drip until I started active labor. There are often other options to consider, as my doula, Imani Byers of Rebryth Wellness, helped me understand.
The power imbalance, though, which is often present between a patient and doctor, can lead the patient to avoid questioning what they hear.
That's what happened to Liana D'anjou, a content marketer who became pregnant with her first child at 40, and is currently pregnant with her second at 42. Early in Liana's first pregnancy, around the first trimester, she remembered her doctor telling her she'd likely be induced.
"They were very clear about the fact that they were not going to let me go past 38 weeks ... because of my age," said Liana, who lives in Atlanta.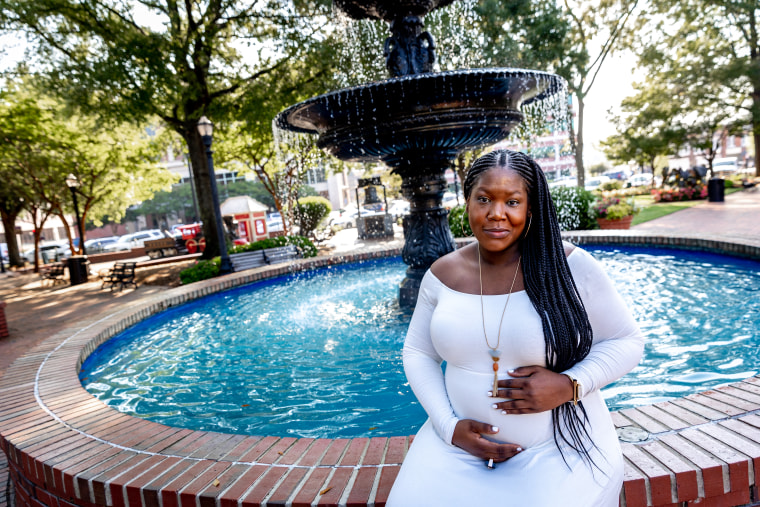 Liana recalled deferring completely to her set of doctors despite hesitation. "I didn't push. I just didn't push that hard," she told me. When Liana was induced at 38 weeks, (and when the baby didn't progress down) she had an emergency C-section.
That experience, however, presented Liana with another invitation to advocate for herself, one that she immediately accepted. After receiving local anesthesia, her doctors poked to ensure she couldn't feel anything. But, she could, and she told them. The doctor's tried to reassure her that what she thought was pain was actually pressure. When she corrected them again, she had a flash of insight that they weren't listening to her, and she wondered if her experience was evidence of the long-held myth that Black women have a higher threshold for pain that other women.
Because she spoke up, Liana eventually received additional anesthesia and delivered a healthy boy. That moment of advocacy has helped Liana feel different about how and when she will advocate for herself during her current, second pregnancy.
Trust yourself.
Liana has learned to trust her body more with her second pregnancy. It's also the advice she would give to other Black women who are pregnant or preparing to have children in their 40s. "Have confidence in what your body can do," she told me.
For Tiffany, trusting herself and advocating for herself go hand in hand. She trusted the concerns that arose through her journey and conjured the courage to address them. Sometimes she cared how she framed a question to ensure doctors felt like the experts. Other times, she didn't care if trusting herself meant rubbing someone the wrong way.
Eiesha wants to have one more child. At 41, she makes people nervous when she tells them. Society tells her that she's too old, and people wonder what she's doing. The first question medical professionals asked her after delivering her second child was about whether she wanted birth control. She's putting her energy into trusting herself, and doing what she can to prepare mentally, spiritually, emotionally and physically to have another baby. "I think, being over 40, I have all the tools to raise an amazing, productive human."
Today, my daughter, Zuri, is almost a year and a half with enough fierceness, curiosity and determination to fill a room. It is my wish that if she, one day, decides to have kids of her own, that she will do so in a health-care system that sees, hears and respects her. And, throughout her journey, I hope that she will fiercely advocate for herself without apprehension or apology, as these women and I have had to learn to do.