I had a hair disaster last summer… and it's still going on.
In July, I was at my regular hair appointment, getting some blonde highlights and dark lowlights. Everything seemed normal. Then my hair started coming out by the handfuls. I knew it was bad when my producer, Paige, started crying. Then my best friend, Rachel, started screaming "Sink! Sink! Put her head in the sink!"
I was shocked. There's nothing quite like the feeling of seeing fistfuls of your own hair – which I've long associated with my identity – in your hands.
My mind started racing. What the heck was going on?
I spent the summer going to my gynecologist, my family practitioner, and I even called Dr. Jennifer Ashton from "Good Morning America," who has opened up about her own Covid-associated hair loss. My friend and neighbor in Maine, Susie, sent me collagen and CBD treatments.
Everyone was very kind and helpful. Everyone also seemed to have a different explanation for my hair loss. A bad diet, menopause, hormone imbalance, getting Covid, and the stress of my job and taking care of my 90-year-old mom were just a few reasons.
When my mom passed away later that month, even more of my hair started falling out. I did the best I could with it on air (I do my own hair and makeup for "Morning Joe"), pulling it back and hoping it wouldn't be too noticeable.
I also regularly cut my own hair. But when I'm in New York City, I go to a high-end salon. In September, the famed owner of that salon insisted that my hair loss was due to the bright yellow hot tool I had been using. "This is damage, 100 percent damage, and you will need for it to [naturally] all grow back. C'est la vie!" (the owner is French). I stopped using the tool.
But the damage was done. Just look at the picture. Yikes.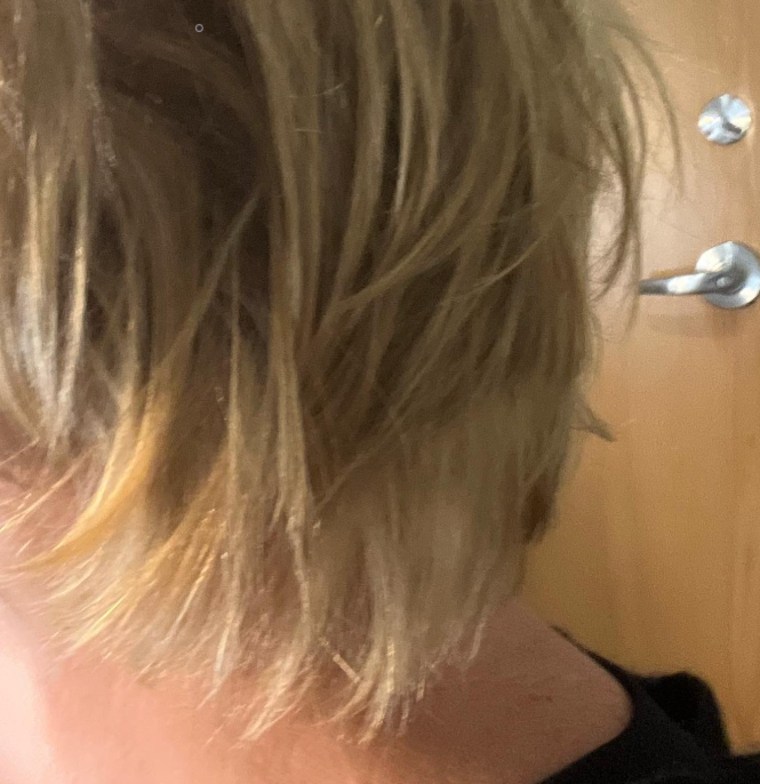 The breakage continued. So, my only explanation is that it was multi-fold. I burned my hair with the tool, I was under a lot of stress, I was not eating well and, yes, I was grieving the loss of my mom.
My hair was still falling out in December. Before the White House State Dinner with President Joe Biden and French President Emmanuel Macron, I was nervous because I had visible bald spots on my head, and parts of my hair were only one-inch in length. Joe was concerned.
The Mika of 20 years ago would have been in pure panic mode at the thought of attending such a high-profile event with less hair than I've ever had before. I probably would have even considered forgoing the dinner.
But I'm proud to say, the 55-year-old me remained calm. This just wasn't a big deal compared to what I've been through, like dealing with my mom's passing. I told myself that I don't need hair to feel beautiful. In my 50s, I've learned that posture, confidence, and a great smile can compensate for a lot. And that was my M.O. for the night.
I wore a beautiful, black Caroline Herrera dress. And while I typically do my own hair for the show, stylist Wilbert Ramos-Maisonet (who I have worked with for years) helped me get ready for the big night. I was so relieved he could help me get ready, and Wilbert was very concerned about how much hair I lost. At the same time, the man loves a challenge. One Bobbi pin later, and he found a way to hold my remaining hair together in an elegant way, all pulled back!
When I walked into the event, I said, "I'm not going to feel bad about myself. I'm going to feel like I look great."
And I did feel great. Later in the night, I looked in the mirror inside a White House bathroom and I liked what I saw. Throughout my career, I've always had a lot of great hair and some type of side bang covering my forehead. That night, I went with my face and head completely exposed, and I actually liked it. You could see all of me.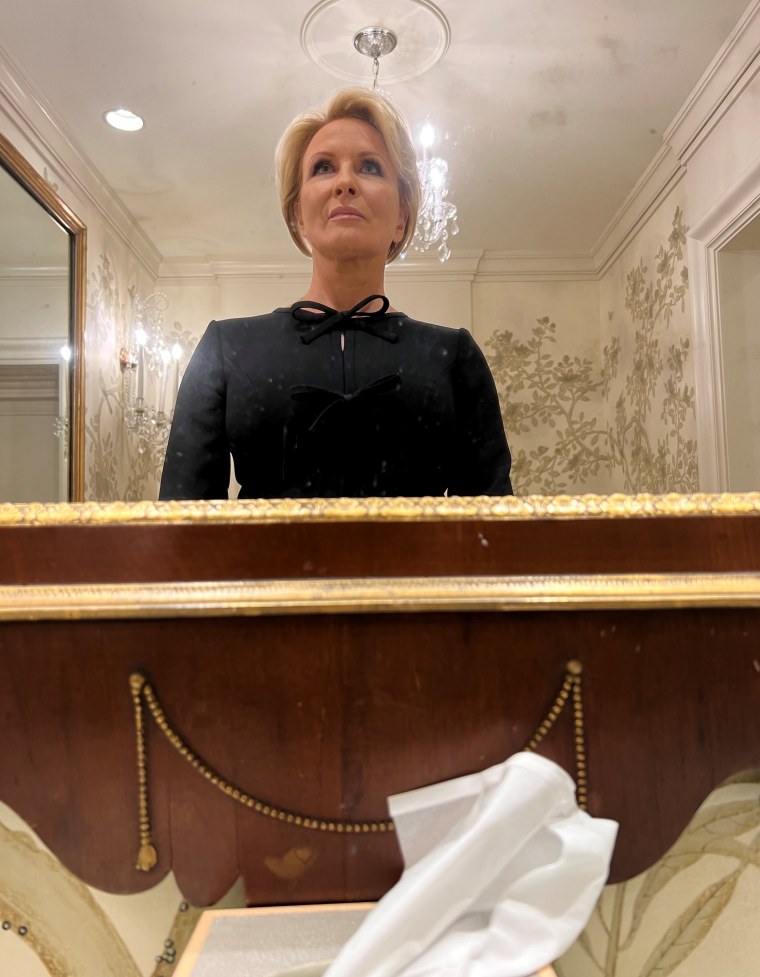 My hair is slowly beginning to grow back, but it's thinner and there's a lot less of it. But I'm OK with that. And the good news is, I have a new hair routine that takes one-third of the time than it used to. And if my hair is looking bad and I'm struggling with it before I go on air, I just let it go. I pull my hair out of my face, go to work, and get on with my day.
If you're struggling with a similar image issue, I urge you to hold your head up, say f--- it, and keep moving forward. Life is too short to get bogged down by your hair, your body, or the wrinkles on your face. As I get older, that's a promise I made to myself. And I have every intention of keeping it.
The New York salon owner was right, there was a lot of heat damage. But stress reduction, slowing down, eating better and acceptance helped me get back on track. My hair has grown back about an inch, but it's still challenging because my hair is still many, many different lengths. But it is what it is.
C'est la vie.