Democratic Sen. Kamala Harris of California announced on Saturday that she will make a decision about whether she will launch a presidential bid in 2020 by the end of this year.
"It's a very serious decision," Harris told "Morning Joe" co-host Mika Brzezinski during an onstage conversation at the Know Your Value conference in San Francisco. "Over the holiday, I will make that decision with my family."
Harris, whose husband joined her in the audience, said she is keenly aware of the challenges a barrier-breaking campaign will entail.
"Let's be honest. It's going to be ugly," Harris said. "When you break things, it is painful. And you get cut. And you bleed."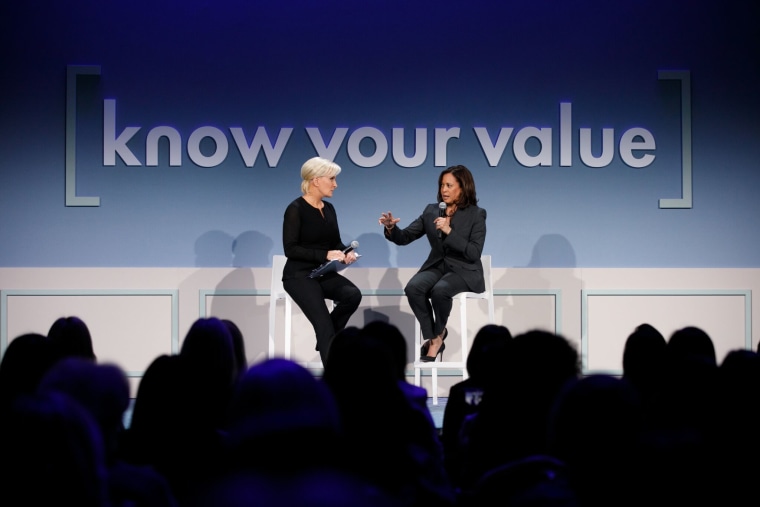 Harris also expressed frustration over the slow progress of the Secure Elections Act, which she introduced in March, along with co-sponsor Republican Sen. James Lankford of Oklahoma. The bipartisan legislation would give the Department of Homeland Security responsibility for ensuring secure elections and shoring up election infrastructure against cyber attacks, and would establish an independent advisory panel of experts to develop guidelines on election cyber security.
Republican Sen. Mitch McConnell, who currently serves as the leader of the Senate, has not yet brought the legislation to the floor for a vote. Harris said she has been told that is at the White House's request.
"First of all, let's be clear about the fact Russia did interfere in the [2016] election of the president of the United States," Harris told Brzezinski. "Flawed though it may be, we designed a beautiful system of democracy, and one symbol of that is that we have free and open elections. When a foreign government chooses to manipulate our democracy knowing that would compromise our strength and our perception of our strength, you would think leaders would say 'No, we are going to do everything we can to strengthen and to give ourselves the immunity we need to be free from that kind of manipulation.' Yet, it's not happening."
Harris also addressed the legacy left by former President George H.W. Bush, who died Friday at 94.
"He is a symbol and an example of the nobility of public service," Harris said. "I didn't necessarily agree with every policy he promoted, but I completely respect and I'm in awe of the dedication he gave to his country and service. What we want most in our public officials is that we respect that when they make decisions, they do it based on what they truly believe is in the best interest of other people, not themselves."