When you're a woman working in a male-dominated industry, every day can feel like sink or swim.
This was definitely the case for Caroline Feeney, who got her start in the financial services industry about 25 years ago. Though she was entrenched in a male-dominated field, she found career buoys and worked her way up from sales to CEO of Individual Solutions at Prudential Financial, Inc., which is her current position.
Feeney sat down with Know Your Value's Daniela Pierre-Bravo at the ASCEND women's career conference in New York City. Feeney outlined some tips for coming out on top despite gender disparity.
1. Love your work.
If you love you work, it may help you stay focused, according to Feeney. She described some of her earlier days in the financial services industry, when she worked in sales for products like retirement, insurance and more.
"I was on the front end serving the customer," Feeney said. "... And so you're able to see first-hand the impact you can make in customers' lives … and for me, I knew I was making a difference. So I think you can weather a lot of things that are happening on the periphery ... when you're in a male-dominated industry that way."
2. Work on 'finding your why.'
If you don't love your work, try and try again. Many women struggle to "find their why," said Feeney. Until they do, they may have a hard time feeling confident in any role.
"I realized that I was on the front end serving the customer, and so you very quickly realize the impact you can make, that is actually when I found my why," she said. "... and now I'm able to have a broader impact … and so it does give you a reason to get out of bed in the morning, to get excited, to feel energized about what you're doing every single day."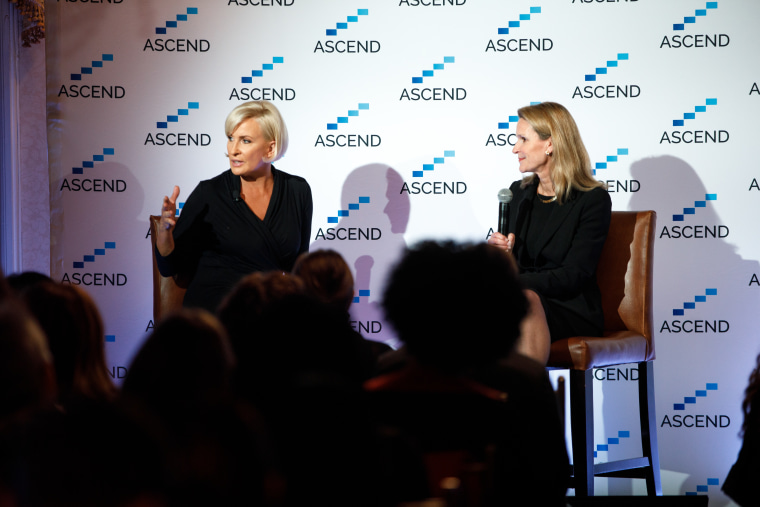 3. Find and maintain advocates.
Feeney said she had many advocates along the way — many of whom were men. She found common ground with them, and they helped her career tremendously.
"There might not have been many role models who looked like me or had similar leadership styles, but I had a lot of people along the way that I would absolutely call strong sponsors or advocates."
4. Pay it forward.
When she was no longer a mentee, Feeney decided to be a fierce advocate for other women coming up in the industry. Not only is it the right thing to do in a male-dominated industry, but she actually enjoys it.
"I absolutely make it my mission to pay it forward, to figure out how I mentor women in this industry, which unfortunately is still male dominated and we've made a lot of progress, but we still have a lot of room to go. ... I'm convinced I gain more energy from it than they do."
In particular, Feeney has made it a priority to advocate for women of color.
"It's incumbent upon us to help pull people along, to help create those opportunities for more women, and women of color."
5. Be your authentic self.
While it may be tempting to act like the men around you or to adopt a different persona in order to fit into a male-dominated industry, Feeney advised against it.
"I learned early on in my career that I'm not one of the men, so don't try to pretend to be one of the men. I once received advice early on to lose my empathy gene… and that's not advice you want to take. And so I think just being your authentic self. When you see something that's not being done right, you call it, and that's been very important to me."