It's tough for young women who are just starting out in their careers. There are so many issues to navigate, including getting the recognition and salary you deserve, projecting confidence and, of course, figuring out how to land your dream job.
That's why "Morning Joe" co-host Mika Brzezinski partnered with Know Your Value millennial contributor Daniela Pierre-Bravo to write "Earn It! Know Your Value and Grow Your Career, In Your 20s and Beyond," which was released May 7. (Order your copy here.)
Brzezinski and Pierre-Bravo appeared on the "TODAY" show on Thursday to discuss the book — and give their tips for young women to nail those early job interviews.
"Why did you want to focus on twenty-somethings?" co-host Savannah Guthrie asked Brzezinski.
"Because the data shows women start off with their salaries lower than their male counterparts and they never catch up," Brzezinski said. "And I think young women are getting so many conflicting messages as to how they're supposed to be when they're starting out … it's very hard to nail it."
"Right, and when you're starting out, what's your leverage?" Guthrie said. "You can't really go in there and pound the table and say 'I demand this.'"
But young people can still excel at those first job interviews, Pierre-Bravo pointed out. Guthrie asked about her top tips.
Pierre-Bravo's advice boiled down to four main points:
Look the part: "Do your research," Pierre-Bravo said. "Is the job you're applying to more creative or buttoned-up and corporate?"
Project confidence: "Confidence is all about preparation," said Pierre-Bravo, who recounted a tip from businesswoman Barbara Corcoran, who is quoted in "Earn It!". "For every two minutes I spend preparing, I get one minute of confidence," Corcoran told her.
Understand your audience: "When you're dealing with the interviewer, think about how they want you to answer the question," Pierre-Bravo said. "And think about the energy and cues they're giving you in that room. Are they trying to make conversation, or do they look like they're in a rush? Tweak your style to fit that."
Check body language, and connect and resonate: "The three things you have to remember: a great firm handshake, eye contact throughout and posture," Pierre-Bravo said.
Brzezinski also discussed how Pierre-Bravo's personal journey inspired "Earn It!"
Pierre-Bravo's story, which is chronicled in the first chapter of the book, includes her childhood growing up in Lima, Ohio, with four siblings and little money. The undocumented South American immigrant desperately wanted to live and work in New York City, so she applied to many jobs. She included a New York address on her resume out of fear her Ohio residence would make potential employers toss out her application.
Guthrie asked Pierre-Bravo, who is now a booking producer on "Morning Joe," about that first New York job interview, in which a potential employer at P. Diddy's Bad Boy Entertainment asked if she could come in the next day, assuming she was indeed local.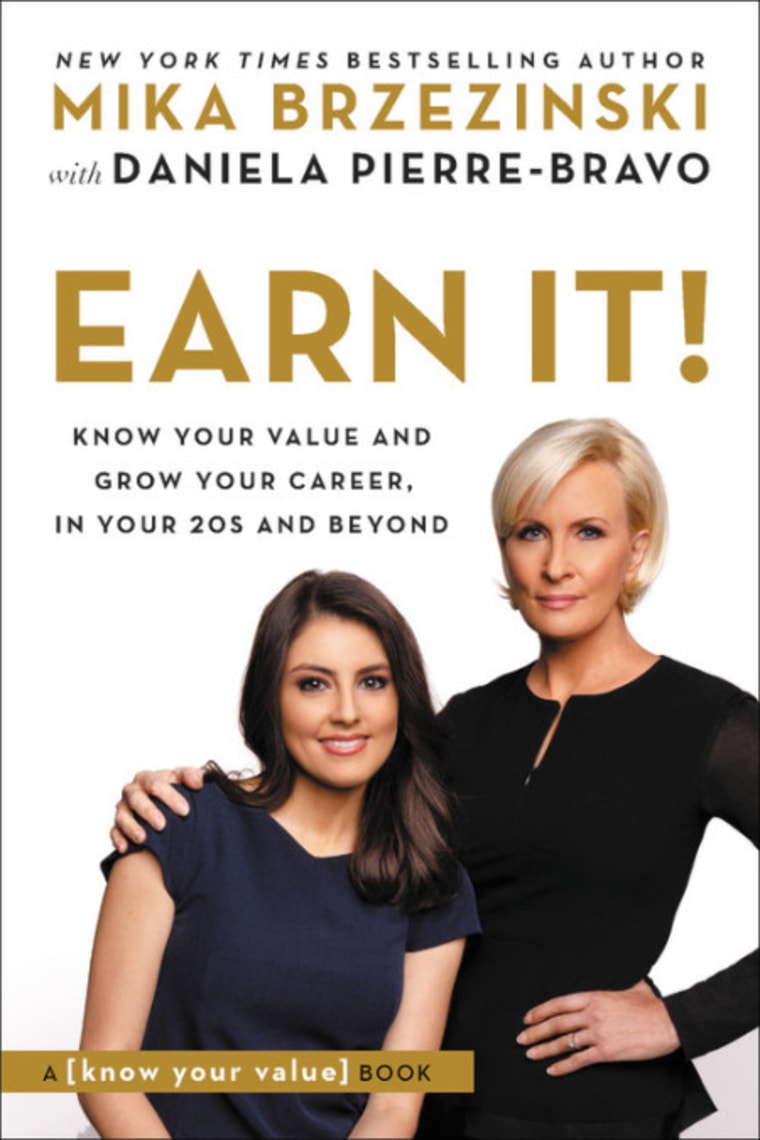 "I said, 'Yes, of course I can,'" Pierre-Bravo recounted. "So I went to the Greyhound Bus website, and I got on an 18-hour bus through the night, nine stops. I cleaned up in Port Authority."
She got the Bad Boy Entertainment gig, and it led her on a path to NBC. Guthrie also asked Pierre-Bravo to share her advice for other young people just starting out.
"Say yes to opportunities," Pierre-Bravo said. "And don't think about having the perfect job or figuring out how it's all going to end right away. If you're struggling getting your foot I the door, take it one step at a time. Work hard and try to find a way to find a yes within all the no's
Brzezinski later added, "It's all about timing. If you read the book you'll really get a sense of all the different things you need to be trying to do at the same time," she said. "When you're given an assignment…you want to be able to say those words all the time: 'I got it."
The key, Brzezinski explained, is "you've got to know your moment to pounce, which Daniela did. Her timing was perfect."
"Daniela, I look forward to you being my boss one day," Guthrie concluded.
Brzezinski and Pierre-Bravo have been promoting "Earn It!" all week, with Brzezinski discussing the importance of investing in young women during her hosting of the 2019 Matrix Awards on May 6 and the co-authors appearing on ABC's "The View" on May 7.