We love our job. We love the competition, teamwork and the action. We love working together, which as twin sisters has been the way we have lived our lives since before we were born. It's hard work, but the rewards make it worth it.
We're women ice hockey players – and our job is to wear the red, white, and blue and represent our country in world championships and in the Olympics.
In 2018, when we were competing in our third Olympics in Pyeong Chang, South Korea, we reached the pinnacle of our competitive careers. We were part of the gold medal winning U.S. women's ice hockey team.
Winning a gold medal at the Olympics was something we had dreamed about since we were kids. It was exhilarating. The joy we felt – the sense of fulfillment – is almost indescribable. It just reinforced our love for our job.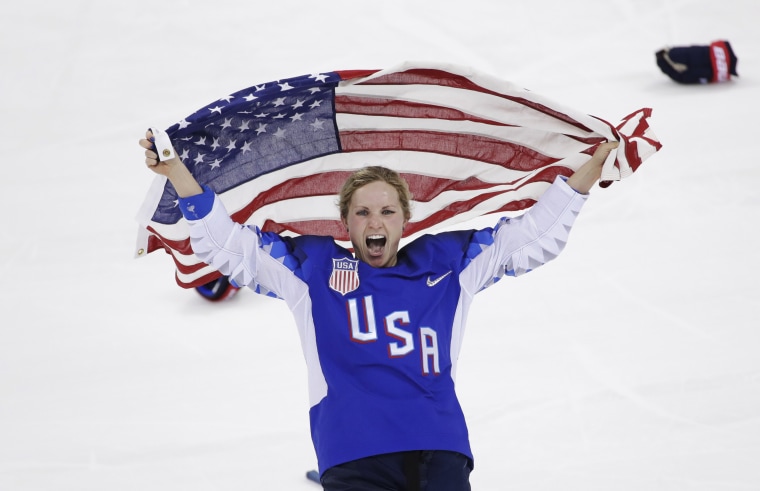 Less than a year after Pyeong Chang, we both gave birth to adorable little boys. And they have changed our lives. Every day, they are growing – and developing. Our hearts are so full of love and pride that we are sometimes afraid that they might burst.
Yes, winning an Olympic gold medal was a dream come true – the most exciting moment in our professional lives. But giving birth is a great perspective setter. We will always love playing hockey, but being mothers is the most important job we will ever have.
The juxtaposition of winning gold with giving birth has led us to ask a set of questions that working women are asking themselves every day: Do we have to choose between our careers and being a mother? Can we be great mothers and still pursue our careers at the highest level? Why can't we do both? And like so many other women who have successful careers and now are mothers, we've decided we in fact want to have it all.
A spotlight has been shined on these questions in recent weeks by the startling revelation that Nike had the right in its sponsorship agreements with women athletes to not pay them when they were not competing because of pregnancy or childbirth. We – and women athletes around the world(and working women in general) – all had the same reaction: what were they thinking?
But this piece isn't about Nike, which happens to be one of the strongest supporters of women athletes in the U.S., or even about sponsorship support for pregnant women athletes. Nike has since reversed its policy on paying pregnant women athletes. And apparel brands like Burton, Altra, Nuun and Brooks all have announced their willingness to provide contractual guarantees for their sponsored athletes protecting them if they become pregnant. For us, we've been fortunate that our primary sponsorship arrangement is with Comcast NBCUniversal, which fully supported us financially – and even accommodated our special needs – during our pregnancies.
The issues raised by the Nike story go beyond corporate sponsorship of athletes. For the two of us, and for millions of other working women, that story crystallized the importance of maternity benefits – for all working women, including athletes. And for that, we can all recognize and acknowledge the courage of Olympic track athletes Alysia Montaño, Kara Goucher, and Allyson Felix for exposing this inequity in the sports world and provoking a broader conversation on the issue of support for working women.
Personally, we lived this issue during our 2017 negotiations with USA Hockey in which we were fighting for more equitable treatment in pay and benefits, in marketing and promotional support, and in financial support for girls youth hockey. Those negotiations concluded with an historic agreement. And that agreement included the first-ever comprehensive set of maternity benefits in the history of our sport.
We are the first two women ice hockey players to benefit from those maternity benefits. Even though we could not compete while we were pregnant and for a reasonable period of time after giving birth, we remained as members of Team USA – we are assured financial support and an opportunity to try out for the next national team event.
Today, we are working hard at being new moms – and we are training incredibly hard to get ourselves back in elite ice hockey shape. Although no one pressured us, we started in the gym two weeks after giving birth. We were back on the ice a month after that and are now training six days a week. And we're also full-time moms. We will be returning to our first post-pregnancy USA Hockey camp in August. Our baby boys will be coming with us – attending their first USA Hockey camp ever.
While simultaneously pursuing our careers and being mothers is really hard, we are fortunate that we have not been forced to make a choice. Our USA Hockey maternity benefits are helping us to have it all.
But that is not true for everyone. While the published statistics are highly variable (somewhere between 15 percent and 60 percent of women in the United States receive some sort of paid benefits following birth of a child), it is indisputable that a substantial percentage of U.S. women do not receive any paid maternity benefits. It is shocking that the United States is the only industrialized nation in the world – the only one – where paid maternity leave is not required by national law. Of the countries that belong to the United Nations, only Suriname, Papua New Guinea, and the United States do not legally require employers to provide paid time off for new mothers. Is that really our peer group of nations?
To be fair, the U.S. does require that employers provide unpaid time off for new mothers (and fathers). And there is the beginning of a trend for states to require paid maternity leave. Many argue that this is not a place where government intervention is required – that private companies should and will step up to provide maternity benefits. And many do: Amazon, Bank of America, Comcast NBCUniversal, Facebook, Google, Ikea, Netflix, Starbucks, and Walmart are all known for their maternity leave policies. And as we said, USA Hockey certainly stepped up with fair and appropriate maternity leave policies and benefits in 2017. We can't speak for other national governing bodies (NGBs), but we are confident that USA Hockey is the leading NGB for Olympic sports on this issue.
Frankly, we're not sure why the United States should be an outlier on requiring paid maternity benefits. Every other industrialized nation in the world has reached a different conclusion. But for those who want the government to stay out of this, it is incumbent on the private sector to step up and make universal paid maternity benefits the norm in this country. That is simply not the case today. And maybe the jarring inequity of the treatment of Olympic athletes who decide to have children while they are still competing will help to move this along.
For us, though, this whole discussion is about more than Nike as a sponsor of women athletes – it's about more than sports –it's even about more than paid maternity benefits and how they should be delivered. There is a bigger underlying story here – the inadequate representation of women in senior executive roles and boards of directors in corporate America.
At the board level, according to a Deloitte survey of 7,000 companies in 60 countries, women hold 15 percent of all board seats. While that is an increase from the 12 percent two years before, it still falls appallingly short of women's proportionate share of the population (more than 50 percent). And the story is arguably worse when looking at CEOs. The most recent data shows that there are 33 female CEOs leading Fortune 500 companies. While that is a record, it still translates to only 6.6 percent of Fortune 500 companies being led by a female CEO.
Having more female representation in the board room and in senior executive ranks makes companies more innovative – more strategic – and brings a different sensibility to corporate decision making. Nike has had its own issues with workplace culture in the recent past, which led to the resignation of the company's male COO. We'd like to think that senior women presence at Nike would have led to a different initial outcome. And we believe that more senior female presence in the board room and senior executive ranks would accelerate gender equity throughout corporate America.
We want to have it all. That includes being able to do our jobs playing elite international hockey and raising our two sons. And it also means bringing to life one of the most important pieces of advice our mother gave us when we were growing up – to cheer for the one behind.
Unfortunately, right now, women are behind. So we're going to cheer, fight and advocate for a level playing field that will enable girls and women to have the same chance to succeed in sports, in business and in life as their male counterparts.