Of the 134 venture capital-backed U.S. based companies valued at $1 billion or more, only 16 have a woman co-founder. Jaclyn Johnson, founder and CEO of Create & Cultivate, is working to change that statistic with her compelling online platform and live event series for women around the world looking to create and cultivate their dreams.
Know Your Value's millennial contributor Daniela Pierre-Bravo sat down with Johnson, who is also the author of "Workparty: How to Create & Cultivate the Career of Your Dreams." They discussed how Johnson built and sold her first business and then turned her side gig into a multi-million dollar company. The two also chatted about how other women can realize their career dreams and make it a reality.
View failure as data points
One of the biggest lessons Johnson learned on her entrepreneurial path is that there will be bumps in the road, and that's perfectly okay. Rather than internalizing failure and making it part of her narrative, Johnson learned that each setback provides a learning opportunity.
"One of the things I've learned along the way is that if you think of failure as data points for your business, it can really open up a whole new world," Johnson said. "Failure is essentially just feedback in different ways."
For example, Johnson explained in the early stages of building Create & Cultivate, she received some feedback from event attendees about entrepreneurs not being interested in sessions that did not pertain directly to their industry, and likewise from content creators and marketers who wanted to hear what was most relevant to their roles. However, she and her team turned this feedback into actionable advice and created two tracks—one for entrepreneurs and another for content creators and marketers—and the business really took off after that.
It's also helpful to recognize that when building a company, you must jump in whole-heartedly and take on many hats. For Johnson, that has meant being the event producer, security guard and even the catering crew. "You have to love your company so much that you're going to do whatever it takes to be successful," she said.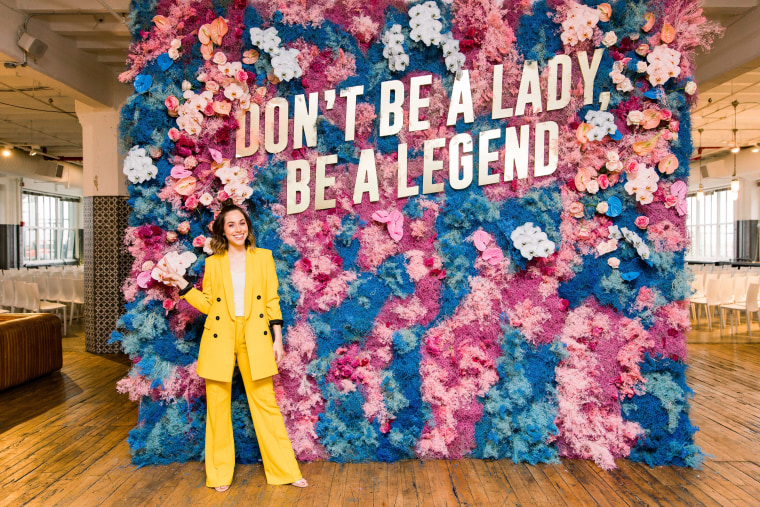 Network horizontally
"One of the things they don't teach you in college is that networking is hugely important to your business," Johnson said, adding that it's helpful to network horizontally and build relationships with people on your level who are also working their way up to the manager level.
One of Johnson's first lessons about the impact of networking happened after she was abruptly laid off after just three months on a job and had emailed all of her friends looking for a new opportunity.
It can also pay off to reach out to folks you haven't met yet. "Cold emails are your best friend," she shared. "Ask to meet and offer something you can help them with. Do favors for one another on the way up."
Set lofty goals
Johnson chatted with Paya Kadakia, CEO and co-founder of ClassPass, an app that allows users to work out at various fitness centers, and received advice that really stuck with her.
Johnson told Know Your Value that Kadakia had told her, "Women sometimes like to set goals that they know they'll absolutely meet. What we don't do is set lofty goals."
"I think it's really important for women to start thinking bigger and better for themselves and create huge goals like we see men doing quite often," Johnson said.
She said the landscape for women is quickly changing. Women hadn't talked about money for so long, but know equal pay and transparency is a real thing. And at one time there was only one woman at the top, and females felt like they had to compete with each other for that spot. Now, however, they are learning that they can help each other on their ascend to the top.
"Hopefully, the younger generation of women will come and say, I want to be the next Mark Zuckerberg," Johnson said.