Today's average millennial woman (between the ages of 18 and 34) feels self-sufficient and independent, especially when it comes to personal finance. According to exclusive research by Refinery29 Intelligence, only 7 percent of women in the U.S. and U.K. expect their partner to support them financially. Furthermore, only 5 percent feel that their partner should "handle the finances."
(Go us!)
But that doesn't mean they feel confident about managing every aspect of their money. Most have a complicated financial picture. The survey shows that on average, a woman's personal income is $45,000, with a total savings of $16,000. About 40 percent of women have credit card debt, 20 percent carry a mortgage, and 19 percent carry a car loan.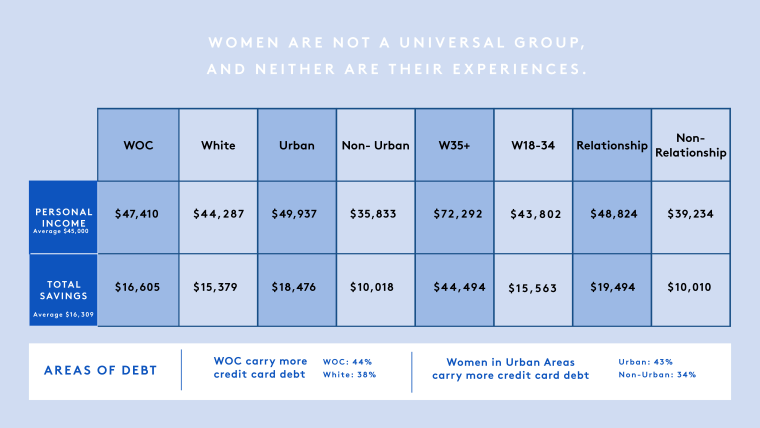 As a result, women today feel the need to invest in themselves, especially millennial women, many of whom entered the workforce during a recession. They've seen how it has affected their family, and feel the burden of being the generation with the most student loan debt, topping out at nearly 30 percent, according to the survey.
Yet the same study found that 1 in 4 millennial women have less than $250 in their savings account but acknowledge they should be saving more. Not surprisingly, a meager 8 percent consider themselves "a pro at financial planning." When asked what emotion comes to mind when thinking about their financial situation, these women had one clear answer: "worry."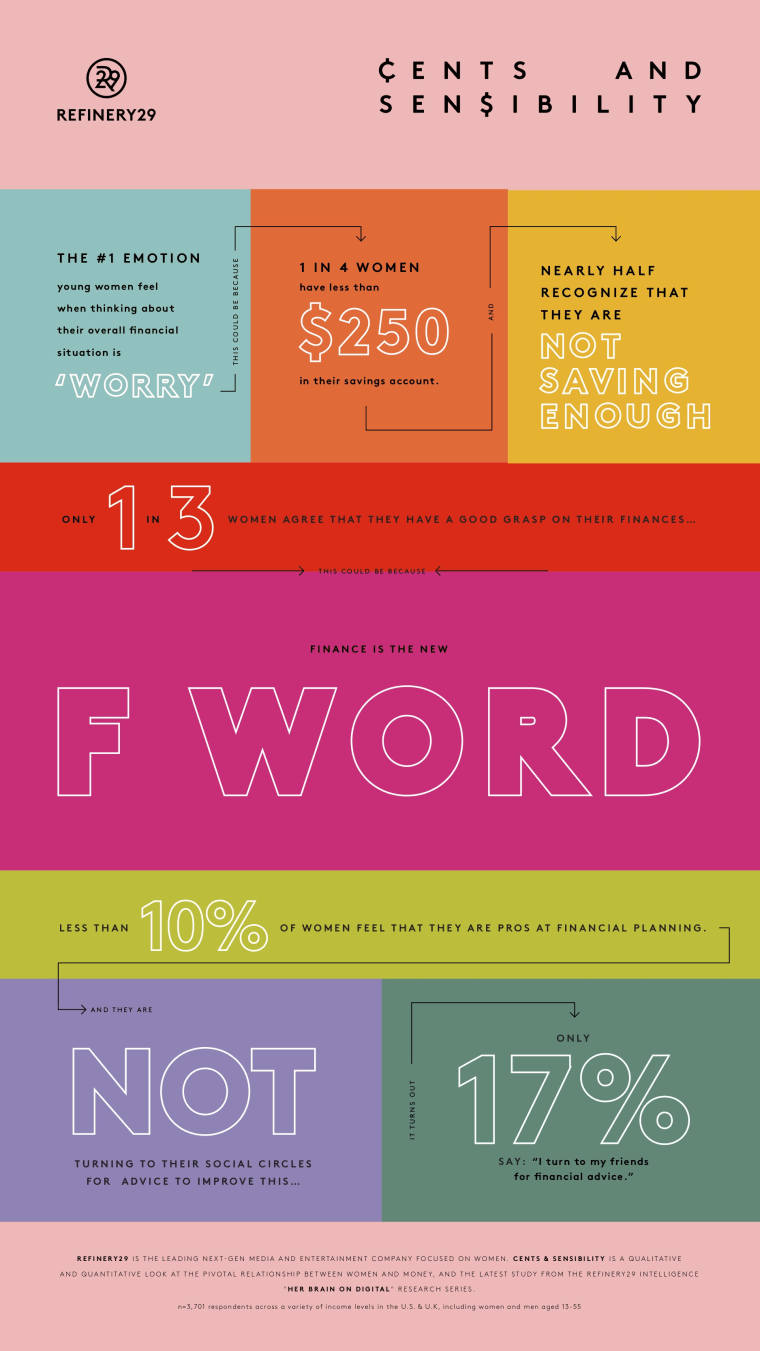 So where does this disconnect between financial independence and financial literacy come from?
No one-size-fits-all guide to financial planning
No matter how many financial rule books you scope out, they have little impact if they don't address your own personal financial narrative. Even the survey statistics above vary depending on where you live. And in terms of demographics, while overall, the same percentage of women of color and white women had less than $250 in their savings (28 percent), black women were more likely to fall in this bucket (33 percent).
For this reason, Barbara Ginty, financial advisor and owner of Planancial (also a former Know Your Value contestant!), tells Know Your Value there is no one-size-fits-all rule book for women. She notes that we've all seen the blanket advice on finances, like saving 10-20 percent of your income. But for many, that plan isn't realistic, either due to paying down student loans, credit card debt, supporting dependents, or any other factors that hold us back from saving as much as we would like.
Lack of a modern personal finance education
The relationship with money starts early, Ginty says. "You are more at a disadvantage if you don't see a lot of the [good] habits at home — that's where you start to form some of your financial habits."
Genevieve Ryan, founder of the Real World Playbook, notes that young adults are not prepared with the financial advice they need to start out on their own. Often, twenty-somethings rely upon their 'knowledge networks' — parents, siblings, colleagues, neighbors — for answers to these real-world questions.
"These networks often operate on outdated information," Ryan tells Know Your Value. "Our generation has substantial burdens that others didn't quite understand." This includes the managing and paying off of an absorbent amount of student debt.
As Ryan notes, college students are infrequently taught personal finance on campus, making it harder for them to figure it out on their own. As a resource, Ryan created the Real World Playbook, which provides tools to navigate everything from personal finance, to health insurance and student loans.
The Refinery29 survey also reveals that women are not utilizing their social circles for financial advice. Only 17 percent said they turned to friends for this type of guidance.
With that in mind, here are some tips to empower your own financial narrative.
Get rid of the guilt
Lindsey Stanberry, Refinery29's Work and Money Director, who oversees Refinery29's popular "Money Diaries," says that even the act of tracking your money can be really eye-opening. "We all fall into the habit of swiping credit cards and not looking at the total," she tells Know Your Value. But it is important to think about how your expenses add up.
If you find you're buying coffee every day, start bringing it from home a few days each week. "It can have a significant impact if you're trying to save up for retirement or have an emergency account," she says. "Those things are not necessarily as sexy as a new pair of shoes, but we can change up the narrative. Yes, [a] 401(k) is not a cool term, but being able to have an amazing life after 65 is really cool."
If you aren't where you want to be financially, Ginty advises cutting out unnecessary expenses, but not everything. "You have to pick what makes you happy and what's worth spending, but you can't do Drybar, Soulcycle, Equinox, and Starbucks. You can't do it all."
We fall for the narrative that we should feel shame about where we spend our money. Stanberry says that couldn't be further from the truth. "You see that if women worldwide are paid equally then they are more likely to put it back in the community than men are. So I think that narrative is really bogus. It's too bad we fall into it, and I think that's part of the problem."
Start talking about salary
Another important part of owning your financial narrative is breaking the taboo connected to discussing salary. "Beginning to understand how much you're worth and how much your role is worth can be really empowering, and can help you make better decisions about where you want to take your career," Stanberry says.
Even having conversations about wanting to make more money helps shed the shame we might feel about not making enough, or the shame associated with credit card debt. Arm yourself with the data you need to talk about your financial circumstances and goals.
Stanberry notes men have historically driven the narrative. "They're always armed with the details. If you go and see a financial planner with your boyfriend, husband, the conversation is always going to be directed to them. I always have women tell me that their father will give their boyfriend stock advice but not them. It's always the fall back; we never get to be the lead."
Get that free money
If you are fortunate enough to have a 401(k) plan that your employer matches, Ginty advises to make the most of it: "I've seen so many people who are in their 401(k) plan for 3 percent when the match is 6. You can't go back and get that money. Getting the match and getting into your plan early will make a tremendous difference long-term because of the compounding of interest."
What if you work for yourself or freelance? "You can set up your own retirement," Ginty says. "Whether it's a traditional IRA, a Roth IRA, a SIMPLE IRA, or Simplified Employee Pension (SEP)."
"When you're a freelancer, you're essentially your own business and it's important to pay yourself first," she adds. "Don't forget about your future." Although it can be tempting to write off checks for everyone but yourself, it's important to make sure you are part of that equation.
Avoid these savings missteps
In order to save effectively for the future, take charge of your current debt and make it a priority. "I see a lot of people wasting money on debt payments," Ginty says, referring to those who make the minimum payments on their credit cards. "If they were more strategic with how they were doing it, they would save themselves a lot of money down the road."
She points out that people lose the most money when they never make more than the minimum payments on student loans and credit card debt. She stresses the importance of knowing the interest rates: Are they variable or fixed? Understanding the specifics of your student loan or credit card can help you manage your financial future.
For example, Ginty adds, if you are able to apply any cash on hand toward paying off credit card debt, instead of submitting monthly payments with interest, that stands to save you long-term. "I've had people with student loans — where a father was paying for his son, and he's been making the same payment for 10 years and he's like, 'It hasn't gone down.'" It turns out he was paying it off incorrectly, she says.
Define your financial narrative
One of the best things you can do for yourself is to define your goals, whether that's for your career, family, or your long-term plans (savings, traveling, etc.). What are the financial goals you have set for yourself in the short-term and long-term? Write it out. Analyze it. Now make a budget based on that.
Then decide where you are spending too much. Ginty encourages young women to ask themselves: "Do you need it all and do you need it all right now? Are you willing to say, 'I really want to go to Europe next summer, so I'm going to cut these two things out for twelve months?'"
Author's note:
When I moved to New York City in the summer of 2012 to take on two unpaid internships, my goal became budgeting. Budgeting EVERYTHING in order to leverage opportunities to grow my career.
For me, it was incredibly empowering to do small acts of money managing – even if I didn't have it all figured out – that really made a difference in accomplishing my goals. If I wasn't fitting into the standard financial advice bucket lists, I was empowering my own financial narrative by budgeting and managing exactly how much and where my money was going.
Stanberry urges women to ask questions and be as informed as possible, but don't inundate yourself to the point that you're not taking steps forward. "I have that problem, I find investing to be intimidating. I do it, I have a 401(k), but I think it's really scary," she admits. "If I hadn't been pushed into it, I think I would have educated myself to the point of inaction."
She urges women to focus on action. "Take some risks. Trust yourself. Be OK with wanting it. We're so often told to be grateful for our opportunities. It drives me crazy, as a woman we're constantly told to be grateful."
Instead, define what you want for yourself financially. Say it out load, write it down, (do whatever you have to do!), and go for it.
Daniela Pierre-Bravo is Know Your Value's millennial contributor. Read more about her here. Follow her on Twitter and Instagram @dpierrebravo.