Justine Davie is petite and soft-spoken. But don't let her looks and demeanor fool you. She's also a Marine Corps major and grizzled combat veteran who's served in Afghanistan.
Davie has learned to confidently navigate several male-dominated industries, including the U.S. Marine Corps and now comedy. The 33-year-old Arizona native is the supervising audience coordinator at "The Daily Show with Trevor Noah" and performs stand up and sketch comedy on the side in New York City.
"People ask, 'Oh can women really be funny?' It's just like when people ask, 'Do women really have what it takes to be in the military?' And the answer is yes and the second part of that is it shouldn't matter," she told Know Your Value.
Davie wants to shatter preconceived notions of women in the military. "Being in the military, it's not uncommon to hear that if you're a woman you either have to be a b---- or a slut or a lesbian—and that's completely untrue."
She recently sat down with me to talk about her time in the Marines and the comedy world, and shared what she's learned from failure and battling gender stereotypes.
On her time in the military
Davie joined the Marines in 2007 and is still serving as a reservist. She said women in the Marine Corps still deal with stereotypes, judgment and discrimination. After all, women make up just 8 percent of the exclusive armed services branch. "We're not exactly completely equal at this point," she said.
But Davie noted that women in the military have come a long way, from doing secretarial clerk work to having the first woman lead an infantry platoon. "The more women that we have joining the ranks, the better gender equality will be in the military," she said.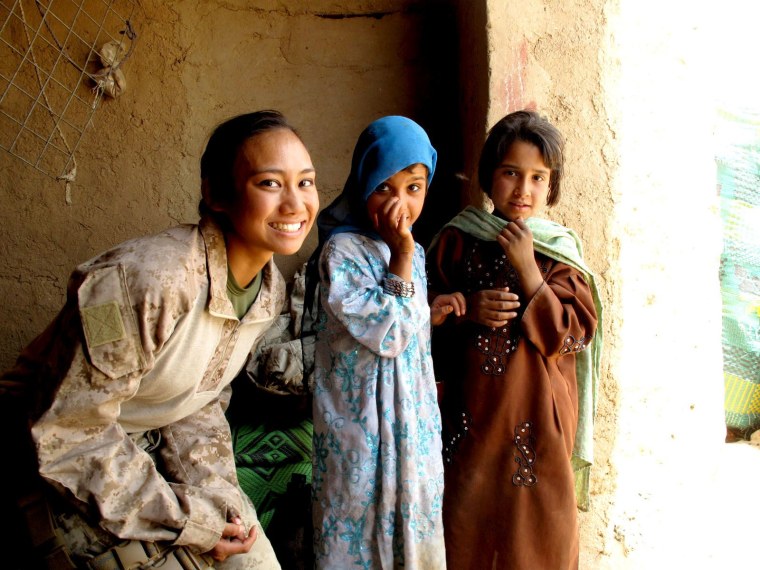 Being in the Marines has influenced how she handles daily challenges. "I have seen things happen that are completely out of my control. So it makes you freak out less if it's something like the printer is jammed, or someone is late. It's like, we can adjust. And I think that's what's really great about hiring veterans and working with people who have been in the military. They are resourceful, they can solve problems in a short amount of time and they can be really innovative in how they solve those problems."
Gaining confidence
It can be difficult to feel confident when you feel underrepresented. Besides being a woman, Davie is a first generation American – her parents immigrated from the Philippines when her father joined the U.S Air Force. "I was surrounded by people who didn't look like me and I didn't have an example in the Marine Corps that I could look up to," she said.
Davie's time in the Marines, however, taught her that women should embrace all opportunities. "They shouldn't be afraid to do the job that they want," she said.
And part of growing your confidence, Davie said, is practicing your communication skills - whether it's in front of people, to a mirror, or recording yourself and playing it back. It helps you understand how you are being perceived.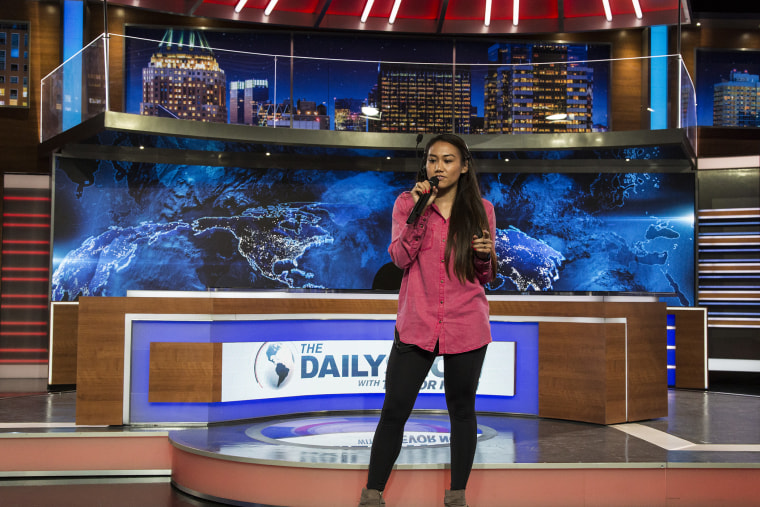 Dealing with sexual harassment
The effects of the #MeToo movement have also influenced the military, said Davie, noting she believes more women in the armed services are standing up for themselves.
"We live in a culture where sometimes you think it's your fault and that's why bad things happen to you—and it's not. And I think that kind of thinking is what needs to have a higher role in the way that we carry ourselves," she said.
Owning Your Voice
When it comes to standing your ground, Davie advised women, "At the end of the day, all you're ever going to have is yourself, so you need to take care of yourself. You need to stand up for yourself."
She continued: "The other part of me wants to tell women that you have to surround yourself by good people, and you have to understand your own value. So you can't sacrifice those things just to be comfortable among your workplace or among this circle of friends. If you're not comfortable then there's a reason for that—you have to trust your instincts."
Transition into civilian life
Davie urged women transitioning from active duty to seek support from friends and family and to not be afraid to ask for help. Trying to appear tough can backfire, Davie said. "That's part of why we see people struggling long after they've left active duty or come back from the war, because they can't compartmentalize anymore—they have to address what they're actually going through, and they can't address it unless they really face up to it and just talk about it."
Keeping her military friends close helped Davie adjust to civilian life. She urged other women in the armed forces to keep in touch with veteran communities. "Those are the people that are going to understand what you went through no matter what generation they are," she said.
"I found a group of friends who, we were all in the Marine Corps, and we were interested in entertainment, arts, writing, filmmaking—and we would just meet every week for brunch and just talk about ideas, and help get ideas into reality, and film things and write things together. And that really helped me because it was just the best of both worlds," she said.
She also advised: "Translate your military service into concrete skills that people can believe on a broader scale and understand what you bring to the table."
Daniela Pierre-Bravo is Know Your Value's millennial contributor. Read more about her here. Follow her on Twitter and Instagram.
For more advice like this, sign up for the Know Your Value newsletterand follow Know Your Value on Facebook, Twitter and Instagram