Before model Ashley Graham took the stage at the Create & Cultivate conference in Brooklyn, on Saturday, she uttered these words to herself: "You are fine, you are brilliant, and you are beautiful and bold."
Graham told the audience of about 1,000 that she has recited this mantra before major meetings and events throughout her 20-year modeling career.
"[The mantra] is fun now because it's in me," she said. "But back then, before it was in me, it was necessary … because I didn't believe it. I didn't understand it. I didn't know why I was worthy to have anything I had."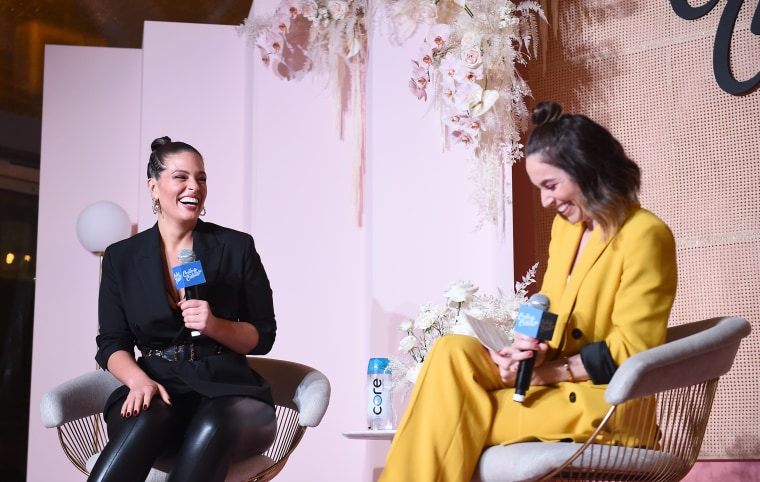 It was hard to imagine Graham feeling defeated in any way as she spoke on the main stage at Create & Cultivate, a millennial women's entrepreneurial conference presented by Mastercard with speakers including Martha Stewart and Rosie Huntington-Whitely.
In 2016, after being the first size 14 woman to rock a bikini in Sports Illustrated, Graham became a boundary-smashing symbol of body confidence for women and girls around the world.
Graham has since built an empire of body diversity, whether through designing G-cup bras for larger-breasted women, hosting the popular celebrity-speckled podcast "Pretty Big Deal," or working with Ellen DeGeneres on the heartwarming digital series "Fearless." For the fans, she often posts candid photos of herself – cellulite and all – and tramples trolls in the process.
"A girl wrote on my page: 'Girl, your thighs are busting out of your pants, your cellulite is kicking'," Graham recalled in a conversation with host Jaclyn Johnson, CEO of Create & Cultivate. "I make these moments teachable moments... I said, 'You're right, ma'am. My cellulite and fat is hanging out of my pants and I am sexy A.F.' I want the younger girls to know you should be standing up for yourself and you should be able to say, 'No, I wanted to wear that ... I don't know why you're talking to me like that, thank you very much. I blocked you.'"
However, there was a time when Graham, 31, wasn't a confident superstar. She started modeling at age 12 and moved from Nebraska to New York City at age 17. Back then, she was just another struggling model who didn't fit the mold.
"There was a moment when I was 18 years old and I said: 'I can't do this anymore'," she recalled. "I can't have anyone telling me to lose weight. I can't have anyone telling me: 'You're too this, you're too that, you can't have a personality, you're a model, don't talk.' And I called my mom and I was like: 'I can't do this. I'm done. I want to come back to Nebraska.' And she said, 'No, your body is going to change someone's life.' I don't think she understood what she was saying to me until we came to this point in my life."
Her mother's words proved resoundingly true. Graham now runs several media platforms and has over 8 million Instagram followers, to whom she preaches self-love and "health at any size."
"Health at any size is hard for some people to understand when all you've been hearing is 'you're fat, you're not good enough, you need to get a man, you need this to get a job'," she said. "But in the end, it's about taking care of yourself, creating spaces for yourself where you can feel sane. If I can spend 15 minutes of quiet time and talk to myself, I'm going to go into this meeting and slay."
Apart from body confidence, women can be empowered by talking to each other about money, Graham said. She recounted a story from about six years ago when she and four other models openly discussed their salaries. They found disparity and learned a great deal about the industry in the process.
"You know your worth, but you need to know your worth in the workplace," she said. "There's nothing wrong about building each other up and talking about how much you're making so we can all grow together."
Graham's self-care secrets include taking time for reflection every morning.
"Waking up and having that 15 minutes of quiet time, whether it's prayer, meditation," she said. "Knowing that it's my time, it's not my agent's time, it's not my husband's time, it's not the world's time, it's not my followers' time – that … is going help you manifest and stay centered."