It's difficult enough when maternity leave ends and you have to shift your thinking from diaper changes and strollers to conference calls and deadlines. It's a whole other beast to go back to a job that requires eye-high kicks and intricate formations amid multiple, rapid costume changes.
But if you're a Radio City Rockette, that's life. Of the 80 elite dancers this season, eight are moms who perform in 100 Christmas Spectacular shows over the course of six weeks in front of thousands of spectators.
Being a Rockette is a physically and mentally challenging job in and of itself. But when you pile on sleep regressions, teething, childcare needs and soccer practice, holding everything together can seem like an insurmountable task.
"The hardest part is making sure I know where everybody is," said Nicole Baker, mother of Nate, 8, Zac, 6, Liv, 4, and Alex, 5 months. This is her 13th season as a Rockette. She returned to work after the birth of each child, and her shortest maternity leave was after Liv was born—she rejoined the line after just three weeks. "I send myself a million reminders that say things like, 'Remember to write a note that Nate can go home with so-and-so after school,'" Baker said. "Sometimes I accidentally send myself the same reminder three times, but I'd rather get three reminders than forget."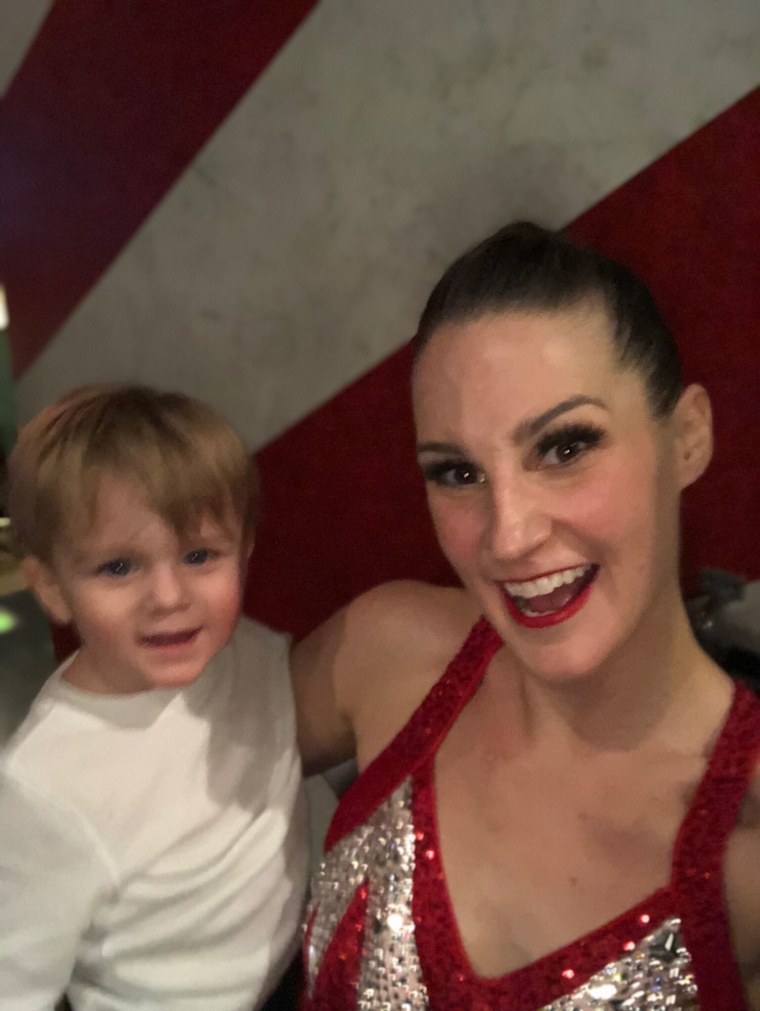 Melinda Farrell is in the middle of her 17th Christmas as a Rockette, and in addition to the daily challenges she faces as a mom of Crosby, 1, she has overcome huge physical hurdles, as well. Just four months after delivering her baby via emergency C-section, she needed to have her appendix removed. Even after those two surgeries, she returned to work when her baby was just six months old. Farrell said that the difficulty of being a Rockette mom isn't physical—it's mental: "As professional athletes, our bodies are prepared for trauma, and I had been doing the show so long that I knew what I needed to do to prepare. It's much more challenging to split my life in two mentally."
But if anyone knows how to juggle a stressful job and kids, it's a Rockette. Here are six of their best tips to help working moms hold down the fort at home:
1. Enlist an army of help
Have friends, family, babysitters and backup babysitters in the rotation to make sure your kids are safe and happy. Christina Hedrick, a Rockette in her 13th season and mom of Dawson, 5, and Dylan, 1, (and one on the way!), flew the kids' grandparents into town.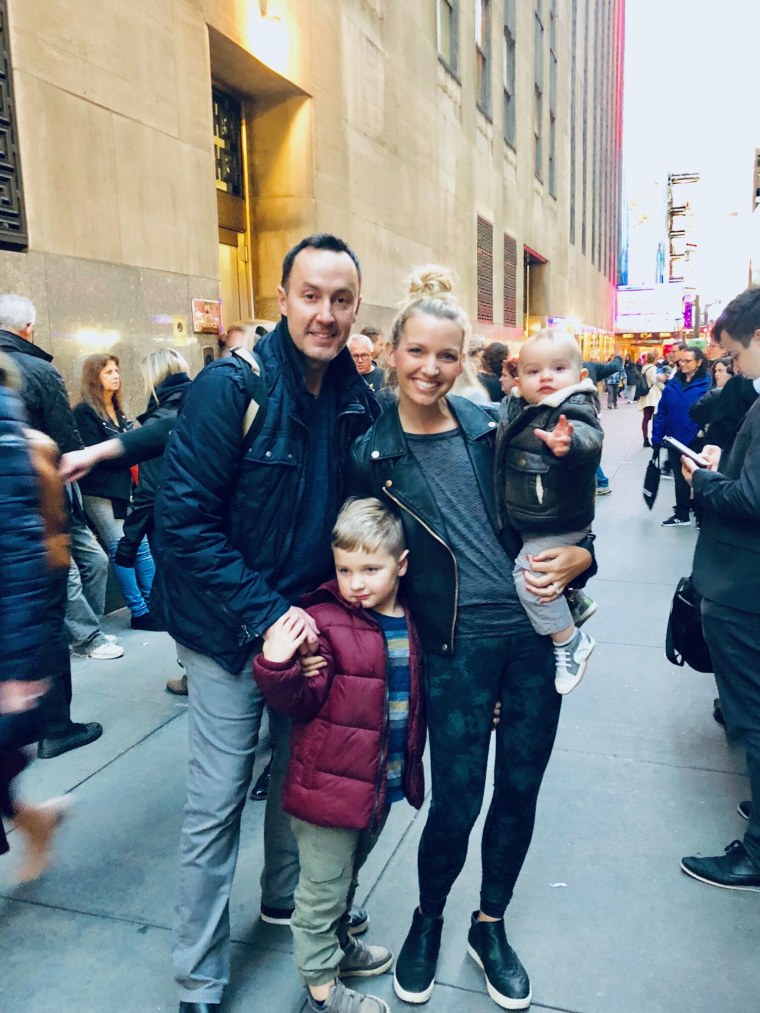 "We have a nanny three days a week, my husband is around on the other three days, and we fly family members in for weeks at a time when the schedule gets crazy," she said. Farrell moved to Minneapolis last year, so she secured New York housing for herself, her son and her mother during the run of the show. "My husband and mother-in-law fly in as much as they can to help relieve my mom and spend time with us," Farrell said.
2. Make a plan
Unsurprisingly, these moms thrive on planning and schedules. Baker, for example, uses three different calendars: an app-based version on her phone, a bigger hardcopy on her desk and a mobile monthly planner that she carries everywhere.
"If I don't set an alarm to remind myself to go to bed at 10 p.m., I'll be up until midnight," said Hedrick, who, like many parents, tries to cram in all of her "adulting" responsibilities in the two hours after her kids go to bed. "Staying up late isn't great because my kids are early risers. So I have to cut myself off and make sure I try to get eight hours of sleep." Katie Walker Henein, a Rockette in her 11th season, is still a very new mom with a 6-month-old, Hayden.
But no matter how tired Henein is when she opens her front door, she said, "I take 10 to 20 minutes to make sure everything is ready for the next day. Do it right away or you might not get to it later. It saves so much time the next day."
3. Mentally prepare for plans to go awry
Henein is a "swing" in the Christmas Spectacular, which means she must be ready to go on stage at a moment's notice if one of the Rockettes is sick or injured. It's a job that requires an extreme amount of organization and attention to detail.
"I usually have everything in my life planned a month in advance," she laughed, "right down to the outfit I'm going to wear to rehearsal. It's hard to accept that there are some things you just can't plan. Like when you're wearing the outfit you carefully selected but your baby spits up two minutes before you have to walk out the door."
Farrell advised moms to make a plan but "be fluid." Hedrick agreed: "Plan as much as you can so it will go as smoothly as possible, but know that it will be hard no matter what."
4. Separate work from home
Like most working moms, all of the Rockette moms mentioned feeling torn between work and family. Farrell said, "It's hard to feel so conflicted—wanting to be at work and wanting to be home." As a mother of four, Baker is the most experienced—and likely the busiest—of the Rockette moms. She recommended, "When you leave home, leave 'mom' there. If you're thinking of 'mom' worries at work, you won't be a good Rockette. Separate the two to give full value to each place you're in."
5. Find time for yourself
Don't forget that moms need to be taken care of, too. Instead of rushing home, Hedrick said, "I allot time with the sitter to go to work early, warm up and eat a second breakfast. After work, I add 20 minutes for a long shower or an ice bath. You're going to be a much better mom if you fill up your cup."
If you don't have the luxury of adding childcare time, utilize whatever breaks you have. Henein finds "tiny moments of downtime to stay fueled, hydrated, even take a five-minute nap." Because the high-intensity show is so exhausting, she said, "I keep snacks and water bottles everywhere—the car, the dressing room, the nightstand ... even in the bathroom while I'm getting ready." She also uses her hour-long commute as a time to relax and enjoy time alone.
6. Rely on other moms
"We really are a sisterhood," Farrell said of her fellow Rockettes. "I ask Nicole for advice because I know she's been there," said Hedrick of Baker. Find those women at work who've been through what you're going through and can support you—or those who aren't moms yet but will empathize with you. Don't be afraid to lean on them when you need help.
It's tough to be a working mom, no matter how you slice it. But when your job is incredibly physically demanding, time-intensive and extremely public, it can be especially challenging to go on with the show. However, being a working mom has its upside, too. Baker said, "When we danced on the TODAY show, my kids' teachers showed the performance at school, and all the kids were really excited. It was so cute." Farrell added, "When I looked out from the stage and saw little Crosby's smiling face in the audience, it was a magical moment that I'll remember forever. It really made totally everything worth it."