Women in California had the opportunity to apply for Mika Brzezinski's "Grow Your Value" competition: a chance to convince the "Morning Joe" co-host why they deserved a $25,000 raise … and a chance to actually get it.
The Know Your Value team combed through dozens of video applications and selected three inspiring finalists. The women were recently flown to New York City to receive professional coaching, styling advice, personal branding tips and other career guidance from experts, including Brzezinski, leadership coach Janine Driver, communications expert Chris Ulrich and Gravitas founder and CEO, Lisa Sun.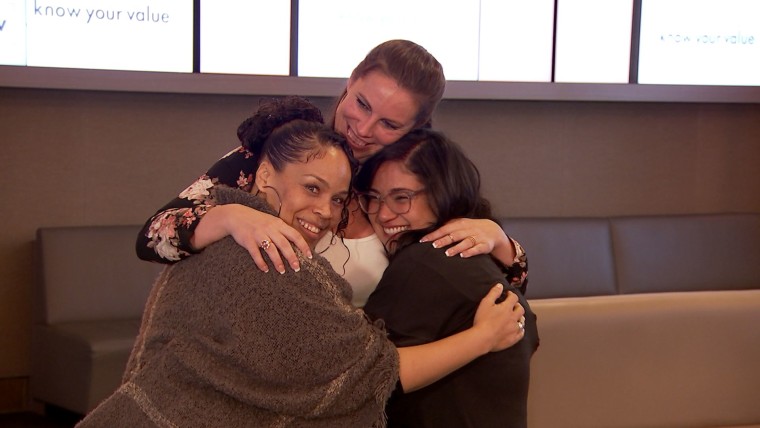 And at the 2018 Know Your Value national event on Dec. 1 in San Francisco, the three finalists will have the chance to win $25,000 by using the tools they learned and articulating their value to Brzezinski and a panel of judges live on stage.
Meet the three California finalists:
Jenny Nixon, 32, from Berkeley
Nixon, who grew up in small-town North Carolina, spent eight years after college serving as an Army helicopter pilot. Now a member of the Army Reserves, she moved to California to obtain an MBA at the University of California-Berkeley – all while also teaching ROTC classes at the University of San Francisco.
Nixon heard about the Grow Your Value contest when Brzezinski appeared on "The Late Show with Stephen Colbert," and she "just felt like it spoke to me. The whole point of my MBA journey and jumping into the corporate world is to know my value. I'm trying to figure it all out."
That was the theme of Nixon's video application, in which she started in her Army uniform talking about her experience flying Black Hawk helicopters. She then peeled off the uniform to reveal a Berkeley sweatshirt, which represented her MBA journey. And then she showed that underneath was a blazer reflecting her plans to jump into the corporate world and finally, a black tank top, "which was just me."
Nixon sees her future as wide open. "I have a ton of curiosity and excitement about the world around me, and there exists so much opportunity to the point that it's overwhelming," Nixon said. "I may want to open a heli-skiing company someday, or maybe I'll develop a new jet engine, or fight fires – it all seems possible."
The coaching through the Grow Your Value contest has been invaluable, Nixon said. "I know what I'm capable of, but now I'll know how to convey that to the world. Learning those skills is worth more than any financial grand prize."
Jodee Brown, 40, from Alameda County
Brown moved from Anaheim, Calif., to northern California to be near her daughter, Jordyn, as she begins college.
Brown has been a single mother for 16 of Jordyn's 18 years. "Everything I do is for my girl," she said. "We've been through a lot together."
That includes domestic violence, alcoholism and a layoff during the 2008 recession. She now works in social services, assisting in intake for programs like food stamps. She said supporting Jordyn has been her primary motivator.
But now, with Jordyn in college, Brown is ready to focus on herself. An avid "Morning Joe" viewer, Brown heard about the Grow Your Value contest on the show and decided immediately to apply.
"I literally turned my body to the TV and said, 'Yes, Mika!' out loud," Brown recalled. "My sister and dad had been asking me what I'd do when Jordyn was gone, and my father suggested I take up knitting. Let's just say this is more up my alley."
No matter the outcome of the contest, Brown said, "I feel I've already won. There's so much being poured into us through this experience, and what I'm going to take from it is confidence: Whether it's in business, in a relationship or in a social setting, I will stand strong in the decisions I make and the value I bring."
Danielle Oceguera, 25, from Oakland
Oceguera, a talent development coordinator at Stanford University, had no plans to apply to the Grow Your Value contest. But her colleague and mentor insisted, even after Oceguera declined, saying there was no way she would be considered.
"She sent a very strong email saying I had to do this, and that she believed I could go all the way," Oceguera said. "She was in tears when I told her I was selected as a finalist."
Oceguera is studying organization and leadership through a master's degree program at the University of San Francisco, and she's "passionate about developing people in both my professional and personal life." She volunteers in her community and works to mentor children.
"I've always been a caretaker, because I feel a lot of responsibility for my family," said Oceguera, whose parents had her at an older age. "What powers me is always, 'How am I going to take care of them? How can I work hard to ensure I can buy a house and provide?'"
She attributes her "strong capacity for empathy and compassion" to her nieces Nicole and Deborah, who have cerebral palsy. "They taught me what it means to have perseverance, to work hard at something and keep working even if you don't see progress right away."
If Oceguera wins the grand prize, she would put the $25,000 toward education costs – but said she will feel like a winner no matter what happens.
"I hope to hone in on my strengths, and to be able to communicate them effectively in every setting," Oceguera said. "I think I'm often intimidated or lack confidence. I need to have that confidence to show up – not just for everyone else but for myself too."