I first met Janet Throgmorton, principal at Fancy Farm Elementary School in western Kentucky, while researching coping strategies as we head into a long, dark winter amid Covid-19. I felt it was important to have a school administrator's perspective on the ongoing challenges of virtual and hybrid schooling, especially a school administrator who was herself a working mother. Eventually, I got to Throgmorton.
And I was blown away. This principal, when faced with a bus driver shortage (currently, both of her bus drivers have Covid-19, including one on a ventilator for 38 days) got her commercial driver's license so she could drive the routes herself and give all students transportation to school. "Plus, when we have field trips, all I have to pay for is mileage, not buses ― much friendlier on my budget," Throgmorton told me.
Fancy Farm, Kentucky is a rural area where strong, consistent internet is not guaranteed. At the heart of this small-town community, is the local public primary school, Fancy Farm Elementary.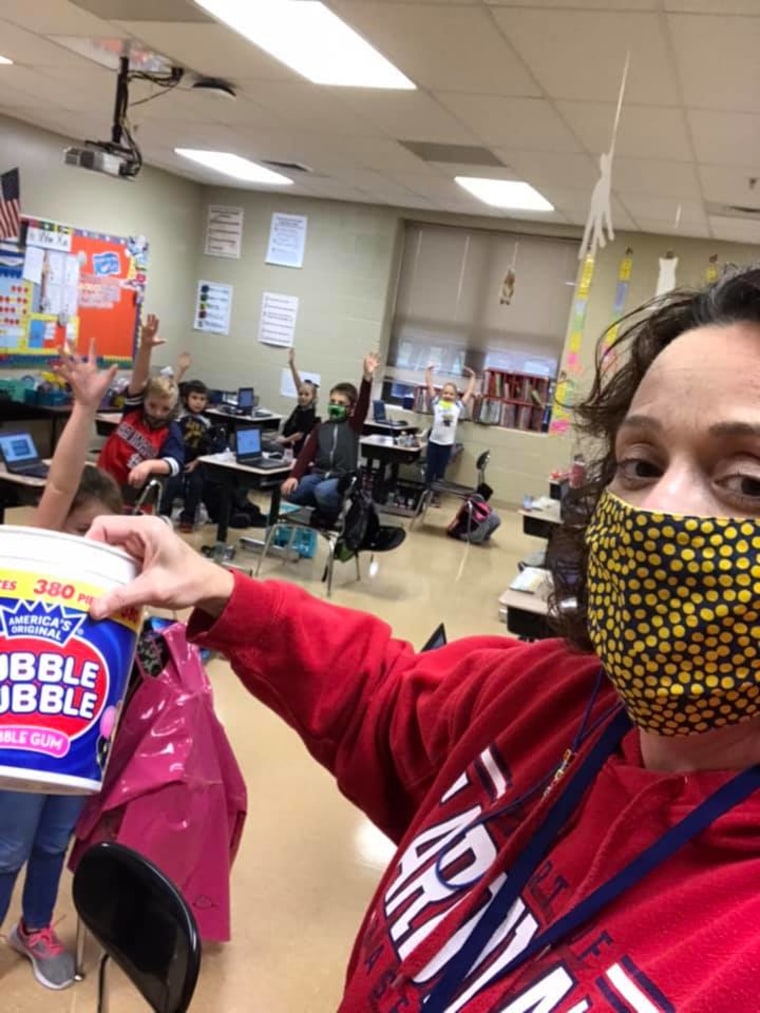 Throgmorton, in her 11th year as principal and 25th overall at Fancy Farm Elementary, has pulled more than a few rabbits out of her magic hat to make sure her 184 students, from preschool through 6th grade, were able to start the school year safely in person. She has taught every grade except kindergarten, including art, music and physical education when low enrollment forced a teacher funding shortage. "I'm at least a little musically inclined, and I played and coached basketball ― but art was a learning experience for all of us," she said.
After 10 weeks in school, and as the Covid-19 rate rose in her community, the school system shifted to a virtual environment. And Throgmorton's care for her students went far beyond ensuring a successful academic experience. "This is hard stuff," said Throgmorton. "We had to make sure our students have food, working laptops, and internet access before we can even talk about meeting educational goals."
Here's what she has learned along the way:
Schools must care for the whole child
And care she does. Miss Janet, as she is known by her students, often makes house calls. "We have many students who are being raised by or cared for by grandparents, and sometimes the technology is confusing. So, I'll drop by, swap out a Chromebook or figure out why a student can't access the online curriculum."
In making house calls, Throgmorton is also able to evaluate internet access, household stability, food safety, as well as physical and mental health. Having grown up just 15 miles from Fancy Farm in Wingo, Kentucky, (population 636), Throgmorton is well-connected to many who can provide much-needed resources. "If a student is in one of our more rural locations and can't get internet, we will connect them with a church who will allow them to come in and use their WiFi. If someone is hungry, we will connect them to those resources as well."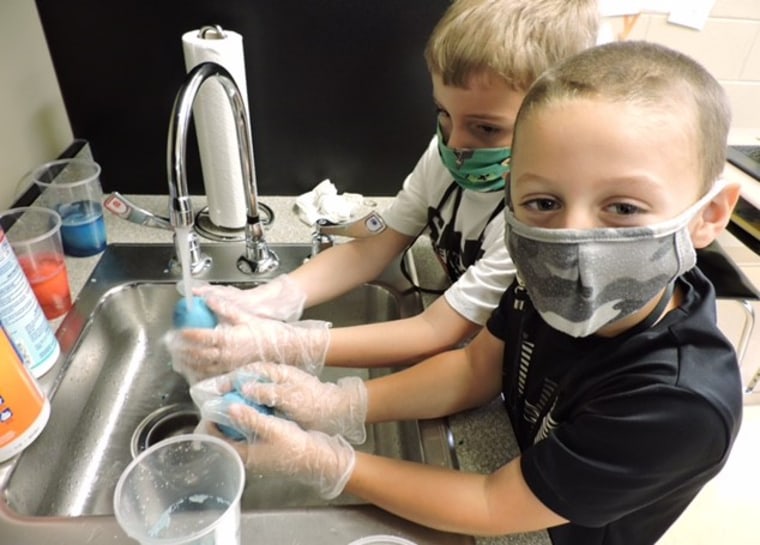 In the current virtual environment, Throgmorton has been known to pick up students (sometimes because their parents or caregivers just needed a break) and take them to school, where they could return to a somewhat familiar location and have stable internet and in-person support, all within capacity guidelines. Throgmorton, who upped her personal car insurance to do all this, sometimes swings by the local McDonalds for a well-earned treat afterward.
And this holiday season was no different. "We always have Santa come to visit the kids at school,'' said first-grade teacher Sarah Duren. "This year we had to do things a bit differently. Ms. Janet visited with Santa herself and recorded the visit as they went over the class rosters to make sure everyone was indeed on the nice list. Students were able to watch the recorded visit from the safety of their homes, thanks to Ms. Janet."
But it can't be the school alone
Throgmorton has been quick to acknowledge that Fancy Farm Elementary was able to start and stay in school for 10 weeks because it was a community effort. With everyone doing their part by practicing social distancing and wearing masks at school, at home and out in town, they were helping kids [be able to] go to school and play sports. "If we only took the precautions at school, not at home or in the community, it just wouldn't work. But if you acknowledge [community support], it puts in their mind they are more likely to feel like they're a part of the solution," said Throgmorton
Throgmorton uses social media, particularly a school Facebook group, to keep her community up to date and build trust. "It helps because I've been here," said Throgmorton. "People know me and trust me, and we needed them to get on board." By creating short videos, she was able to demonstrate procedures, classroom layouts, and how things would generally work. Throgmorton led with a communication strategy focused on transparency. "I was very open with what was working and not working, that we would make the school as sanitary as it could be, but also as normal as it could be."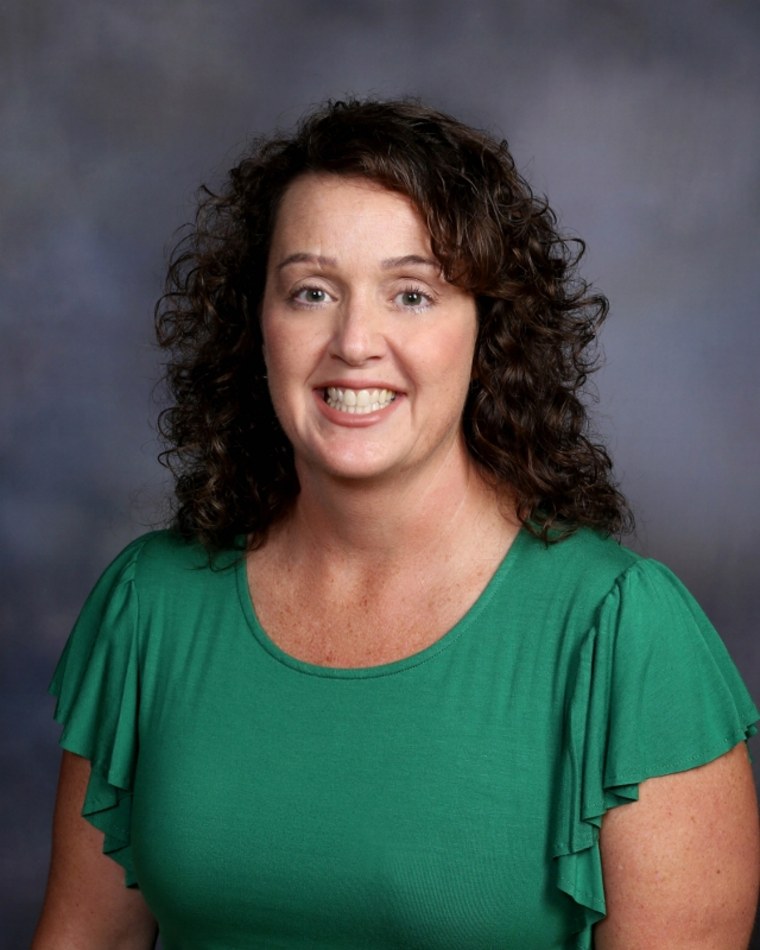 Before the first day of in-person classes, she scheduled appointments for families to come in and see how the school, particularly classrooms and common areas, would look. To ensure proper spacing and sanitization protocols, including removing anything without a hard surface that could be disinfected nightly, a lot of the furniture had to be removed. The classrooms looked different, but this preview worked to allay concerns and build confidence that school could in fact safely be held in person. "Once families saw that it mostly looked like school, not the scary things you saw in your worst imagination, they saw that school was different, but not a bad different."
Ask the community for specific help
When schools opened in August, Graves County had a difficult time finding sufficient masks, gloves, and cleaning supplies for students and staff. Child-sized masks were particularly hard to get. Rather than letting this obstacle impede the opening of school, Throgmorton turned to local churches, who made hundreds of child-sized masks for their students. "We can require students to bring a mask to school, but they are kids, they lose them. They forget them. We needed a supply at school." To prevent a lost-and-found full of discarded masks, the local bank donated lanyards so masks could stay around necks while off for activities like eating lunch.
Throgmorton also played "anonymous matchmaker" between families who were able to provide school supplies and those who needed them, be it students or teachers who needed new or different classroom supplies in a socially-distanced environment. "People want to help, and it was in everyone's best interest ― particularly our working parents ― to get the schools open."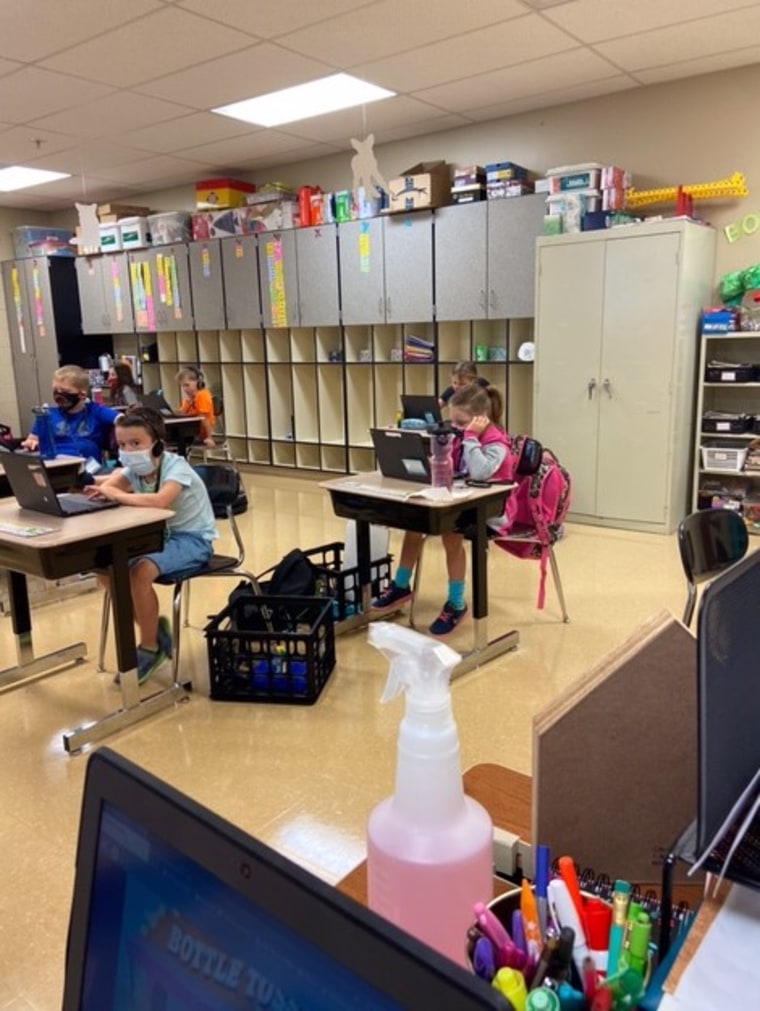 Diane Smithson, a second-grade teacher who began teaching at Fancy Farm Elementary School the same year as Throgmorton, has a unique perspective on the importance of leadership and community involvement. Her own two children attended the school. As a parent, staff member, and neighbor, Smithson said "Janet is just one of those people, you want to do for her just as she does for you. And the whole community feels the same way. She prays, she cares, she listens, and we all want to do our part."
My own children's school district hasn't been in person since March 12. As I eagerly anticipate our safe return to the classroom I was, frankly, wondering how it all would go. I get uncomfortable wearing a mask long enough to do my grocery shopping, how could young students and their overburdened teachers and staff do this all day every day?
Throgmorton reported virtually no problems. "They wore their masks, and even policed each other." Proving once again how adaptable they can be, she said her students rolled on like we've always done this. Throgmorton believes that "if you make school a place kids want to be, they'll do whatever you need them to do to be there." And right on schedule, she is opening her doors this week to safe, in-person instruction.
Jennifer Folsom is vice president of growth at ICF Next. She lives in Alexandria, Virginia, with her husband Ben and has three teenage sons. Her practical guide to modern working motherhood," The Ringmaster," is out now.