Ahead of Father's Day, "TODAY" co-host Al Roker reflected on what he's learned about — and from — each of his three children.
"You learn very quickly that each child really is different," Roker said in an interview with Know Your Value. "You see that early on, but as they get older and move into adulthood, it's more apparent. And they're always your kid: They might be adults, and your relationship might change in some ways, but at the core it's the same."
Roker shared his top Know Your Value moments in parenting each of his three children, detailing how he learned something about himself, his child or fatherhood as a whole.
Courtney, 32
"Courtney was not your typical kid, in that she didn't follow the traditional path of high school in four years, then college for four years, then get a job. That was all a bit of a struggle for her.
Finally, when she was in her sophomore year in college, she came to [my wife] Deborah [Roberts] and me and said, 'You know, guys, I don't think this is for me. But I'd like to go to culinary school.' We were surprised at first, and then I thought, 'I should have thought of that.' Courtney always liked to cook. She loved food presentation, too. I remember when she was 6 or 7, she would go out and pick flowers to decorate the plate.
It wasn't the path we'd expected for her, but at the end of the day it was better she made that choice and invested in it. Today she's a successful chef at Google, managing one of their restaurants in the city, and she runs her own catering company too. I learned from her that you've got to listen to your kid. You know them, but they know themselves best, and you need to trust that."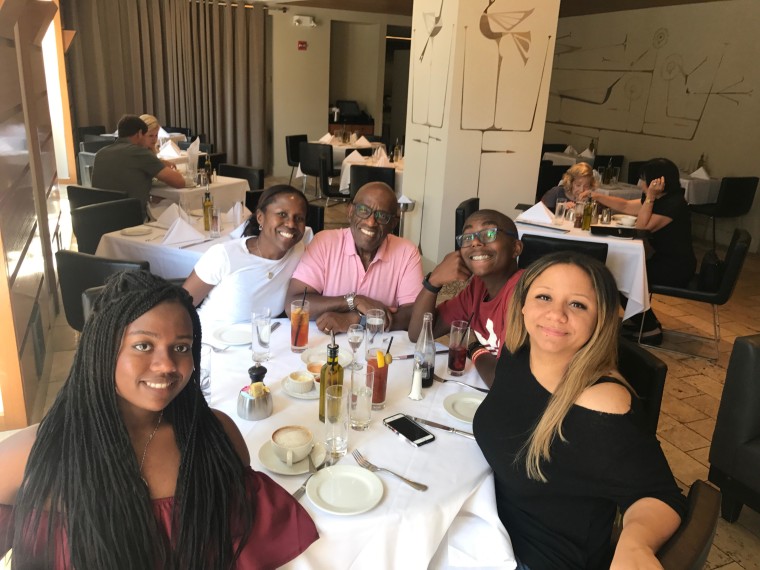 Leila, 20
"Leila also taught me lessons through her decisions about school. She was attending a terrific private school here in Manhattan from kindergarten through middle school, and she did well. But she also felt there were a lot of external pressures and not much diversity. She wanted a different high school experience. So she came to us at the end of her middle school years, in eighth grade, and told us she wanted to go to LaGuardia School of Performing Arts. She'd gotten interested in drama and musical theater.
Honestly, the first reaction was, 'No, you can't do that!' But then it became: If we turn her down, she will always wonder 'what if.' I myself grew up in New York City and I wanted to go to high school for art and design to become a cartoonist. My parents said 'no.' I had the chance to go to a Catholic military school and get a great education and that's what I did. Everything's turned out OK for me. But I always wondered 'what if,' and we didn't want to have her do that.
You're a better dad when you're parenting with a great mom, and Deborah and I talked a lot about this. We said, if we say 'no,' she'll resent us. And there's no guarantee she'll get in. But Leila did, and the LaGuardia experience really opened her eyes. That's continued into her college education; she's attending a university in France. And she's doing, I think, far better than had she gone to a traditional school in the U.S.
I learned that unless your kids are doing something that's going to hurt them, you have to let them go make their own choices — within reason of course, but you have to let them have that ownership."
Nick, 16
"Nick has some learning challenges and other differences [Ed. note: Roker wrote about parenthood and Nick in a recent cover story for Guideposts magazine.], and my default is to protect him and not set him up for failure. But he has a very adventurous spirit, which we learned from an early age.
When Nick was 3 or 4, he wanted to follow his sister in Tae Kwon Do. He had extreme motor issues at that age, and had it been left to me, he wouldn't have tried it. But he did — and he ended up getting his black belt.
He taught me not to put any limitations on him — I wouldn't with my other kids, so I shouldn't with him either — and also learning to let kids fail if that's what ultimately happens. Seeing what he could accomplish at such a young age with such challenges was really eye-opening, and that has stuck with me.
For example: In the fall I'm going to be teaching a class at my alma mater, SUNY Oswego. And Nick said, 'Dad, I want to go to Oswego!' This time my reaction was, 'Great!' That might be where his path leads, and it might not. But I won't say 'no.'"