Running a business is difficult enough. Throw family members into the mix and you have the recipe for a perfect storm.
But it doesn't have to be that way, according to the founders of Womaze, a self-empowerment app. After all, their Florida-based company is entirely run by four women in the same family between the ages of 17 and 52.
Like many businesses, Womaze was born when members of the Wiser family least expected it. In 2016, twins Rebecca and Leah moved from their home in Boca Raton, Fla. to attend George Washington University.
To keep in touch and get support from their family that was more than 1,000 miles away, the twins started a group chat over iMessage with their sister, Hannah, now 17, and mom Corin, 52.
"We'd send each other videos of TED Talks, Oprah SuperSoul Sessions, articles on how to help with anxiety or how to focus on breath," Rebecca Wiser, 21, said. "We had this family group chat that became a staple in our lives. One day we thought, 'how can we get this into our generation and into the world?'" Rebecca recounted, noting a recent survey that suggested almost 50 percent of Generation Z (the youngest generation of adults) are lonely.
.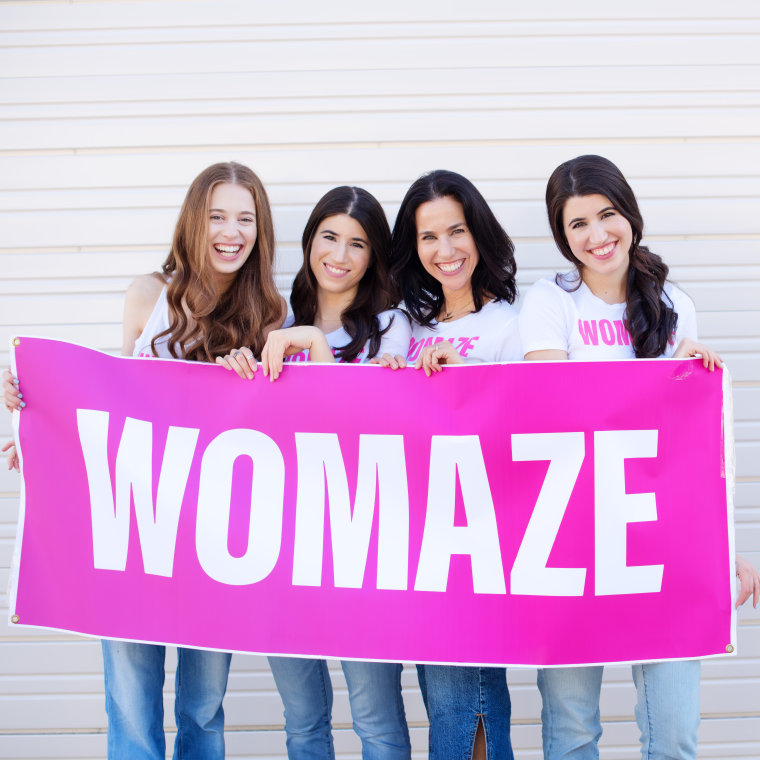 After a lot of hard work, Womaze was born in April 2018. The app offers advice for women on many topics including body image, self-care, relationships and identity. It also features tips from guest curators like designer Rebecca Minkoff and LGBT rights activist Jazz Jennings.
The Wisers recognize that working with family can be challenging, but they also said they wouldn't have it any other way. The women recently shared their top tips on how to run a successful, drama-free family business:
Take action immediately
In July 2017, Hannah shared the idea to launch an app like their family group chat—which they refer to as a "virtual hug"—on a Friday night. By the next morning, the family sat down to outline a list of tasks and who they would go to for advice to make Womaze a reality. "My advice for anyone who has an idea that they want to pursue is to take action immediately," Rebecca said. "You could have thousands of ideas, but when you actually do something about it, that's when the magic happens."
Know that you're in this together
"We feel that we were put on this earth as a family to do this together, and that there are no better people to do this with," Rebecca explained. "The passion that we share is something that can't be matched." While the four women don't always agree on everything, they try not to lose sight of the fact that they all share the same passion and want to carve out similar pathways to success.
Create boundaries
The Wiser ladies work from home out of their Florida townhouse, where they all live. But they remind each other about the importance of creating boundaries.
"Setting boundaries between our work life and our home life has been super important," Leah said. "When we have dinner, for example, we make sure that our conversations are about life and not work so that we are still connecting on a family level."
When the tables are turned and they are working, the women try to treat each other as colleagues rather than family members. "When working with family, it's easy to go back to the family dynamics that have been created since we were born," Rebecca said. "But we must be able to see each other as equals, and we need to relate to each other with a certain level of respect and professionalism since we are co-founders."
Communicate frequently and honestly
Every morning, the Womaze team meets to share their intentions for the day and the week. The women also write down a common goal, which "helps us to stay on the same page," said Hannah. Open and frequent communication is also important. This helps the team stay mindful of family dynamics and ensure that personal matters don't get in the way of business goals.
Keep an open mind
Corin said she has always tried to be open-minded and view her daughters as people who have come into her world to teach her to become a better person. "I know they have knowledge, skills and wisdom that can enhance my experience here in life and in the business," Corin said. "I believe it's not a one-way street; parents are here to support their children but children are also here to teach parents to become better people and to grow."