Thanks to Mika Brzezinski, two deserving women entrepreneurs will get what they want.
The "Morning Joe" co-host and Know Your Value founder joined "The Kelly Clarkson Show" virtually Wednesday – alongside fellow guests singer-songwriter Niall Horan and actress Kim Williams-Paisley – to talk all about her unique upbringing, empowering women later in life and celebrating the highly anticipated 30/50 International Women's Day Summit in Abu Dhabi, created by Know Your Value and Forbes.
In the spirit of paying it forward, Brzezinski extended a surprise invitation to two business owners who appeared on the show – Nancey Harris and Tracy Green of luxury eyewear brand Vontelle – to join her at the summit, which will gather generations of women from the Forbes "30 Under 30" and "50 Over 50" lists to forge new bonds, collaborate and innovate as leaders.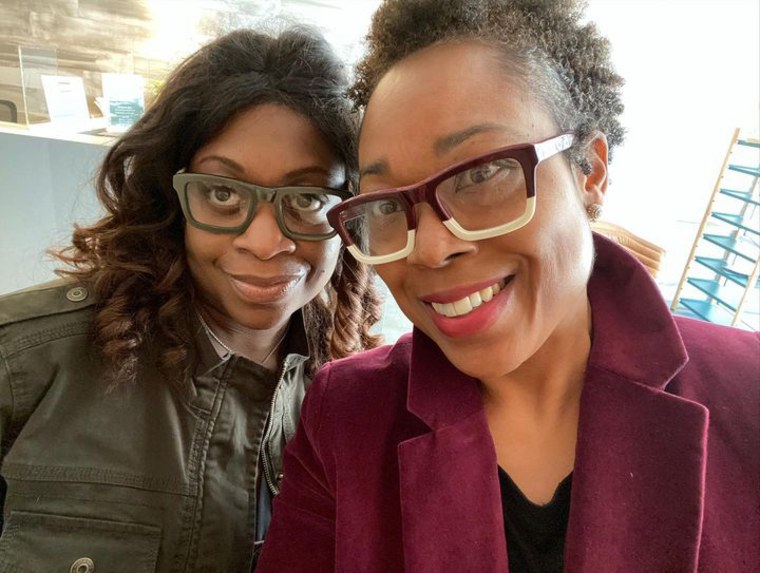 Harris and Green – both mothers in their 50s – started their company to satisfy the demand for better-fitting, fashion-forward eyewear. Their products are designed with traditional colors and patterns that channel their African, Caribbean and Latin heritage.
"We realized that glasses were not made for diverse features," Harris told Clarkson on the set. "I saw a huge business opportunity." After they attended a major eyewear expo in Paris, their aha moment came to life.
While the duo landed a deal with Paramount and Nickelodeon to design a line of eyewear for children, they found themselves still struggling with ways to grow their brand.
"We're very proud of what we're doing but it's really an uphill battle, it's not easy getting into the right rooms, being able to see the right people and the funding – those are things that are missing in the business," said Harris. "We bootstrapped and it's all about getting in front of the right people so we can take this business to the next level."
Then came an offer from Brzezinski to do just that. "I would love to invite you both – I will give you tickets to be my guests at the 30/50 Summit in Abu Dhabi," Brzezinski said. "So, you can come with me to network, to make connections, to share ideas and to help lift women up from around the world."
On top of that, "The Kelly Clarkson Show" and Forbes teamed up to provide them with airfare and lodging for the life-changing event.
Now in its second year, the 30/50 Summit will take place in Abu Dahbi from March 7-10 over International Women's Day, where Brzezinski will chair the event. Attendees, like Harris and Green, will hear from and network with a star-studded lineup of women's rights icons and business trailblazers, including former Secretary of State Hillary Clinton, Ukrainian First Lady Olena Zelenska, tennis legend Billie Jean King, actress and businesswoman Jessica Alba, education activist Malala Yousafzai, journalist and activist Gloria Steinem, groundbreaking ballet dancer Misty Copeland, businesswoman Ayesha Curry, actress Catherine O'Hara and many more.
This year, the summit will focus on creating cross-generational alliances to provide guidance and insights to women at every stage of their career, while also offering diverse perspectives and rich cultural immersion.
But during the show, Brzezinski underscored that it all started from a mission to encourage women to advocate for themselves and celebrate their achievements at all ages.
"I started Know Your Value like 12 years ago, doing events across the country, teaching women to know their value, how to put your value into words, women struggle with that [and] tend to apologize and self-deprecate," she said. "We teach them how to collect the data on themselves, but also teach them techniques – eye contact, posture, presentation, dress – all the things that keep your message cohesive and communicate your value effectively."
Clarkson admitted she often relied on self-deprecation. "We're trained, especially being from the south to just not be in the way," she said. "It's innate and you don't even realize you're doing it." Paisley added she wished she knew how to deal with stress better as a younger kid, including "how to manage that and know your value."
For Brzezinski, finding solutions to those challenges led her to form the initial "50 Over 50" partnership with Forbes. The annual list highlights women who have found success later in life and are shattering age and gender norms.
"But it's actually a great message for younger women – what I would have loved to have told myself is that we have a long runway," Brzezinski said. "What we discovered after creating the 50 over 50 list … is that there are many women having amazing impact and making a lot of money well after 50, 60, 70, 80 and 90."
She added: "The message for younger women is you've got a long runway – we've paved it for you – so you can relax, enjoy the moment and slow down. Try and do things right, make those mistakes, experience those experiences so that each one can build upon the other."