Three years ago, the world was upended when the Covid-19 pandemic hit. And it triggered many of us to reassess what we want out of our careers and life.
That's why journalist and author Joanne Lipman wrote "Next! The Power of Reinvention in Life and Work," which comes out March 21.
Lipman recently chatted with Know Your Value about her new book, how to make a successful career pivot, the number one mistake women make and more.
Below is the conversation, which has been edited for brevity and clarity:
Know Your Value: Tell us about the genesis of "NEXT! The Power of Reinvention in Life And Work." Why did you write it, and who is it for?
Joanne Lipman: "NEXT!" Is a deeply-reported guide to navigating change in how you live, work and lead, and to finding your purpose. I wrote it for this moment in time, when so many of us are searching for a "new normal" after the past few tumultuous years, and looking for more meaning in our lives and careers. It's all prompted the question: what's next – and how do we get there?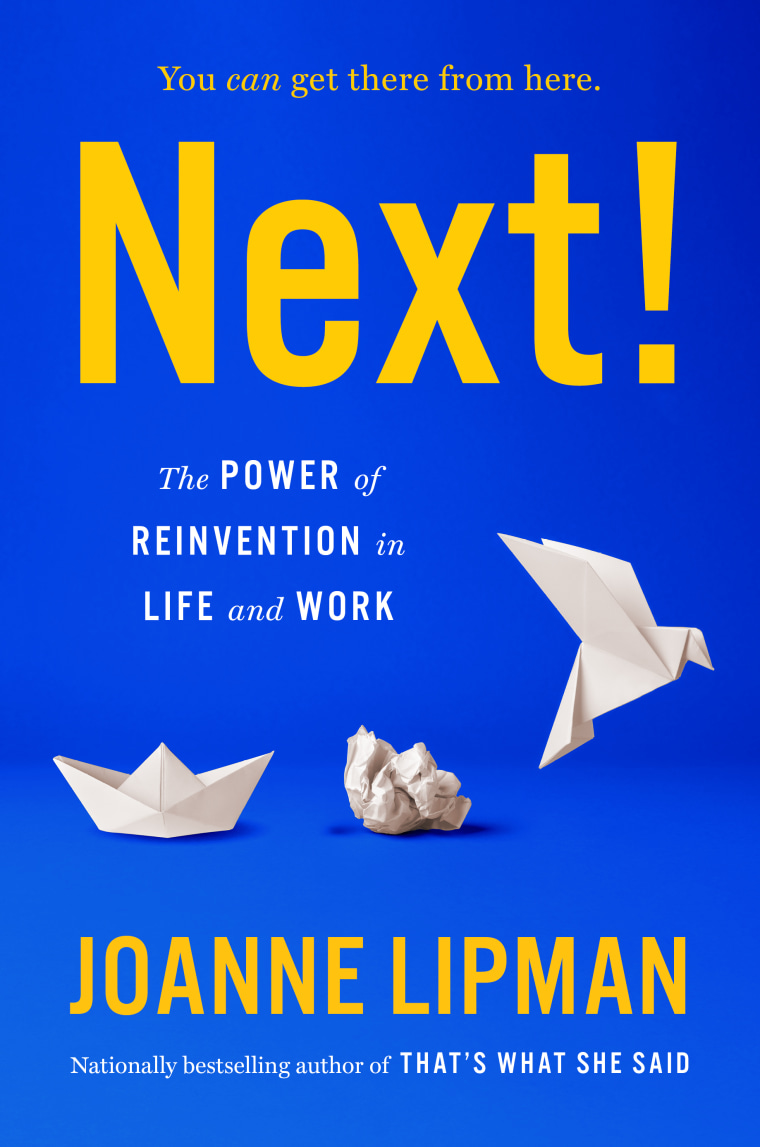 "NEXT!" provides the answer. It's based on hundreds of personal interviews and the latest science of the process of change. In "NEXT!" I walk you through the four stages of the Reinvention Roadmap; offer a dozen proven strategies to reach your goal; and explode the two most damaging myths that hold us back.
My goal is to empower you to change, to not be intimidated, and to realize you're already further along than you know toward whatever comes next.
KYV: You did hundreds of interviews for this book, talking to everyone from economist and former federal reserve chairman Alan Greenspan (a former professional saxophone player), to novelist James Patterson (a former ad executive) and even Know Your Value founder Mika Brzezinski. Based on your interviews, how do you think women and men are different when making a career pivot?
Lipman: Women not only pivot differently than men, they are more likely to do so – and they're better at it!
In part, this is because so many women are what I call "necessity entrepreneurs." Women, along with people of color and others in underrepresented groups, don't have the same access to mentoring and opportunities, they're usually paid less, and they're promoted at lower rates. When they do manage to rise to the top, they often get the job only when a company is in dire straits. Then, when they fail, they get the blame and are marched right off the dreaded "glass cliff."
These barriers, plus inflexible working conditions that make it impossible to balance with family responsibilities, have forced women to become champions of reinvention. But what's so extraordinary is that when women do become entrepreneurs, they often focus on more meaningful, mission-driven pursuits, which end up being far more fulfilling than the careers they started out in. They are especially likely to create organizations that empower other women. Know Your Value, with its mission to spotlight other women, is a perfect example of that!
KYV: In "NEXT!" you also tell the stories of people who have successfully reinvented their careers. Can you tell us about one of your favorite transformations in the book? What's the big takeaway from his or her story?
Lipman: One of my favorites is Jane Veron, who reluctantly quit a fast-track corporate job to care for her three young daughters. She loved working, and mourned the loss of her professional identity. For 12 years, she felt invisible. But she threw her energy into community work and volunteering. When her oldest daughter left for college, she realized she was ready for a new chapter. Today, she is cofounder and CEO of a nonprofit that taps other stay-at-home mom volunteers to give business advice to local business owners – and she was elected Mayor of her hometown, Scarsdale, N.Y.!
Another great example is Chris Donovan. Raised in a working-class family in Boston, he spent almost 30 years as a telephone repairman, with a secret hobby of sketching elaborate designs of women's shoes. After a prostate cancer diagnosis, he realized life is too short. He retired early, went to design school in Italy, and today is a women's couture shoe designer with his own line. When Boston magazine named "Best New Designer" in 2020, the "newest fashion superstar," as it dubbed him, was 61 years old!
Their stories may seem different, but both went through the four stages of the Reinvention Roadmap: Search- Struggle-Stop-Solution. They both began searching for that new career without realizing it, collecting information and experiences that would prove invaluable later on. They both had long periods of struggle, when they felt they were treading water but in reality were moving forward toward their next acts. For both, the struggle ended with a stop – a cancer diagnosis for Chris, a child leaving for college for Jane – and only then were they able to reach that solution, their reinvention.
Know Your Value: So many women want to make a career pivot but don't know where to start. What is the first step?
Lipman: One of the most unexpected and delightful takeaways from my research for "NEXT!" was that, you've probably already taken that first step!
I found that far from being sudden or even intentional, transitions of all types often begin before you even realize it. Call it the "move before you move" approach. Most people begin edging toward a major transformation, often unknowingly, before they embrace it wholeheartedly. For career changers, it may first emerge as a side hustle, a hobby or even a seemingly random interest. They don't necessarily know where it's taking them. Nor do they necessarily have a goal in mind.
Moving before you move" suggests, reassuringly, that we are laying the foundation—and are perhaps more prepared than we realize—for whatever comes next. We are doing our homework, even if unwittingly. It also means that, even if we don't know where we're going, we are already on our way to getting there.
Know Your Value: Let's talk about when career changes don't succeed. What's the number one mistake people make?
Lipman: The biggest mistake is quitting too soon. It's so tempting to throw your hands up and abandon an idea altogether if it doesn't work out.
Instead, there's a "smart" way to fail. Dashun Wang, a computational social scientist at Northwestern, has found that "successful failures" – those who turn a failure into a success - do so by iterating. They don't start from scratch after a failure. Instead, they fail, make a small tweak, fail again, tweak again. What's more, he found that those who turn failure into success focus on the process , rather than the outcome.
"NEXT!" also outlines strategies to help you avoid failure in the first place. For example, find your "expert companion," the person (who could be a coach but might also be a friend or relative) who has an objective view of strengths you may not even realize you have. Another great strategy is to reach out to weak ties or dormant ties, people outside of your immediate circle; research shows that when you're job hunting, people in your larger network are far more likely to surface opportunities than those closest to you.
Know Your Value: Finally, what's the best piece of advice Know Your Value founder Mika Brzezinski told you for the book?
Lipman: I loved Mika's advice to continually reinvent yourself. She made the great point that careers are longer than ever – we're now looking at 60-year careers or even longer, versus the traditional 40 years to retirement. And as a result, there are so many opportunities to pivot. She noted that there were 10,000 nominations for the Forbes/Know Your Value "50 over 50" list last year, and so many were women who had pivoted to new jobs – or only started their careers! – in their 60s or 70s or even 80s.
As Mika told me, "We are discovering a much longer runway than we ever could have imagined. There's so much more time, so much more opportunity not just to live out their dreams, but live out multiple dreams."